GINZA CONNECTIVE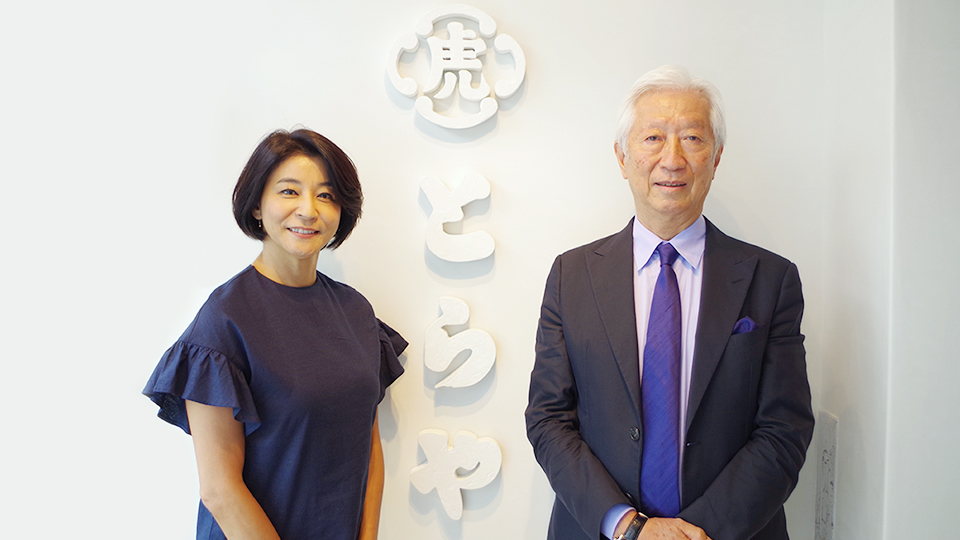 GINZA CONNECTIVE VOL.72
Mitsuhiro Kurokawa× Chisako Takashima
2017.11.01
An interview series featuring Ginza people in conversation with violinist Chisako Takashima. With a special fondness for Ginza, which holds many memories both from her professional and private lives, Takashima explores Ginza from various dimensions with her guests.In this volume, she welcomes Mr. Mitsuhiro Kurokawa, the 17th storeowner and President & CEO of Toraya, a Japanese confectionery store established in the late Muromachi period.
Commitment to wagashi and haute couture confectionery
Takashima

How many different types of namagashi (fresh Japanese sweets) do you sell every month?

Kurokawa

12-13 types. We have six to seven different types for the first half of a month and another six to seven for the latter half.

Takashima

Do you design new types of wagashi?

Kurokawa

Yes. We have a section where new confectioneries are developed, and new products are being experimented every day. Besides that, we sell namagashi depicting the animal of the year and the theme of the "Utakai Hajime (annual New Year's poetry reading held at the Imperial Court)" every year. We hold an in-house competition on the design and name of the namagashi depicting the animal of the year and "Utakai Hajime," and the selected design is manufactured and sold. In December, we will start selling confectionaries designed in the image of the dog, which is the animal for 2018, and "語 (go= word, language)," the theme for "Utakai Hajime 2018."

Takashima

You have quite a homey atmosphere in such a large company.

Kurokawa

You may be right. I find it important for staff members to work as a team.

Takashima

Do you use domestic ingredients?

Kurokawa

The place of origin is not an issue as long as the quality is good, but we end up using domestic products. We have tried working with imported ingredients in the past, but for example, domestic azuki beans are better than imports. Azuki beans made in the Tokachi region in Hokkaido, are particularly excellent. High quality ingredients are indispensable in making high quality confectionaries. Of course, the skills to make full use of such ingredients is also called for. At our company, the skilled artisans are very selective about the quality of the ingredients they use.

Takashima

I have heard that you also make customized confectionery.

Kurokawa

Wagashi stores originally took orders from their customers and made products that met their needs. In light of the origin of our business, we wanted to make confectionery specially created for one special customer.

Takashima

How does it work?

Kurokawa

We ask our customers if they have any special requests and what occasion the confectionery will be used for. Based on the information collected our staff will creatively come up with a design and make a trial product. For example, we would ask our customer the hobbies or preferences of the recipient. On my 60th birthday my wife ordered wagashi made in the image of a golf course for me.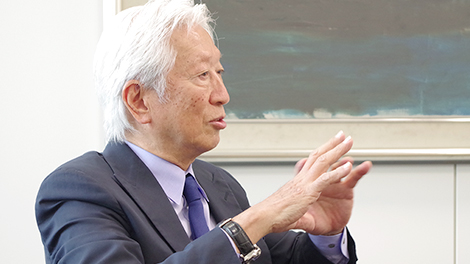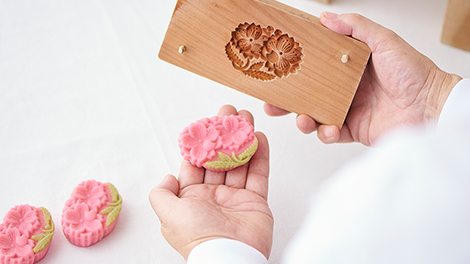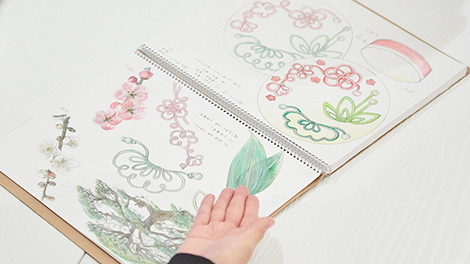 Haute couture wagashi: wagashi design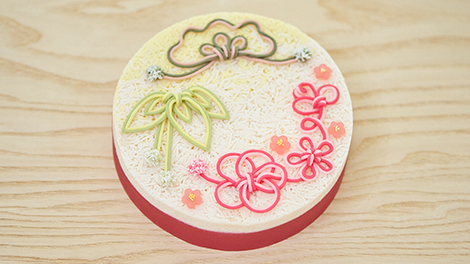 Haute couture wagashi: final product
Enchanting pastry chefs worldwide: Toraya's sweets and future challenges
Takashima

You also have a store in Paris?

Kurokawa

We opened our Paris store in 1980, so it has been 37 years. When the late owner of Toraya went to Paris, he felt something similar to Kyoto in the townscape and became determined to open a store in Paris some day. We were very fortunate because the year before we started our Paris store, there was an sweets exhibition in Paris, and wagashi was a very popular item. That and other opportune events led to the opening of our Paris store.

Takashima

What kind of wagashi is popular in Paris?

Kurokawa

Namagashi. The French people are very interested in the beauty of each piece as well as the origin of their names. Also, since wagashi is made from plant-based ingredients, it is popular among people seeking healthy foods.

Takashima

That is true. Since wagashi doesn't include animal ingredients, it can be enjoyed by vegans. Do you ever receive proposals from overseas brands to collaborate on a product?

Kurokawa

We occasionally do. However, we have no plans for the time being. Ten years ago, Mr. Pierre Hermé (known worldwide as the Picasso of pastry) visited our factory saying that he wished to learn about wagashi and its ingredients.

Takashima

Then one day, Pierre Hermé may release pastry using anko (azuki bean paste).

Kurokawa

I am very happy that wagashi is gaining wide recognition in the world. We hope to one day introduce yokan to a worldwide audience. We know that it will quite the challenge but we would like to see it happen.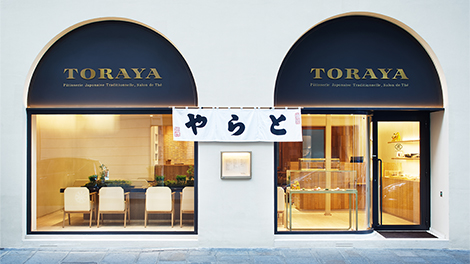 Toraya Paris store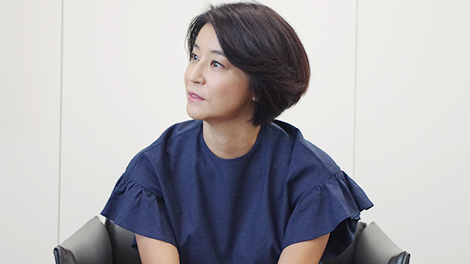 Hopes for Ginza to always be a warm place open to everyone
Takashima

Before we close, please share your thoughts about Ginza.

Kurokawa

I remember an inspiring comment that Mr. Choichiro Motoyama of Sun Motoyama (high-end boutique carrying imported goods established in 1955 when it was the first of its kind). He said, "Ginza is home to old stores as well as new stores. It also has overseas brand stores. I would like to see not only our old customers but also young people and foreigners come to Ginza. We should not take an exclusionary attitude and say that someone "does not belong here" but instead be open to everyone." I agreed with him deeply. Our company may have a long history but 500 years ago we were newcomers, too. When you think about it that way, we are all the same. Just because one has been around for a long time, one should not be exclusive. I hope that Ginza will always be a warm place welcoming everyone. I believe that is why such a diversity of people are attracted to Ginza.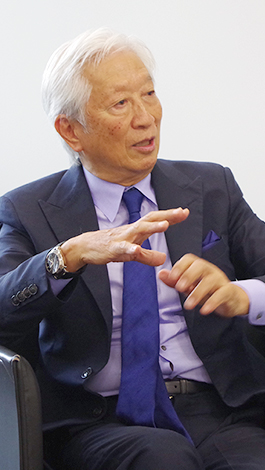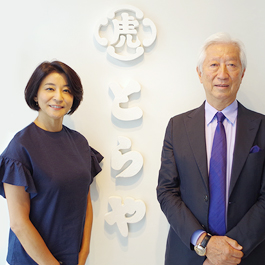 Chisako Takashima
Violinist. Takashima started taking violin lessons from the age of 6. After a successful career abroad, she moved her home base to Japan, where she currently performs in concerts across the country. Highly noted for her character in TV and radio appearances, she has currently opened up her career to more diverse fields with an unchanged focus on her profession
Chisako Takashima official website
Mitsuhiro Kurokawa
Born in 1943. Kurokawa joined Toraya in 1969 after working for Fuji Bank (currently, Mizuho Bank). In 1991, he assumed the post of President and CEO. He is also Chairman emeritus of Japan Wagashi Association and Advisor to the Japan Specialty Store Association. He enjoys playing tennis.
Written by Mikiko Okai: Place of interview: Toraya Head Office
Mezamashi Classics with Friends~Best Vocalist~
Celebrating the 20th anniversary of Mezamashi Classics, newly recorded pieces featuring renowned Japanese vocalists.
Click here for details, including information on individual numbers.

Area linksInquiriesTerms of Use
System RequirementsAbout Us
© Ginza Information Management