GINZA CONNECTIVE
GINZA CONNECTIVE VOL.73
Ryo Saegusa×Chisako Takashima
2017.12.01
An interview series featuring Ginza people in conversation with violinist Chisako Takashima. With a special fondness for Ginza, which holds many memories both from her professional and private lives, Takashima explores Ginza from various dimensions with her guests.In our final volume, she welcomes Mr. Ryo Saegusa, President & CEO of Ginza SAYEGUSA, a long-established children's clothes store.
Always ambitious and ever-evolving: SAYEGUSA's CSR activities
Takashima

This volume closes this interview series, so as my last guest, I would like to welcome Mr. Saegusa, a founding member of the website and the person featured in Volume 0. The series has continued for 72 volumes, but would you happen to remember how many years ago that was?

Saegusa

It was six years ago.

Takashima

No wonder my children have grown. They are growing out of your clothing (laughs). How quickly time passes!

Saegusa

Now, that makes me feel old.

Takashima

I know you are mostly known for your clothing, but SAYEGUSA is also involved in other activities, including summer camp and rice branding.

Saegusa

As a children's clothing brand, we have always proposed ways to enjoy fashion and culture through clothing, but from the strong desire to expand our activities to support children's growth, we are also involved in CSR (corporate social responsibility) activities. For example, we launched the Green Project a few years ago. Under this project, we invite children to learn the importance of energy using "green electricity," generated from renewables, such as hydropower and solar, as well as camping in nature. This way, we can support the growth of their minds and bodies.

Takashima

My children have also participated in one of your kid's camps.

Saegusa

Thank you.

Takashima

They seemed to have enjoyed it very much. They came home stronger and I felt that they had become mature. Of the many summer camps that I have sent them to, your program had the largest number of staff members and I felt assured that they were in safe hands.

Saegusa

At camp, even children who don't usually eat their veggies have large helpings of vegetables.

Takashima

Maybe it is the environment that they are put in. I wonder if I would become able to eat vegetables if I were to join that camp (laughs).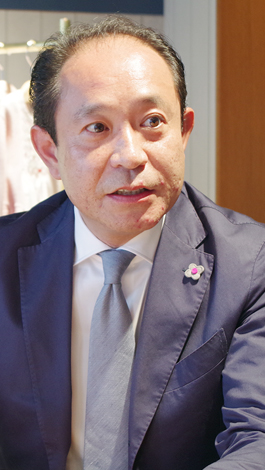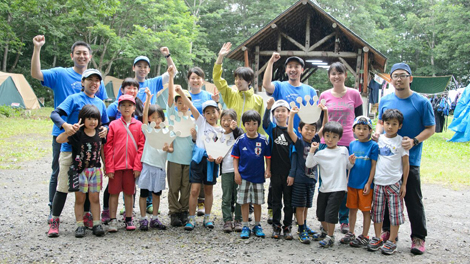 Nature Experience Program "SAYEGUSA GREEN MAGIC"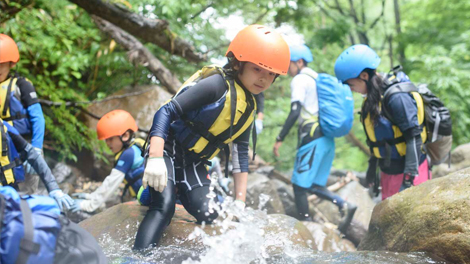 A new store with unchanged values
Takashima

I have heard that you recently reopened The Main Store in Ginza.

Saegusa

Yes. Our company is celebrating its 148th anniversary this year. This April, we moved to Gasto Dori in Ginza 4-chome. It had been fifty years since we last moved our main store. We also moved our Osaka store to the basement floor of the Hilton Plaza. Both stores have maintained our concept of specializing in children's clothing, but they embody fashion culture better. I hope our customers can come into our store and feel the fashion culture if children's apparel.

Takashima

It is such a pretty shop.

Saegusa

Thank you. We were very careful about the details. Even the speakers have been arranged so that children, who are very sensitive, can listen to real sound.

Takashima

I always notice that there is a lot of hem to take out as children grow, so they can continue to wear the same piece when they are older. My mother would always say, "They are expensive but can be worn for a long time."

Saegusa

Children's shoulder-width does not change as does their height so if we keep the hem long, a piece of clothing can be worn over a couple of years. However, there are limits to the length that can be kept when hemming with a sewing machine, so we hem our products by hand. Although it takes time, that is one the details that we are very careful about, so that our customers will be able to wear their favorite outfit for as long as possible.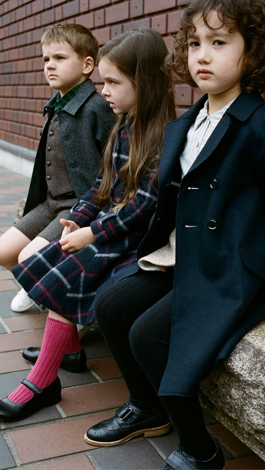 from the 2017 AW collection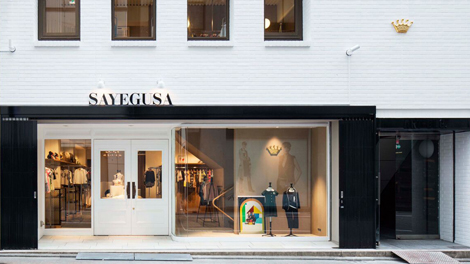 The Main Store, Ginza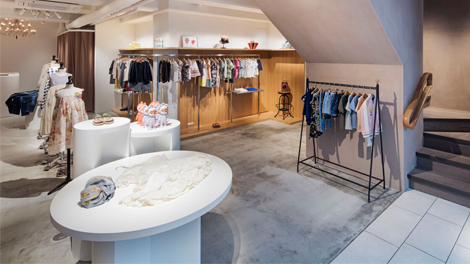 The Main Store, Ginza (inside)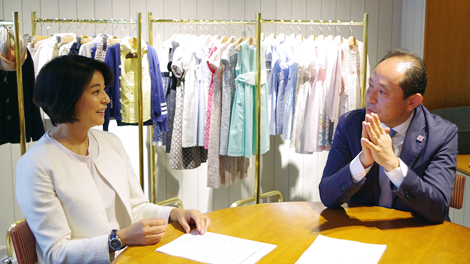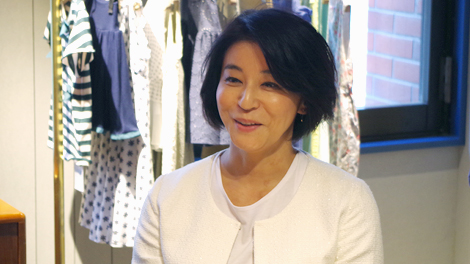 Area linksInquiriesTerms of Use
System RequirementsAbout Us
© Ginza Information Management