GINZA CONNECTIVE
GINZA CONNECTIVE VOL.73
Ryo Saegusa×Chisako Takashima
2017.12.01
An interview series featuring Ginza people in conversation with violinist Chisako Takashima. With a special fondness for Ginza, which holds many memories both from her professional and private lives, Takashima explores Ginza from various dimensions with her guests.In our final volume, she welcomes Mr. Ryo Saegusa, President & CEO of Ginza SAYEGUSA, a long-established children's clothes store.
Ginza is home to unique and advanced efforts and a homey atmosphere
Takashima

What is your role in the Ginza community?

Saegusa

At the moment, I chair the Information Committee that takes care of all communications in Ginza, including operating "Ginza Official," the official website that you have made a great contribution to, installing "G Free," a town-wide Wi-Fi system and launching "G Info," our tourist information center. Our former website was called "Ginza Concierge," which was closed six years ago when we renewed our website to better communicate the attractiveness of Ginza. One of the new contents that we included was a series of interviews with storeowners in Ginza. An increasing number of people have accessed our site and we are all very thankful to you for hosting this interview series. Having interviewed 72 people associated with Ginza, what is your impression?

Takashima

Every person I met was openhearted and gentle. And all of you sound like you are part of a big family! It would always make me smile to know that whenever I mentioned someone else from Ginza, they would know each other. The relationship was so close that I would sometimes feel as though the interview was taking place in a very local shopping street. I could get to know the presidents of the oldest companies or stores and find them to be very friendly. In a good sense, Ginza has become a more casual place for me. Also, each person I met took pride in their stores, but they were all very modest and would say "There is no limit to excellence."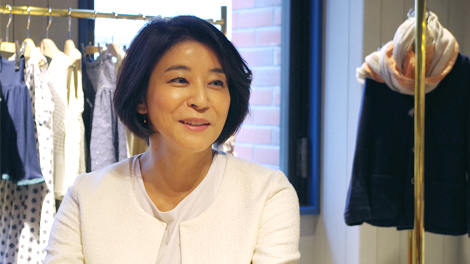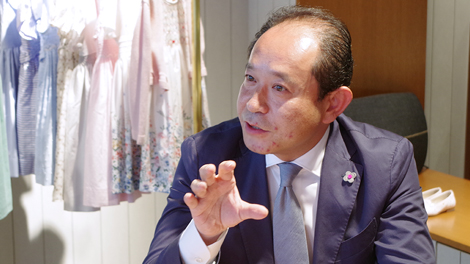 A revival of the "ennichi"!? The future of an ever-innovative Ginza
Saegusa

Is there anything that you would be interested to see in Ginza in the future?

Takashima

Yes! I would love to see an "ennichi" (street fair) on Friday nights, for example.

Saegusa

There was a time when they had an "ennichi" every night on Ginza-dori. I would love to reintroduce this to Ginza, but there are many regulations today that make it difficult. Yet, we started "Yukata de Ginbura" eleven years ago as an event that may eventually lead to "ennichi." This year, we were finally able to hold a small festival similar to "ennichi." Taimei Elementary School agreed to let us use their schoolyard and a "yagura (scaffold)" was erected in the yard for a "Bon-Odori" dance festival.

Takashima

Did you also have food stalls?

Saegusa

Yes. We did not have a large number, but famous restaurants, including Tsubame Grill, Mikasa Kaikan, Ishingo, and Ginza Sembikiya provided food and drinks, and it was a great success.

Takashima

How luxurious!

Saegusa

We had always wished to host a festival like a "ennichi" that local residents could take part in, so we feel that we have been able to take an important step forward.

Takashima

When did you hold it?

Saegusa

It was on the first Sunday of August. Hopefully, in 2020, the year of the Tokyo Olympic Games, we will be able to erect a "yagura" in the Ginza 4-chome intersection.

Takashima

That is a must do!

Saegusa

Next year, we would love to have you join us. Please come in your yukata.

Takashima

Thank you. I surely will! I will bring my children. Now, before we close, please tell me your personal feelings for Ginza.

Saegusa

I believe Ginza is one of the few places that customers visit in pursuit of genuine products. We do face the challenge of living up to our customers' expectations and keeping a good store, but there is much to learn from endeavoring to satisfy customers with high standards. I sincerely hope that Ginza will always be a town that can offer genuine things to people of all ages, from children to the elderly.

Takashima

Ginza was originally one of my favorite places, but having had the opportunity to listen to the sincere feelings that everyone here has for the town through this interview series, I have become even more fond of the town.

Saegusa

This will be the final volume of the interview series, but please continue to support our work here, as Ginza's face.

Takashima

Thank you. I would be more than delighted.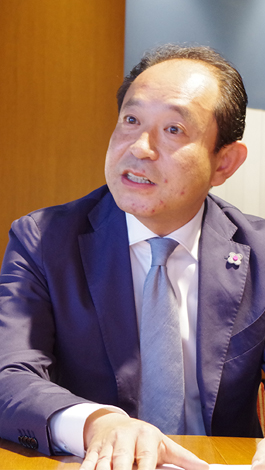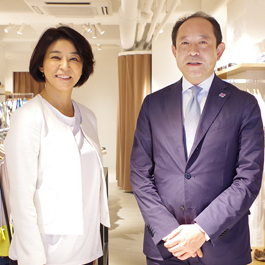 Chisako Takashima
Violinist. Takashima started taking violin lessons from the age of 6. After a successful career abroad, she moved her home base to Japan, where she currently performs in concerts across the country. Highly noted for her character in TV and radio appearances, she has currently opened up her career to more diverse fields with an unchanged focus on her profession
Chisako Takashima official website
Ryo Saegusa
President and CEO of SAYEGUSA, a children's clothing boutique founded in 1869. He has also worked with the young business leaders of Ginza to launch this website and energetically communicate the charm of Ginza.
Written by: Mikiko Okai; Place of interview: SAYEGUSA The Main Store, Ginza
Celebrating the 20th anniversary of Mezamashi Classics with new recordings by Mezamashi Classics ensemble and the best vocalists in Japan.
Click here for details, including information on individual numbers.

Area linksInquiriesTerms of Use
System RequirementsAbout Us
© Ginza Information Management