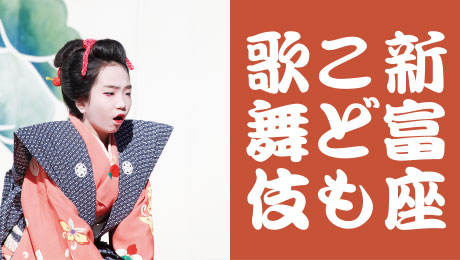 In the Edo Period, there were a number of small theaters showing plays (kabuki) in and around Ginza, and kabuki was cherished as the culture of ordinary people's lives. This culture has been inherited by the Kabukiza Theatre and the Shimbashi Enbujo Theater where it can be enjoyed by many people. Shintomi-za Kodomo (children's) Kabuki will be performed at Taimei elementary school this year again, with the hope that this culture will thrive even more in Ginza and that it can be enjoyed by anyone. The programs will be "Sannin Kichisa Tomoe no Shiranami" (Three Thieves Named Kichisa) and "Shiranami Gonin Otoko" (Five Thieves). Enjoy the charming performance of young actors.
Time & Date: Sunday, November 3 (public holiday), starts at 1:30 p.m. (doors open at 1:00 p.m.). Length: About 70 min.
Venue: Chuo City Taimei Elementary School (special stage set up at the school yard)
   (*In the gymnasium if it rains) (5-1-13 Ginza, Chuo City, Tokyo)
Admission: Free. Performers: Shintomi-za Children's Kabuki
Program
   Prologue
   Sannin Kichisa Tomoe no Shiranami – Okawabata Koshinzuka no Ba
   Shiranami Gonin Otoko – Inasegawa Seizoroi no Ba
Important: Please inform us if you are coming in a wheelchair so that we can better accommodate you. Please note that the number of seats will be limited. Only standing room may be available. Your understanding is appreciated.
What is the Shintomi-za Children's Kabuki group?
Shintomi-za Children's Kabuki was founded under cooperation of Chuo City neighborhood associations and elementary schools as a project for giving children an opportunity to experience kabuki. Ginza, which remains home to the Kabukiza Theatre and maintains the colorful remnants of Edo culture, is infused with hopes of deepening interest in the traditional Japanese arts and developing kabuki as a local culture. Performances are given with the hope that everyone of all ages will feel that Kabuki is interesting, amazing, deep, and exciting.
Plot Summary
Sannin Kichisa Tomoe no Shiranami – Okawabata Koshinzuka no Ba
It was on the night of Setsubun, the day before the beginning of spring. Otose carries the 100 ryo left behind by the previous night's guest, and in search of the man she arrives at Okawabata. However, a girl in a long-sleeved kimono arrives, steals the 100 ryo and shoves Otose into the river. That girl was actually the famous Ojo Kichisa disguised as a girl.
Ojo also robs a sword from the moneylender Taroemon who happened to witness the scene and Ojo enjoys feeling the euphoria of the night's success. Watching everything from the shadows was the thief Obo Kichisa. The two thieves fight over the 100 ryo and
it was the thief Osho Kichisa who intervened to stop their fight. In the end the two thieves are touched by the chivalry of Osho Kichisa and ask to become sworn brothers. Then, Osho responds to their feelings and the three thieves with the same name of Kichisa drip their blood into a cup, which they drink to enter sworn brotherhood.
Shiranami Gonin Otoko – Inasegawa Seizoroi no Ba
After the theft at the Hamamatsu-ya shop, the band of thieves led by Nippon Daemon came under investigation of the police. The five thieves flee their pursuers and go to the banks of Inasegawa River where cherry blossoms are in full bloom, with the thought of temporarily escaping to Kamakura.
The five dapper men in short-sleeved kimonos carrying coarse oilpaper umbrellas make their final move as they realize they can flee no further, and steel themselves against their fate of falling under the net. As they are surrounded by their pursuers that were lying in ambush, they gracefully hurl defiance with the words "let me be judged" and each reveals their identity before facing their potential captors.
This popular scene is one of the most renowned of Kabuki scenes, acted by the Kabuki anti-heroes created by Kawatake Mokuami.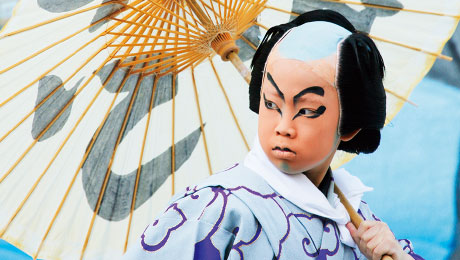 | | |
| --- | --- |
| Sponsors: | GINZA Machidukuri Council, Ginza Association |
| | |
| --- | --- |
| Supporters: | Shochiku Co., Kabuki-za Co., Kojunsha Club, Konami Creative Center Ginza, The Yomiuri Shimbun Tokyo Main Branch, Ginza Curry/Meiji Co., Ginza post offices (Ginza Nishi P.O., Ginza Miyuki-dori P.O., Kyobashi-dori P.O., Ginza 3-chome P.O., Ginza-dori P.O., Ginza 4-chome P.O., Ginza Namiki-dori P.O., Ginza 7-chome P.O., Yaesu Underground P.O., Ginza 1-chome P.O.), Ginza Motoji Co., Japan Post Bank Kyobashi Branch |
| | |
| --- | --- |
| Partners: | Shintomi-za Children's Kabuki Group, Chuo City Taimei Elementary School |
| | |
| --- | --- |
| Work Assistance: | Kanai Scene Shop Co., Pacific Art Center Inc. |
| | |
| --- | --- |
| Photo: | Courtesy of the Shintomi-za Children's Kabuki Group |
| | |
| --- | --- |
| Inquiries: | GINZA Machidukuri Council |
URL: https://www.ginza.jp/kodomokabuki2019/ Email: event@ginza-machidukuri.jp FAX: 03-3563-0236
*Inquiries by phone are not accepted.
*No admission fee. No advance registration is required.
Special fun events
Stencil dyeing workshop by Ginza Motoji
The willow tree is the symbol of Ginza. It is so firmly rooted in Ginza that there is even a street there named after it.
A workshop will be held for participants to use stencils to dye handkerchiefs that have been dyed with Ginza willow dye.

Time: From 1:00 p.m.
For: Anyone of any age
Location: Schoolyard of Taimei Elementary School
What to bring: Nothing required
*First come, first served. The workshop ends when supply of handkerchiefs runs out.

Provided by: Ginza Motoji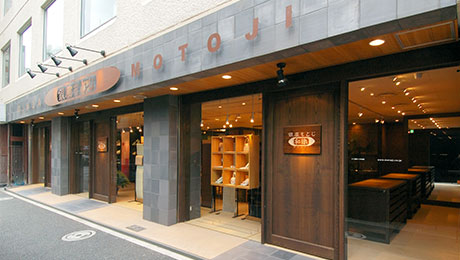 Children's Kabuki Cafe Spot
Check out Ginza's green area, Sukiyabashi Park!
On the day of the event only, there will be a Children's Kabuki photo spot and cafe space for children and parents to enjoy! (Tentative) 11:00 a.m. to 4:00 p.m.
Children's Kabuki Letter Event
Send someone special a letter with a Ginza 3-chome Post Office's originally-designed kabuki postmark!
Take polaroid photos with the Children's Kabuki stage as the backdrop. There will be a letter event to send letters about your amazing experience to someone special. You can have your letter stamped with the commemorative originally-designed postmark based on kabuki and send it in a special post box at the venue. 1:30 p.m. to 4:00 p.m.
*Priority will be given to participants with junior high school children and younger.
*If you wish to participate, bring the address of the person you wish to send a letter to.
*While supplies last.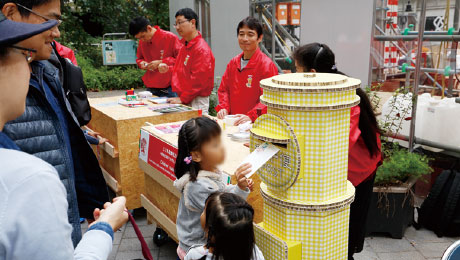 Shintomi-za Children's Kabuki X Ginza Fashion Week VIP Perks
Shops participating in Ginza Fashion Week that is a fall fashion event in Ginza will offer special perks to those who come to see Shintomi-za Children's Kabuki.
Participating stores
Details about VIP perks: offered on Sunday, November 3
Ginza Mitsukoshi
The first 100 customers who have their photos taken at the Shintomi-za Children's Kabuki photo spot set up in Sukiyabashi Park will receive a coupon for a free Minori Café gelato. Exchange booth: 9F Minori Cafe
Matsuya Ginza
The first 50 people who come to Matsuya Ginza Quolofune with the program that was distributed at the venue will receive a free The Rich & Milk. Exchange booth: B1F Quolofune
Wako
Elementary school children who performed in or viewed the Shintomi-za Children's Kabuki can try simple assembly and painting of a clock and take it home with them. Location: Wako main building, from 10:15 a.m. and 3:30 p.m. (100 min. each time)
Participants: Six children each time on a first-come-first-served basis (must be accompanied by a parent or guardian)
Tuesday, October 1, from 10:30 a.m., phone reservations begin on a first-come, first-served basis. Reservation: Marketing & Planning Department – 03-3562-2111 (main)
Tokyu Plaza Ginza
The first 30 people who come with the program that was distributed at the venue will receive a free mini pound cake.
Exchange booth: 6F Sukiyabashi Sabo
GINZA SIX
B2F Candy Art Museum by Papa Bubble
(1) Participation in a candy-making class (candy cutting class. *For elementary school children and younger only.)
 From 3:00 p.m. and 4:00 p.m. Four children each time, first-come-first-served, total of eight children
(2) Free Shintomi-za Children's Kabuki performance commemorative originally-crafted Papa Bubble candy (not for sale). (The first 50 people who are either elementary school students who performed in Shintomi-za Children's Kabuki or are customers with the program that was distributed at the venue)