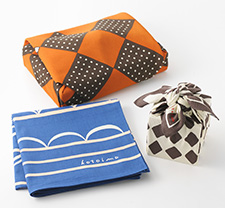 Lunch totes, handle bags, gift wraps—the possibilities are endless!
Come and experience the world of Japanese furoshiki as it literally unfolds before you.
During the event, we'll be offering a gift-wrapping service using customer-bought furoshiki.
Purchase or bring in a gift you would like to be wrapped and leave the rest to us.
※In the event of extreme crowding, we may be unable to provide on-the-spot wrapping.
※Wrapping services may be unavailable for items of certain size or shape.
※For more details, please ask an attending staff member at the event.
■Duration: Mar 14 (Wed) – Mar 20 (Tue)
■7th floor, Japan Edition