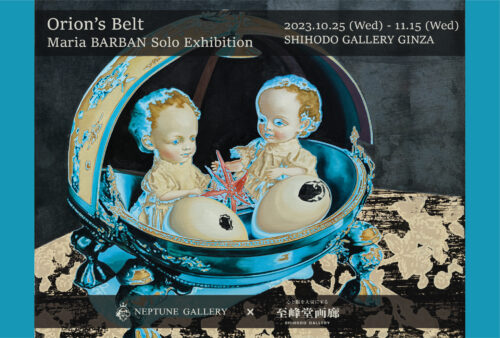 Shihodo Gallery will be holding the solo exhibition of Maria BARBAN.
This solo exhibition is made possible by the cooperation of Neptune Gallery in Taipei.
Originally from Taipei, Maria BARBAN's work is based on her admiration for classical art, and she expresses her religious spirituality and philosophy delicately using oil, black foil, and silkscreen techniques.
We hope you will enjoy Maria BARBAN's first solo exhibition in Japan.
25th October (Wed) – 15th November (Wed)
10am – 7pm Closed Sunday, national holiday
SHIHODO GALLRY GINZA
6-4-7-1,2F Ginza Chuo-ku Tokyo, Japan
---
【Artist's statement】
The constellation Orion, one of the best known constellations, shines brightly in the winter sky of the Northern Hemisphere. Its pattern, often thought to represent the human form, is distinguished by its most prominent feature: the Orion Belt, which consists of three stars aligned in a straight line, marking Orion's "waist". According to celestial observations dating back to about 1050 B.C., the ancient Egyptians aligned the construction of the Pyramids of Giza with the Orion Belt, using the Nile River as their Milky Way. They believed that the gods resided in Orion and that the gateway to heaven led through Orion's belt.
During my visit to Tokyo, Japan, in 2013, I was fortunate to visit "The Lady and the Unicorn Exhibition" at The National Art Center, Tokyo, in Roppongi. This exhibition featured a series of six monumental tapestries with a total length of 22 meters. "The Lady and the Unicorn" is one of the most famous series of European tapestries of the Renaissance. Its thematic meaning is not easily discernible and has been interpreted as an allegorical reflection on earthly pleasures and courtly culture through the use of the senses. It was a great surprise to see the original and eagerly awaited mysterious tapestries during what I initially thought was an ordinary trip. The aura that emanated from the colossal originals was incomparable to reproductions.
Driven by my love of classical art, I integrated classical artworks into AI image generation tools and combined them with other photographs I took or images I found on the internet to create seemingly "mixed" classical artworks that serve as references for my artistic compositions. This endeavor is both a tribute to classical art and a tribute to the new era of artificial intelligence. In my latest works for this exhibition, I have combined oil painting and silkscreen techniques, using carefully selected black foil. This black foil is made from pure silver foil and is extremely brittle and fragile due to its complete charring. Its unique qualities include delicate, magnetic patterns, unique colors and textures that exude a discreet and noble mystique. In my creative process, I paid tribute to the "mille-fleurs" style of early Renaissance European tapestries, which consists of various small flowers and plants forming the background, without overlap, perspective or depth. The core of my work and technique is simple, but carries a hint of religious spirituality and philosophical reflection, speaking directly to the meaning behind the title of the exhibition.
Maria BARBAN