GINZA CONNECTIVE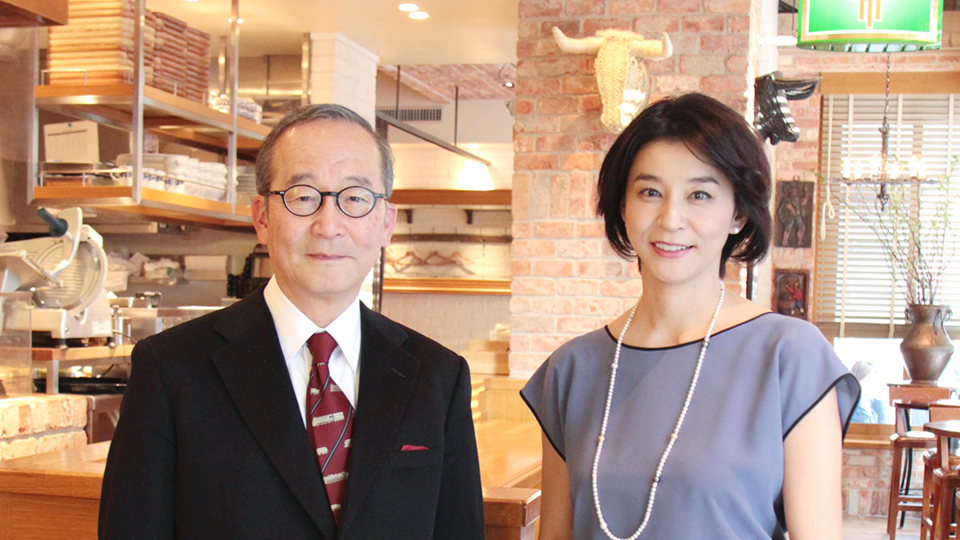 GINZA CONNECTIVE VOL.31
Yukichi Ishikura × Chisako Takashima
2014.04.01
A talk series with the violinist Chisako Takashima and the Ginza people. Ginza holds many personal and professional memories for Takashima. In this talk series, she thoroughly explores various aspects of the Ginza culture with her guests. Today's guest is Yukichi Ishikura, the president of Tsubame Grill, a restaurant that is famous for its hamburger steak.
The name Tsubame Grill comes from the "Tokyo Tsubame" that was the first train departing from Tokyo station
Takashima

I've been a big fan of Tsubame Grill hamburger steaks since I was little, and my parents often took me there. It was such a treat.

Ishikura

Thank you.

Takashima

First let me ask you about the origin of the restaurant's name. It's a very interesting name. Actually, when I was little, I thought it was "Tsubame Gururi." ("Grill" is pronounced "gu-ri-ru" in Japanese. "Gu-ru-ri" means to go round and round.)

Ishikura

Is that so? (laughs)

Takashima

Apparently everyone thought I was being silly, but I really thought it was "Gururi." Then one day I looked at the sign more closely, and was shocked to read "Tsubame Grill."

Ishikura

The name comes from the days of the National Railways. There was a Tokaido Line called "Tokkyu Tsubame."

Takashima

Where did it go to?

Ishikura

To Tokyo and Osaka. Until then, we had been selling Japanese sweets and fruit at the Shimbashi station, and were kind of like a tourist information counter. Well, there weren't so many visitors at the time, really. Around that time, we heard that train stations in Western countries had restaurants that served food inside the station, so we copied them and opened our own. Getting back to the Tokkyu Tsubame, the Tsubame train did not actually stop at Shimbashi station. The locals wanted it to stop there and started a campaign, which is why we called our restaurant "Tsubame Grill."

Takashima

That was in 1930?

Ishikura

We were actually running the restaurant before that, but there is no record of it. So, the founding year was set as 1930, which was the year we named it "Tsubame Grill."

Takashima

That makes this the 84th year. When was the hamburger steak that is the featured dish created?

Ishikura

In 1974. It was created it to make a dish that would become a main attraction.

Takashima

Am I correct that it was Tsubame Grill that first thought of wrapping it in aluminum foil?

Ishikura

Yes, that's correct. Fortunately, it remains a popular dish.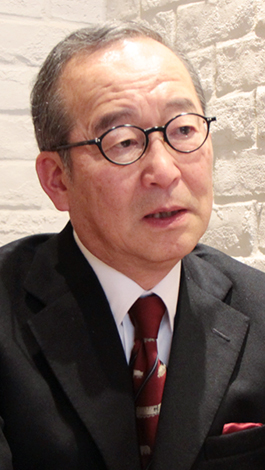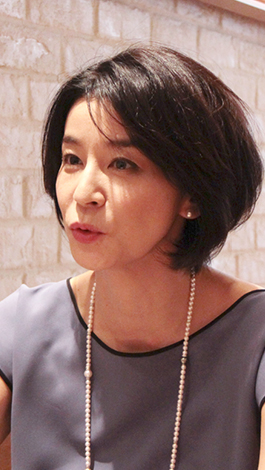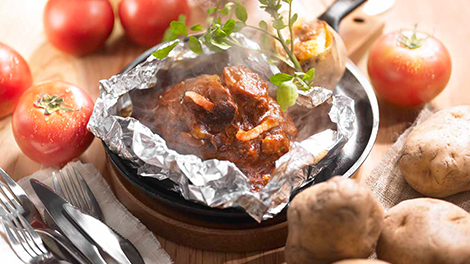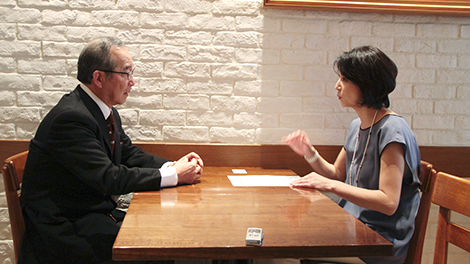 I don't want to lie to customers, I want to be honest
Takashima

Is there anything you are particular about in running the restaurant?

Ishikura

Being honest. Western food is all about the ingredients. Choose your ingredients, follow the theory, make it carefully and it will taste good.

Takashima

Food safety has become a really delicate issue.

Ishikura

As a matter of fact, when I took over the restaurant in 1945, it was on the brink of closing.

Takashima

No kidding?!

Ishikura

So, I envied long-standing shops. We often served lunch to the grandfather of Shinichi Tanizawa (president of Ginza Tanizawa), the current chairman of the Ginza Street Association. His grandfather talked with us often. He laughed and said, "It's not that long-standing shops are doing anything particularly different. Ginza is the place where you just continue operating a decent business you wouldn't be ashamed to show your friends."

Takashima

That makes sense.

Ishikura

When I thought about it then, I realized that what we were making at the restaurant at the time had not been perfected. The sauce symbolized this. The sauce is actually the most expensive part. Of course you can cut costs by using MSG, but I did not want to use them; I did not want to lie. This is why we are still around today.

Takashima

In that sense, it is extremely difficult to operate a business in Ginza, but it will be a business customers can trust.

Ishikura

I think Ginza must be the place with the most customers that actually get it. If we strive earnestly, they will know. This makes me happy.

Area linksInquiriesTerms of Use
System RequirementsAbout Us
© Ginza Information Management