GINZA CONNECTIVE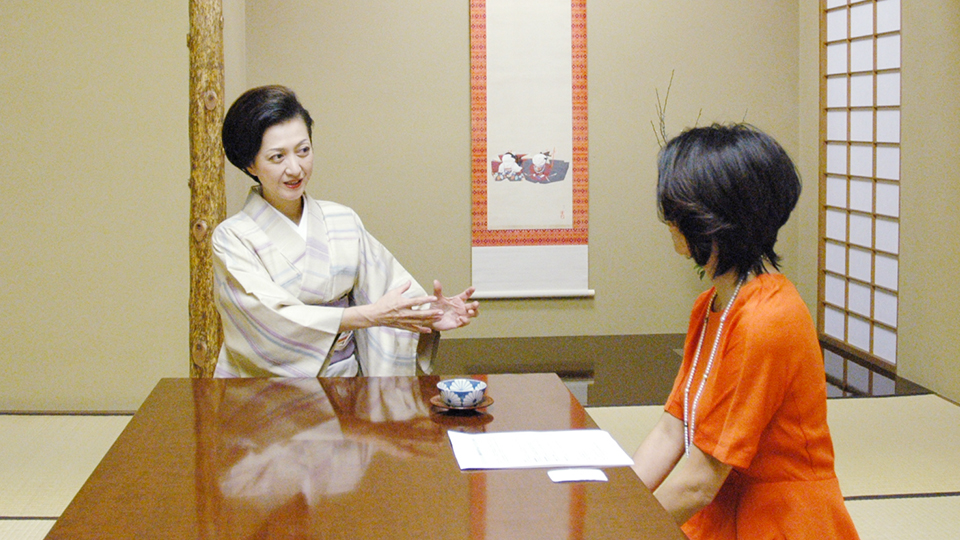 GINZA CONNECTIVE VOL.6
Noriko Okazoe×Chisako Takashima
2012.03.07
A talk series with the violinist Chisako Takashima and the Ginza people. Ginza holds many personal and professional memories for Takashima. In this talk series, she thoroughly explores various aspects of the Ginza culture with her guests. Today's guest is Noriko Okazoe, proprietress-to-be of Kanetanaka, a long-standing ryotei (Japanese-style) restaurant that has been around since the Taisho era (the 1920's).
I had no idea what to do my first 5 years after getting married.
Takashima

I once visited the restaurant right around the time I was making my debut.
But I did not know the name of the restaurant well and thought it was Kintanaka (laughs).

Okazoe

Yes, people tend to give the restaurant name more complicated readings, like Kindenchu (laughs).

Takashima

Where did the name Kanetanaka come from?

Okazoe

There was a big restaurant called Tanakaya. Kanetanaka was the name of the shop that its head waitress, Kaneko, opened under a different name.

Takashima

I understand that Kanetanaka has opened other restaurants as well.

Okazoe

My husband's grandfather is from Mie prefecture. Okahan is a restaurant along Namiki-dori that uses Matsuzaka beef.

Takashima

I'm very interested in going there. I'm a big meat-eater (laughs). Do they serve lunch as well?

Okazoe

Yes, and it's very reasonably priced. In the same building there is also the counter style restaurant, Kanetanaka An, and there is Sukiya Kanetanaka in Cerulean Tower in Shibuya.

Takashima

Do you offer catering services?

Okazoe

Yes, we do. We often receive requests to cater parties for people working for foreign brands, and they are always very happy with what we offer. All these new ideas were conceived by my husband.

Takashima

He is the 'idea man.'

Okazoe

He says that he wants to try opening up all different kinds of shops in keeping with the changing times.

Takashima

Did you learn how to work as an Okami-san (manageress) after you got married?

Okazoe

Yes. I got married without knowing anything at all about the job, so I was often bewildered.

Takashima

Did you have any difficulties?

Okazoe

It was not so much that it was difficult, but more that I just did not know what to do.
At first I just stood behind my mother-in-law and greeted guests, but all the guests were very important people, so I did not know what to say to them. There is no manual, so I just had to watch and learn. I don't think I did anything for the first 5 years.

Takashima

Then you became more and more used to it….

Okazoe

Exactly. I felt a good response running Kanetanaka An, the restaurant my husband and I opened together. I've come to feel that it is a difficult job, but one that is very rewarding.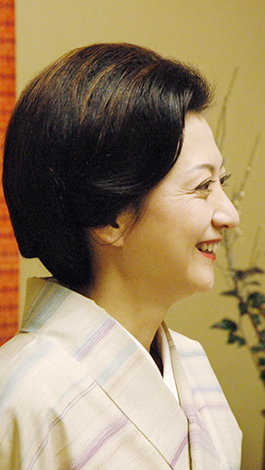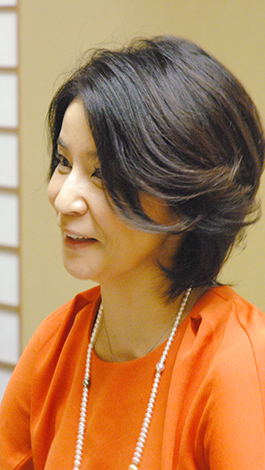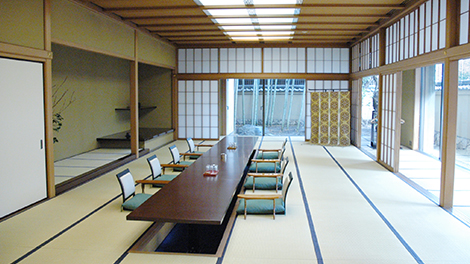 36-mat tea-ceremony pavilion with a view of a bamboo garden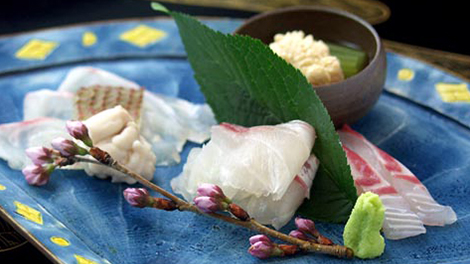 Sea bream sashimi, a dish served at Kanetanaka
Geisha quarters are made up of ryotei restaurants, teahouses and geisha houses.
Takashima

The area around this restaurant is probably not very familiar to regular people.

Okazoe

That may be true. That was the case for me before getting married.
This area is called the geisha quarters in Shimbashi and was supposedly developed in 1858, over 150 years ago.

Takashima

What are geisha quarters like?

Okazoe

Geisha quarters are made up of ryotei restaurants, teahouses and geisha houses. The restaurants would call the geisha houses to request geisha to come to entertain.

Takashima

Is the system still the same today?

Okazoe

Most of the teahouses are gone now and have given way to large ryotei restaurants. Teahouses are more laid back than ryotei restaurants. They are not places where you eat a meal, but where you have snacks and sake and can call geisha.

Takashima

Do fewer people call geisha these days?

Okazoe

You may get that impression because many patrons are companies entertaining clients, but some sophisticated patrons do ask us to bring over a geisha to sing a kouta (short songs accompanied by the shamisen, a Japanese string instrument).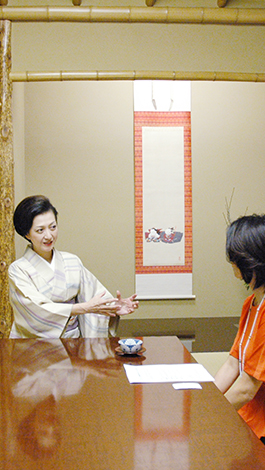 Area linksInquiriesTerms of Use
System RequirementsAbout Us
© Ginza Information Management