GINZA CONNECTIVE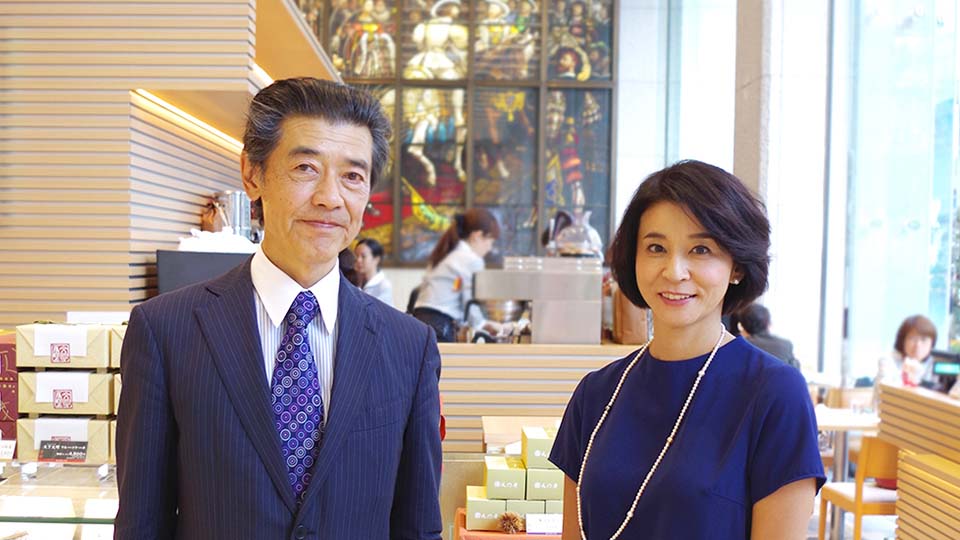 GINZA CONNECTIVE VOL.49
Keisuke Okamoto×Chisako Takashima
2015.11.13
An interview series featuring Ginza people in conversation with violinist Chisako Takashima. With a special fondness for Ginza, which holds many memories both from her professional and private lives, Takashima explores Ginza from various dimensions with her guests.In this volume, we welcome Chairman and CEO of Ginza Bunmeido, Mr, Keisuke Okamoto.
The Go-san Castella – the masterpiece of trial and error
Takashima

Do you still use your original recipe, or have you made some alterations since your establishment?

Okamoto

We have basically stayed with our original recipe for most of our main products, but we use honey in our high-grade product, the Go-san Castella. Even the smallest hint of honey can have a tremendous impact on the taste, and it was a great challenge to find the perfect honey.

Takashima

Which honey do you use?

Okamoto

We use multifloral honey from the Cotswolds in England. It has a distinctive sharp taste, which pairs perfectly with castella cakes. I was overwhelmed with joy when I discovered it.

Takashima

I have heard that the Go-san Castella is a rare masterpiece that is very difficult to make.

Okamoto

Yes, it is a product of continuous trial and error. It was quite a challenge until we arrived at the perfect balance. I was still in school back then, but I recall eating tons of trials before the recipe was completed in 1974 (laughs). Honey is not the only selected ingredient used in our Go-san Castella. In pursuit of a moist texture and rich flavor, we use the best rice starch extracted from sticky rice, fine Wasanbon sugar, which adds an elegant sweetness, and fresh eggs from selected farmers. As we rely on eggs, instead of baking powder, to leaven the cake, the quality of the eggs we use is very important. For the Tenka Bunmei Castella, which is available only in our Ginza and Higashi-Ginza stores, we use free-range eggs from an area where fireflies can still be seen.

Takashima

Why is it called the Go-san Castella?

Okamoto

There are various stories about the origin of the name. One is that the approximate ratio of egg yolks to egg whites is 3:5. Another is that it was named after the Paulownia crest, or "Gosan-no-kiri" because the finest quality castella cake is usually bought as a special gift and thus comes in a Paulownia box.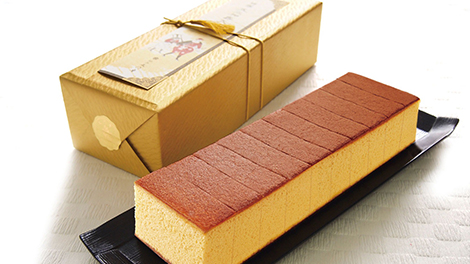 Go-san Castella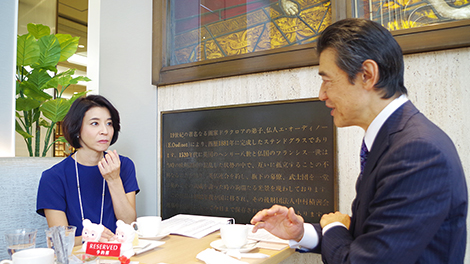 Ginza's future outlook – preserving traditions and yet thriving to become an even more attractive town
Takashima

Please tell me what you find attractive about Ginza.

Okamamoto

Ginza has its main streets and its alleys, all lined with department stores, high-end boutiques and independent stores. I find the diversity wonderful. Surrounded by the most luxurious brands from around the world, we cannot survive competition if we are not top class. We have several branch shops, but we make it a rule to serve the best quality at our Ginza store. We make sure that the facilities, products and staff at our Ginza shop are the finest of the finest.

Takashima

I guess some of your challenges are unique to Ginza. How do you envision Ginza in the future?

Okamoto

As chair of the Ginza Town Planning Committee, I often ask major developers not to let one facility seize all the customers. If there is only one entrance and customers can get all of their shopping and dining done in the same building, then the rest of the town, including other shops, will diminish. My wish is for Ginza to be the kind of town where strolling in the streets is an entertaining activity in itself. Shopping can be done on the Internet. I believe that customer satisfaction can be achieved when people come to Ginza and enjoy shopping in a sense of safety.

Takashima

You are implying that what is important is not only the goods available but also the service offered.

Okamoto

Yes, and safety and reassurance are no less important. Ginza should not be the kind of town where people become more and more reluctant to approach as they grow older. There is an urgent need for us to make Ginza a friendly town where people can enjoy taking walks, instead of being a destination that people are compelled to leave once their errands are finished. We will need benches for people to rest in and trees to provide shade. I also hope that we can eventually develop a barrier-free town.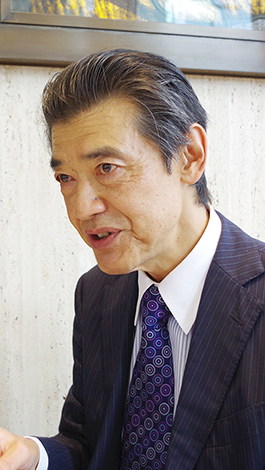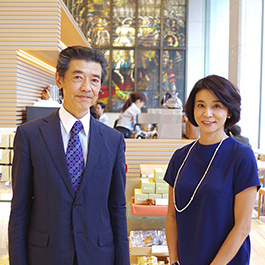 Chisako Takashima
Violinist. Takashima started taking violin lessons from the age of 6. After a successful career abroad, she moved her home base to Japan, where she currently performs in concerts across the country. Highly noted for her character in TV and radio appearances, she has currently opened up her career to more diverse fields with an unchanged focus on her profession.
Chisako Takashima official website
Keisuke Okamoto
Chairman and CEO of Bunmeido Ginzaten Co., Ltd. Born in 1954, Okamoto joined Meiji Dairies Corporation (currently Meiji Co., Ltd.) after he was graduated from the Faculty of Economy at Keio University. In 1980, he joined Bunmeido Ginzaten and Bunmeido Seika Co. In 1994, he became President and CEO of Bunmeido Seika Co. and Bunmeido Ginzaten Co., Ltd. before he assumed his current position in 2012.
Written by Mikiko Okai; Place of interview: BUNMEIDO CAFE GINZA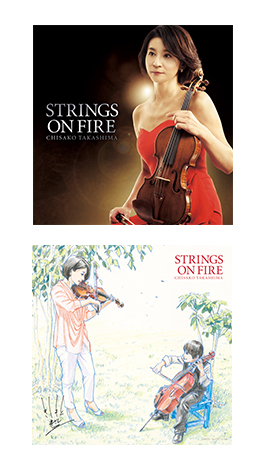 Strings on Fire Chisako Takashima's new album is available in stores!
Finally released! Chisaka Takashima's long-awaited new album, Strings on Fire.
A compilation of 12 tunes: 3 originals, including "Some Day, Just the Two of Us," a duet with the cello, played by her second son (age 6), and other classical standards.
Featuring special album cover art drawn by Masashi Kishimoto, author of the popular manga NARUTO.
Celebrating the 20th anniversary of "true" violinist Chisako Takashima, opening new frontiers with the second album released under her new record label.
isit Chisako Takashima's official website for more information.

Area linksInquiriesTerms of Use
System RequirementsAbout Us
© Ginza Information Management