GINZA CONNECTIVE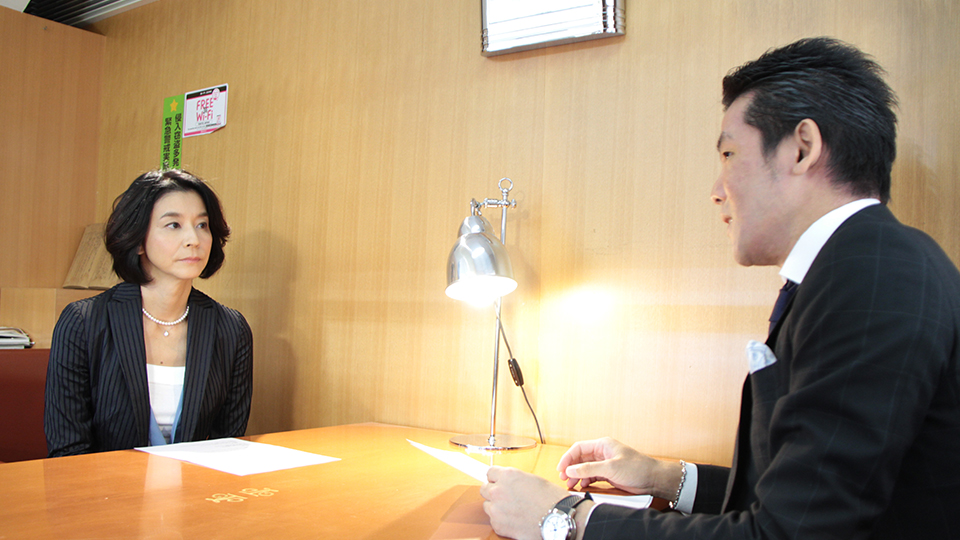 GINZA CONNECTIVE VOL.38
Keiji Niimoto×Chisako Takashima
2014.11.05
An interview series featuring Ginza people in conversation with violinist Chisako Takashima. With a special fondness for Ginza, where she has many memories both from her professional and private life, Takashima explores Ginza from various dimensions with her guests. In this volume, she welcomes Mr. Keiji Niimoto, CEO of TENSHODO, a renowned retailer of precious metals and railroad models established in the Meiji era.
The key to securing repeat customers without discounts nor rewards cards
Takashima

Watches can be bought in department stores and other shops, and yet your customers buy their watches at Tenshodo. What do you think is the distinguished charm that sets your store apart from others?

Niimoto

I think people (staff) are most important factor. Tenshodo offers no discounts nor rewards cards to our customers, and yet, some of our customers have been shopping with us for two or three generations. I am proud to say that this is because of our fine-tuned services, including the after-sales service that each of our staff provides. Because watches are sold for similar prices and because they can be bought anywhere, we roll out the red carpet to all of our customers.

Takashima

So that is why you have an increasing number of repeat customers.

Niimoto

Yes, and I hope to continue exploring many new possibilities in order to remain worthy of doing business in Ginza.
Retaining good features from the past and innovating what should be changed.
Takashima

Do you have any childhood memories of Ginza?

Niimoto

When I was a child, Tenshodo used to sell mini 4WDs and air guns, so I would sometimes come to Ginza to play in the store. It was my playground.

Takashima

Now that you work in Ginza, have you developed any special feelings for the town?

Niimoto

I believe Ginza to be the best town in Japan. Ginza is home to various neighborhood associations and the people here take part in voluntary activities in a shared effort to make Ginza a better place. It is only with the support of these people that Ginza never ceases to be ahead of the times despite its historical heritage. As head of the General Affairs Division of Ginmikai (an association of business owners in Ginza and organizer of various local events), I hope that I can make a small contribution to Ginza as an expression of my fondness of the town. We should retain good features from the past and innovate what should be changed.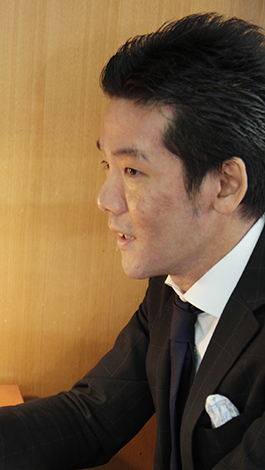 The next guest will be…
Takashima

May I ask you to introduce the next guest?

Niimoto

The next guest is Ms. Chieko Nakamura, CEO of Ginza Jujiya, a long-established retailer of musical instruments that also holds a variety of music classes and events. As the music store is focused on harps, I think you will enjoy hearing much about the charm of harps.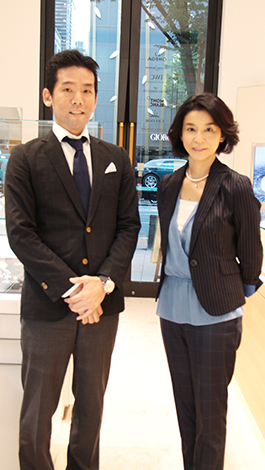 Chisako Takashima
Violinist. Takashima started taking violin lessons from the age of 6. After a successful career abroad, she moved her home base to Japan, where she currently performs in concerts across the country. Highly noted for her character in TV and radio appearances, she has currently opened up her career to more diverse fields with an unchanged focus on her profession.
Official website of Chisako Takashima
Keiji Niimoto
Born in 1976. CEO of Tenshodo. After being graduated from university, he spent some time in the art business until he assumed his present position in 2006. Apart from his business, he is also dedicated to voluntary activities as General Manager of the General Affairs Division of Ginmikai
TENSHODO website
取Written by Mikiko Okai; Place of interview: TENSHODO

Area linksInquiriesTerms of Use
System RequirementsAbout Us
© Ginza Information Management