GINZA CONNECTIVE
GINZA CONNECTIVE VOL.57
Shinobu Mitsuoka×Chisako Takashima
2016.08.18
An interview series featuring Ginza people in conversation with violinist Chisako Takashima. With a special fondness for Ginza, which holds many memories both from her professional and private lives, Takashima explores Ginza from various dimensions with her guests.In this volume, she welcomes Ms. Shinobu Mitsuoka, CEO of G.C.PRESS, a stationery brand with a full lineup of paper products.
Handwriting is a person's identity. There is no "good" or "poor" handwriting.
Takashima

It occurred to me, listening to the episode about the love letters, that I cannot even remember the last time I wrote a letter. I think more and more people have become like me, but when I receive things from mindful people or from elderly people, I always find a small note enclosed. I do want to do the same….

Mitsuoka

I believe that when one becomes too obsessed with manners, writing becomes a bother, but even a short handwritten note gives an entirely different impression. Writing is not only a simple way of communication, it is a means to express one's individuality. I hope to encourage more people to appreciate the art of communicating thorough writing.

Takashima

My penmanship is so poor that I feel even more reluctant to write (laughs). I am afraid that people who read my letter would think I was joking. If I wrote an absent note for my children, the teacher may think it was forged (laughs).

Mitsuoka

Handwriting styles are a part of a person's identity. I would not be too conscious about it (laughs).

Takashima

I have always wished that there were stationery with short messages like "thank you" printed in very light ink so that I could trace it with a pen. That would make it handwritten, but not offending, so I wouldn't have to feel embarrassed sending letters.

Mitsuoka

Like a calligraphy text book (laughs). Different pens give different impressions of handwriting. For example, fountain pen ink feathers, which has the effect of making writing appear beautiful.

Takashima

I had always believed that a fountain pen was the last item that someone with ugly handwriting like me should use!

Mitsuoka

Not at all. Ball point pens and mechanical pencils reproduce a person's handwriting precisely. Fountain pens use waterborne ink, which is absorbed into paper beautifully. Also, the pen tip glides more smoothly than other pens. Fountain pens can transform "improper" penmanship into unique and attractive handwriting.

Takashima

I see. I will try it some time.

Mitsuoka

Since most writing paper and notepads are decorated, personal handwriting gives a brighter appearance and blends in better with the design, compared to than textbook letters.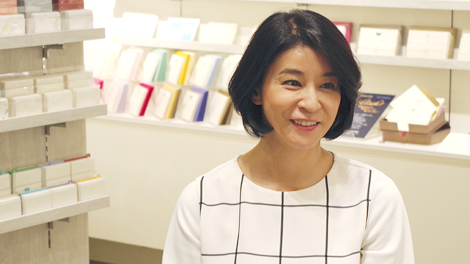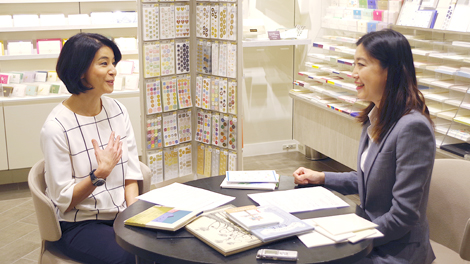 Hoping to continue business in the town of childhood dreams.
Takashima

Before we close, please tell me how you feel about Ginza.

Mitsuoka

My parent would often bring me to Ginza and it was always a place of dreams. Now that I work here as an adult, I feel that it features a good balance of the old and the new and a wonderful display of diversity. Its charm is that people of all ages – from children to the elderly – can feel at ease and enjoy their time in Ginza. My parents were also emotionally attached to Ginza. They both love the town and had always hoped to have a store here. Six years ago, I was able to grant their wish at long last. I am determined to be focused and make every effort to be able to continue business here.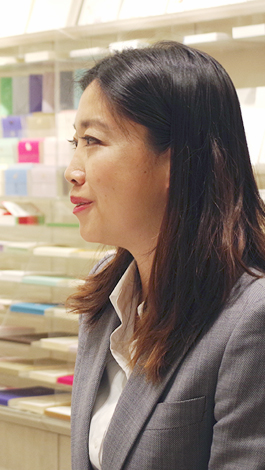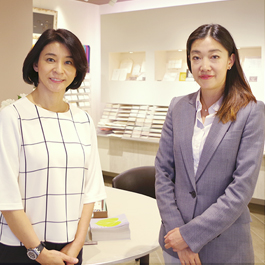 Chisako Takashima
Violinist. Takashima started taking violin lessons from the age of 6. After a successful career abroad, she moved her home base to Japan, where she currently performs in concerts across the country. Highly noted for her character in TV and radio appearances, she has currently opened up her career to more diverse fields with an unchanged focus on her profession
Chisako Takashima official website
Shinobu Mitsuoka
CEO of G.C.PRESS. Mitsuoka was born in 1979. She studied in the U.S. during high school and after being graduated from college, worked as a photographer for a publishing company. She assumed her current position in 2003. Her favorite pastimes include dancing and horse riding.
Written by Mikiko Okai; Place of interview: Ginza Sankame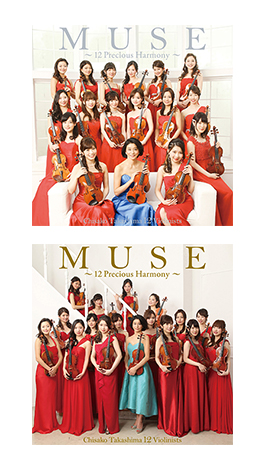 Released! A new album by Chisako Takashima 12 Violinists: MUSE -12 Precious Harmony-
Chisako Takashima 12 Violinists have released their first album in four years: MUSE -12 Precious Harmony-.
This diverse album celebrates the 12 Violinists' tenth year with many classical numbers.
With three original pieces, including "SPLASH!!!," a novel number written and co-performed by Sukimaswitch, the album comprises twelve numbers.
Click here for details, including information on individual numbers.

Area linksInquiriesTerms of Use
System RequirementsAbout Us
© Ginza Information Management