Shop & Restaurant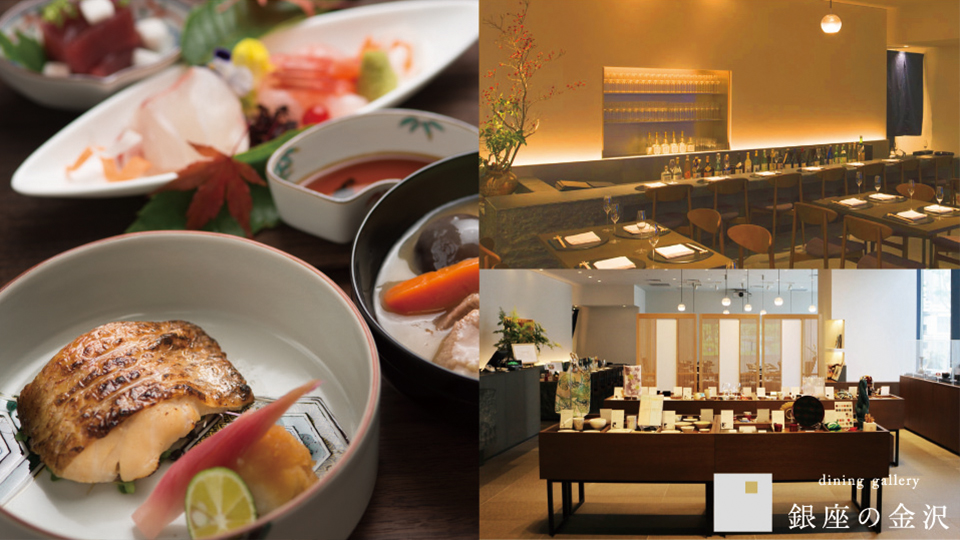 dining gallery Ginza no Kanazawa
Traditional crafts, tea ceremony, and food culture. Those are just some of the charms of Kanazawa.
<p>Dining Gallery Ginza no Kanazawa was created to offer a sense of the good old days as well as contemporary Kanazawa.
<p>With the opening of the Hokuriku Shinkansen Line, we hope to help bring Kanazawa closer to everyone's hearts. We await your visit.
Address
6F Kirarito Ginza Bldg., 1-8-19 Ginza, Chuo-ku, Tokyo
Hours
Gallery: 11 a.m. to 9 p.m.
Dining: 11:30 a.m. to 10 p.m. (L.O. 9 p.m.)
Holiday
Closed: Year-end and New Year holidays, January 1
Closed: Third Tuesday in February
Tel
03-6228-7733
web
NEWS
2016.07.14
涼しい器〜赤地径&金属工芸工房かんか」展
「涼しい器〜赤地径&金属工芸工房かんか」展  〜夏に使いたくなる陶と金属の器たち〜 【会期】2016年7月13日(水)〜7月25日(月) 最終日は16時閉場 【出展作家】 ...

2016.05.18
Small dish and small bowl
"Small dish and small bowl" exhibition  Wednesday, May 18th to Monday, May 30th, 2016  ...

2016.01.28
(jp) 「金沢の港町・大野の作り手」展
Ceramic and Glass Artists from "Ohno towm"---port town of Kanazawa---- 【The period of the e...

※店舗情報は変更されている場合もございますので、予めご了承願います。
※情報の確認は、各店舗へご連絡願います。

Area linksInquiriesTerms of Use
System RequirementsAbout Us
© Ginza Information Management