Ogikubo

I always imagine how busy an Inari shrine must be with many people coming in all the time with various wishes and expectations. Particularly in Edo, Inari shrines were valued as a god for success in business and fire prevention.

Uino

Inari shrines are often said to grant wishes for success in business, but fire prevention…?

Ogikubo

Edo had many fires, and the damage was always quite large because the buildings were made of wood. Fire prevention was very important; and therefore, stores with a long history often have an Inari shrine in the back of their store and sometimes on the rooftop, as if to enshrine a guardian god of the house.

Uino

I see. Ginza is home to many long-established stores, and that is why we can find so many Inari shrines here.

Ogikubo

That's right.

Uino

I have selected the perfect destination for this bright and sunny day.

Ogikubo

We do have very clear skies today… Then, I suppose our destination is on the rooftop?

Uino

Yes, we will be going up this building.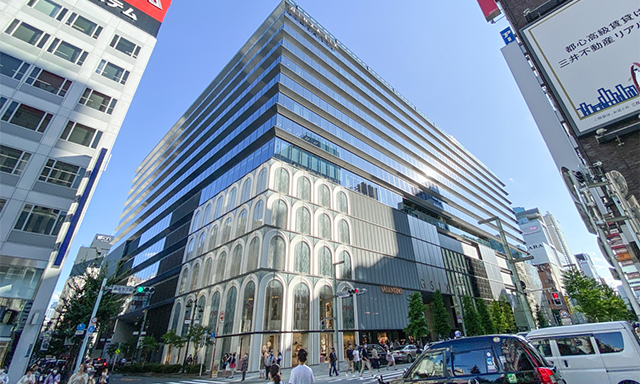 Ogikubo

GINZA SIX. I had always wondered why they named it the way they did, but now I realize it was because it is located in Ginza 6-chome. This is where Matsuzakaya used to stand. It is my first time here after GINZA SIX was built.

Uino

Let us take the elevator up to the roof.

Ogikiubo

I had never known that the roof was accessible.

Uino

Yes, and this rooftop is…
(Elevator arrives at the roof.)
Ogikubo

This is quite a surprise. It is so bright and so beautifully taken care of. And it feels good. It is also wonderful to have a 360-degree view of Tokyo from a height not too high and not too low. Ginza has both old and new buildings that are hard to distinguish from the street, but it is so evident when you have a bird's eye view and that makes it so exciting. It is almost hard to believe that when Matsuzakaya stood here, there was a small amusement park and pet store on the roof.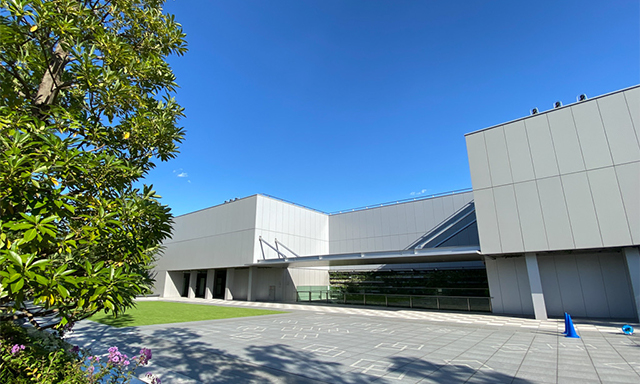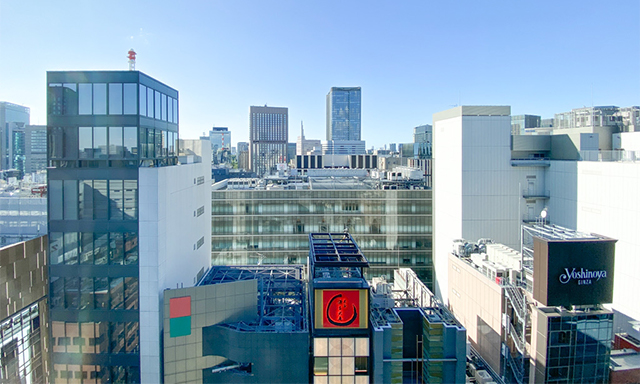 Uino

(Giggles) I have been told that when the department store also played the role of an amusement park, they had a small zoo with an elephant. Look, you can see Tokyo Tower over there.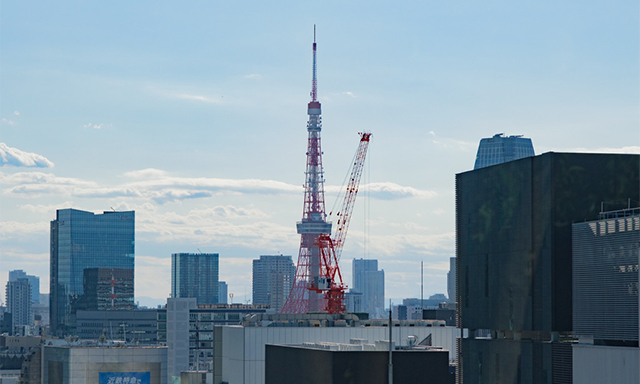 Ogikubo

Oh, this is great. May I take a look around?

Uino

Ogikubo-san, your eyes are shining like those of a little boy. Please go ahead.

Ogikubo

What a wonderful view of the Tokyo Bay area. And I think I see the Boso Peninsula between those buildings.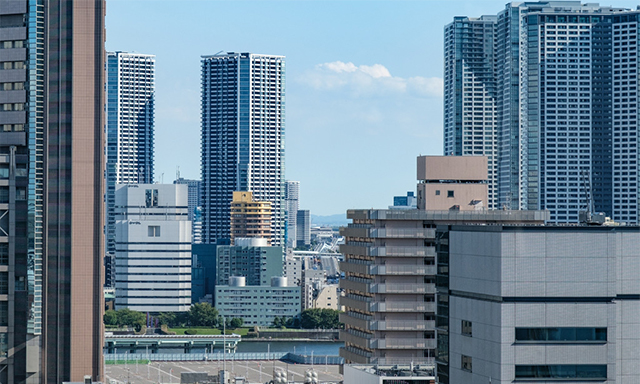 Uino

Really? Is Chiba Prefecture visible from Ginza?

Ogikubo

Yes, on sunny days. Considering the direction, I would say that is Boso Penisula. You also have a very narrow view of Rainbow Bridge.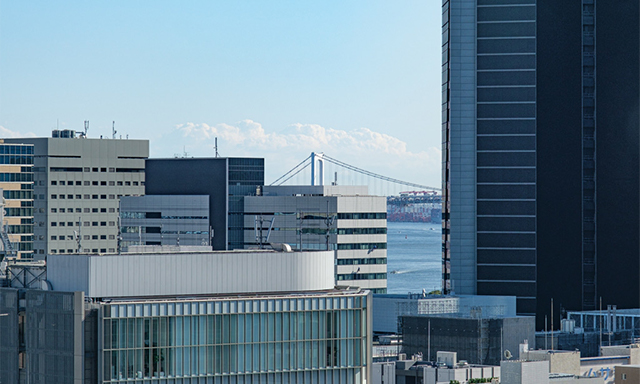 Ogikubo

I guess Sky Tree can be seen for sure, since it is supposed to be visible from anywhere in Tokyo. Wonderful! Now I have confirmed that Sky Tree can also been viewed from GINZA SIX.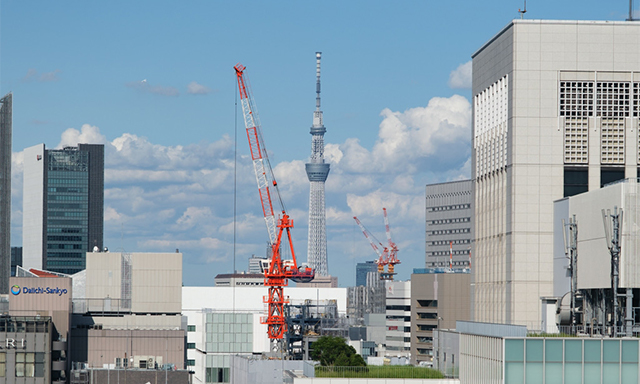 Ogikubo

What an excellent view. We can even look down at the Wako clock tower, the symbol of the Ginza 4-chome intersection. It is refreshing to be able to look down at something that you are used to gaze up at. I can tell that the corners are round and that the clock tower stands on the edge of the building. This is interesting. I could never be bored looking out from here.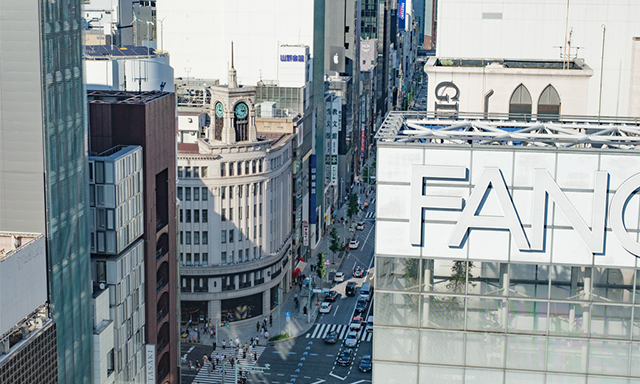 Uino

By the way, Ogikubo-san, do you remember the purpose of our visit today?

Ogikubo

Ah, yes. The Inari shrine.

Uino

Yes, now please look behind you.

Ogikubo

An Inari shrine! In such unique settings…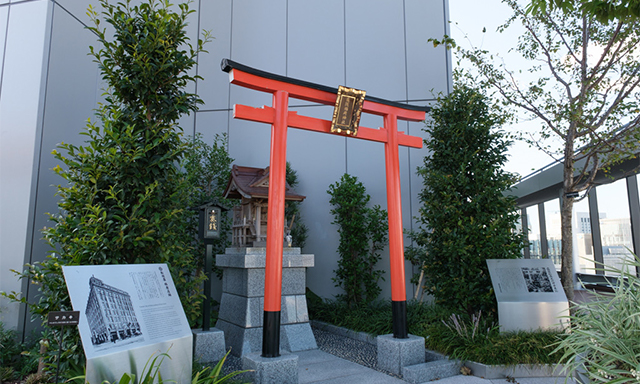 Uino

The Inari shrine sits on the rooftop of GINZA SIX, in a corner facing the Ginza 5-chome intersection.

Ogikubo

So, they reserved a place for the shrine when they constructed the building.

Uino

The name of the shrine is Kakugo Inari Shrine (靍護稲荷神社). When you write it out in kanji characters, you will find characters that are not commonly used, but they read "Kakugo Inari." It has been built so that it defends the building from evils approaching from the northeast direction, or the Demon Gate.

Ogikubo

They use a variant of the character "鶴" (crane) with a "rain" radical on top, so it is read in the same way: "kaku."

Uino

The Kakugo Inari Shrine was originally built on the rooftop of Matsuzakaya department store.

Ogikubo

It was one of those Inari Shrines guarding a long-established store. I recall that Matsuzakaya was originally established in Nagoya.

Uino

Is that so?

Ogikubo

Since I am originally from Nagoya, I am a bit familiar with its history. Matsuzakaya was established as Ito Gofukuten (Ito Kimono Store) in the early Edo period. In 1768, it acquired Matsuzaka in Ueno and started its business in Edo as Ito Matsuzakaya. Hiroshige has illustrated the store in the Edo period in his Ukiyoe series "Edo Meisho Hyakkei."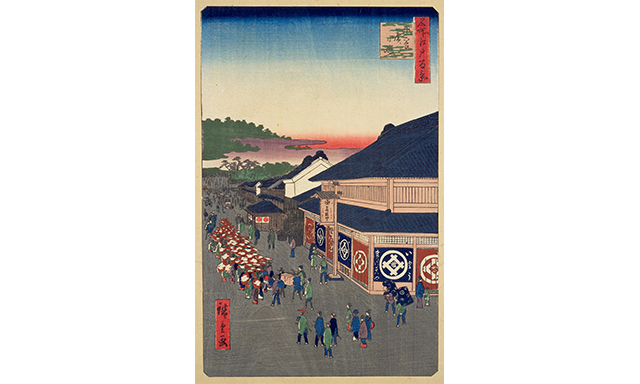 Uino

The logo on the noren (store curtain) is the same as that of Matsuzakaya today!

Ogikubo

If you take a close look, you can see that on the right-hand side of the logo it says "Ito" and on the left side it says "Matsusakaya". The logo design is a combination of the letter "藤" (to) loosely written in the letter "井" (i); and therefore, the logo depicts the name "Ito," instead of "Matsuzakaya."
Studying the history of Matsuzakaya, I learned that in 1910 (Meiji 43), Ito Gofukuten was established as a department store in Nagoya. They later decided to use "Matsuzakaya" as their nationwide brand name. "Matsuzakaya" itself is a long-established kimono store in Ueno, so I believe it would be safe to describe it to be a store with its roots in Edo that developed into a department store, rather than saying that the department store expanded from Nagoya to Tokyo. In 1924, Matsuzakaya Ginza Store was established as the first department store in Ginza.

Uino

Ginza's first department store! Let us return to the Inari shrine that sat on the rooftop of that first department store.

Ogikubo

Yes, Kakugo Inari Shrine.

Uino

This Inari shrine was originally located in Uguisudani. In 1815, it was built in Negishi, where Matsuzakaya possessed corporate housing, through a transfer from Fushimi Inari Shrine in Kyoto. The original shrine remains today in Higashi-nippori 4-chome in Arakawa Ward. There is a legend that a white fox led them to the lucky charm from Toyokawa Shrine which was enshrined. The enshrined deity was imparted to the rooftop of Matsuzakaya to protect it from evils. Ueno Matsuzakya has a shrine too.

Ogikubo

I would like to visit the Inari shrine in Uguisudani one day.

Uino

Furthermore, in the Great Fire of the Taisho period, Kakugo Inari Shrine and its surroundings were safe from the fire, proving that it had powers to prevent fire. This is why the enshrined deity was imparted to both Ueno Matsuzakaya and Ginza Matsuzakaya.

Ogikibo

But why does Matsuzakaya's guardian god continue to protect the building after it was rebuilt as GINZA SIX?

Uino

That is a good point. The building covers a larger area than the Matsuzakaya building, which covered only 60% of the current building. The current building is not solely owned by Matsuzakaya.

Ogikubo

Let us look at an old map. Matsuzakaya stood in a corner Ginza 6-chome but GINZA SIX stretches across two blocks.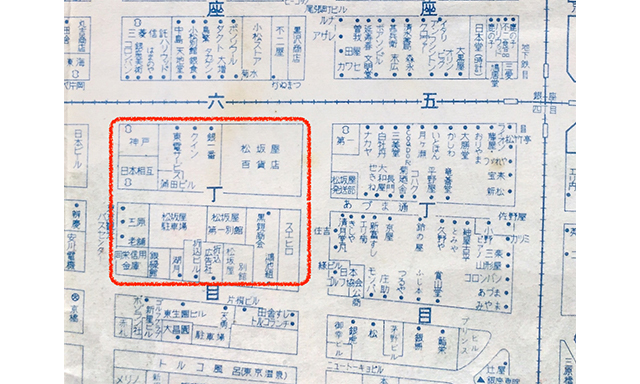 Uino

Yes. Azuma-dori was absorbed by the new building, expanding Mihara-dori. This integration placed the Kakugo Inari Shrine on the verge of disappearance. However, the group of GINZA SIX business owners joined forces to save the shrine. During the construction of the new building, the deity was temporarily moved to Uguisudani and returned to the rooftop when the building was completed. The deity moved two times. During the Matsuzakaya days, it was enshrined in the southwestern corner, but now it is enshrined diagonally from its original position, in the northeastern corner of the building.

Ogikubo

I see. It seems as though the Matsuzakaya department store has been replaced by GINZA SIX, but Kakugo Inari Shrine continues to be the guardian god. The Inari Shrine must be overwhelmed with an increased amount of space to guard, given the larger area and more floors.

Uino

On the other hand, it means that the shrine has evolved from a guardian god of a single store to a deity looking over a larger mass of people. New traditions may be created from this change. I feel excited that a new kind of everyday worship may be born, especially because coming to the rooftop garden of one of the newest and most fashionable buildings in Tokyo to visit an Inari Shrine with a history that dates back to the Edo period represents a very modern form of worship.
With many stories unique to an Inari shrine to tell, Kakugo Inari Shrine sits elegantly in the modern landscape of Ginza, omitting the traditional flags and fox statue typical of an Inari shrine. It represents a modern relationship between people and Inari shrines, inviting people who happen to notice the shrine to come and worship in their own personal ways, instead of appealing its existence to everyone. Kakugo Inari Shrine, which was transferred to Negishi in the Edo period and guarded Matsuzakaya in Ginza 6-chome from the early Showa period current guards GINZA SIX in a modernized way.