CSR・CSV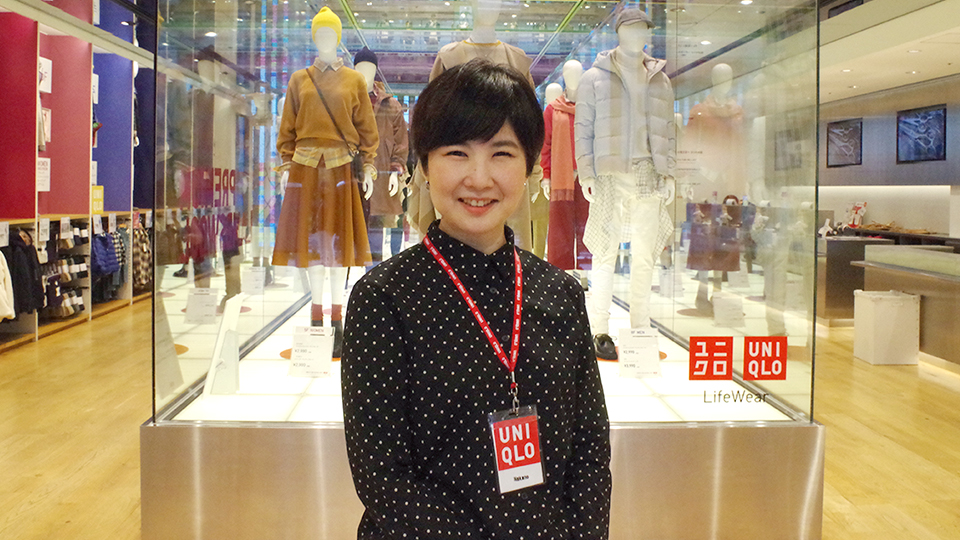 Ginza×CSR・CSV Vol.31 UNIQLO Ginza Store
CSV(共通価値の創造)で世界に挑む ユニクロ 銀座店
2018.11.01
"Ginza×CSR・CSV" Vol.31 will introduce UNIQLO Ginza Store, which opened in Ginza in March 2012 as a global flagship store. The store features the largest assortment of products and is the first to communicate the latest news worldwide. We interviewed Ms. Kana Nakano, Service Manager, about the social contributions UNIQLO makes through its business operations and how she feels about being in Ginza.
A brand communication hub featuring rich diversity
─ UNIQLO Ginza Store has a special presence, with all twelve floors carrying UNIQLO products. Could you describe the features of the Ginza Store?
UNIQLO Ginza Store opened in March 2012 as the largest global flagship store. In our endeavors for global brand leadership, we seek to arouse excitement in anyone who steps into our store, and therefore, we are careful to keep our floor area, decorations and product lineup updated so that our customers can experience UNIQLO in season and at its newest.

On each of our twelve floors, we offer a unique shopping experience that is available only in Ginza. At the Ginza Store, we carry all of our collaboration collections and propose the latest styling or fashion coordination.

The eleventh floor specializes in UT (UNIQLO's T-shirt brand), and on the seventh floor for kids and baby clothing, we have a baby changing facility for giving babies milk and changing their diapers. Many customers think of the Ginza Store as UNIQLO's headquarters and we are proud to have shoppers from around the world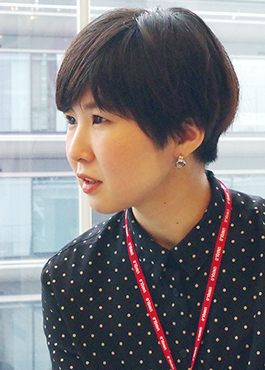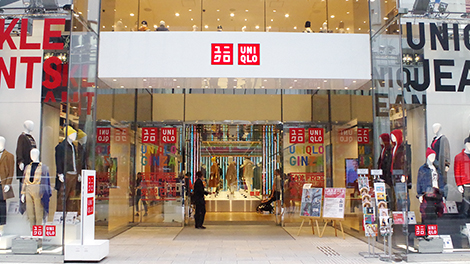 Mannequins lined up in the window facing the street
─ I was surprised to find that your staff also represents many nationalities.
At the Ginza Store, we currently have people from over twenty countries working with us. I have had the opportunity to meet people from countries that I, myself, previously had no connections with.

We had initially hired foreigners for our multi-language services, but we are recently finding that many international students from countries with UNIQLO stores are motivated to apply because they feel that their ideal part-time job in Japan would be one at UNIQLO Ginza Store where they can make good use of their language skills.

These multilingual staff members can explain the features of each product not only in Japanese and English but also in their mother tongue, allowing customers from overseas to enjoy their shopping in comfort.
─ I have been told that Fast Retailing Co., Ltd. lays great importance on diversity.
UNIQLO values the concept "Made for All," which means that our clothes are made for all nationalities, generations and genders. We feel that diversity is an essential factor of the service that we offer as well, as the knowhow possessed by each individual leads to hospitality.

At UNIQLO we hire refugees who cannot return to their countries for various reasons, as well as people with disabilities. By working together, we realize that what we take for granted in Japan, or as a healthy adult, is not actually common in the rest of the world. This allows us to reconsider our daily communications and to learn to care for others and have an open mind.
Unlocking the Power of Clothing
─ I have noticed that in various corners of your stores, UNIQLO introduces its efforts toward sustainability.
UNIQLO regards sustainability to be a challenge that companies must take on in order to create the future, so we address the issue from different perspectives of business promotion.

The first perspective is the "supply chain". We are engaged in efforts to create a comfortable working environment for those who manufacture the clothing that we sell. The second perspective is "product." UNIQLO proposes the concept of "LifeWear" so that everyone can experience improvements in their daily lives. We value both producing clothing that enriches the lives of people all over the world and producing clothing in a comfortable environment, and we care for the environment and human rights.

The third perspective is "the store and community". UNIQLO has around 2000 stores worldwide, each of which considers what kind of identity it should have in the local community and accumulates good deeds locally. Such efforts can have a significant impact when they are joined globally. The fourth perspective is "employee." We lay importance on preparing positive working environments and offer career options so that each employee can find more joy working.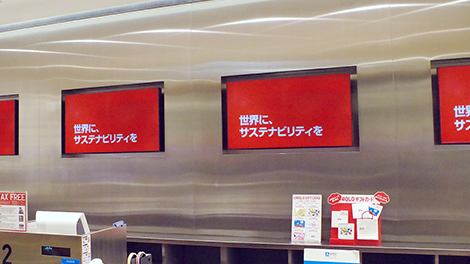 Introducing corporate efforts and messages in the store.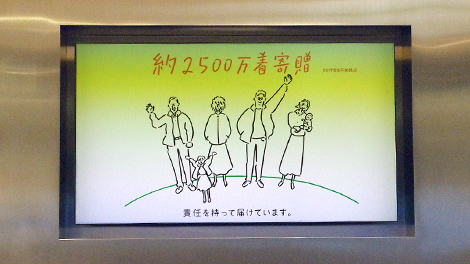 ─ The apparel industry is often referred to as a major creator of environmental burden. Could you introduce in detail your efforts to link clothing with sustainability?
UNIQLO addresses sustainability throughout the product lifetime, from selecting material and manufacturing, to collecting used clothing.。

The apparel industry is quite an analog industry. Almost every process requires human hands, so there is a lot of burden on workers. Therefore, it is very important for us to develop sustainable technologies that will reduce this burden and allow us to be environment-friendly.

In Autumn 2016, we opened a Jeans Innovation Center in Los Angeles to conduct research on cutting-edge denim. We are currently developing jeans that can be manufactured with significantly less water at the processing stage.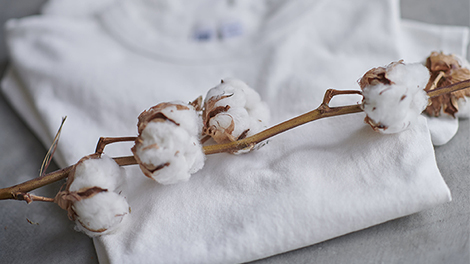 A member of the "Better Cotton Initiative," with an aim to produce sustainable cotton
Targeting to procure 100% sustainable cotton by the end of 2025.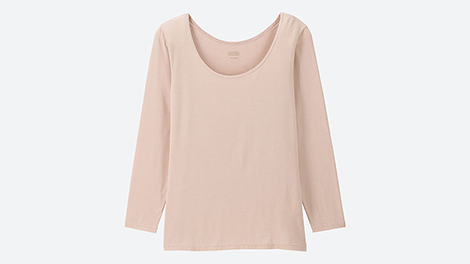 Our hit product "Heat Tech" is our way of proposing an ecological lifestyle that is not only environment-friendly but also human-friendly. The Heat Tech lets us stay warm without wearing layers of clothing.
and therefore, we can preset our air conditioners at low temperatures.

Environmental effects of wearing Heat Tech
─ You also have recycling boxes at your stores to collect used clothing.
Under the concept "Unlocking the Power of Clothing," UNIQLO seeks to change the world though the apparel business in a way that society heads in a better direction.

Under UNIQLO's "All-Product Recycling Initiative," we ask our customers to return the clothing bought at UNIQLO after use so that we can deliver it to refugees and other people worldwide who have limited access to clothing. The recycle box at the Ginza Store becomes full every day. We have a global partnership with the United Nations High Commissioner for Refugees (UNHCR) to send used clothing collected in UNIQLO stores all over the world to refugees everywhere, according to their specific needs.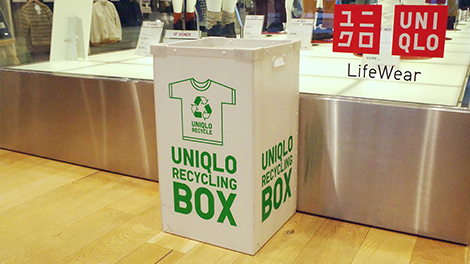 Recycle BOX
Starting with local connections
─ I understand that UNIQLO also values connections with local communities. How would you describe your relationship with Ginza?
Many of your customers regard the Ginza Store to be the headquarters of UNIQLO, and I can feel their high expectations, including their expectations for quality service. Hence, it is our duty meet their expectations, and we also feel that our relationship with local businesses that support Ginza is very important.

UNIQLO wishes to join forces with the local people who have preserved the Ginza community as members of the local shopping district and we would like to have a place in the local community. We have asked people working in Ginza to appear in one of our commercials to communicate what working in Ginza is really like.
─ Please share your thoughts about the future of Ginza.
From the perspective of becoming a part of the local community and helping local people, I feel that we have finally been able to approach the starting line. I hope that we can eventually become a locally appreciated store and that I can become an employee who is loved by local customers. Our Ginza staff are also proud to be working in Ginza. I hope that we can learn more about the local community and that we can contribute to it.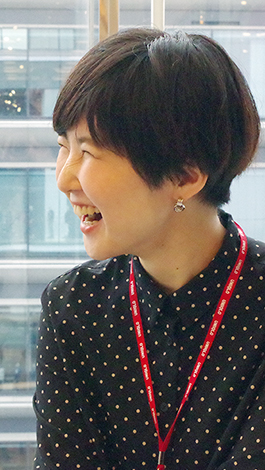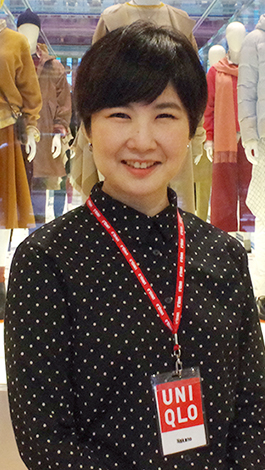 Service Manager, UNIQLO Ginza Store
Kana Nakano
Joined UNIQLO in 2002. Imai experienced working at stores in various locations across Japan, in Tottori, Aichi, Tokyo and Chiba Prefectures, and worked as Store Manager at five stores before she was assigned to staff education in the CS Promotion Team at Tokyo Office in 2013. She became Service Manager of Ginza Store in February 2016.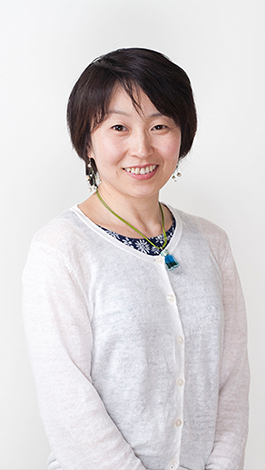 Writer
Makiko Imai
alterna
http://www.alterna.co.jp
After experiencing different jobs, including working for a foreign IT firm among, Imai shifted the target of her work to environmental and social issues after participating in the tenth meeting of the Conference of the Parties (COP 10) to the Convention on Biological Diversity as an NGO member. She currently conducts interviews, edits and writes articles, develops educational programs and offers interactive counselling sessions.
Written by: Makiko Imai / Planned and edited by: alterna(http://www.alterna.co.jp)

Area linksInquiriesTerms of Use
System RequirementsAbout Us
© Ginza Information Management