CSR・CSV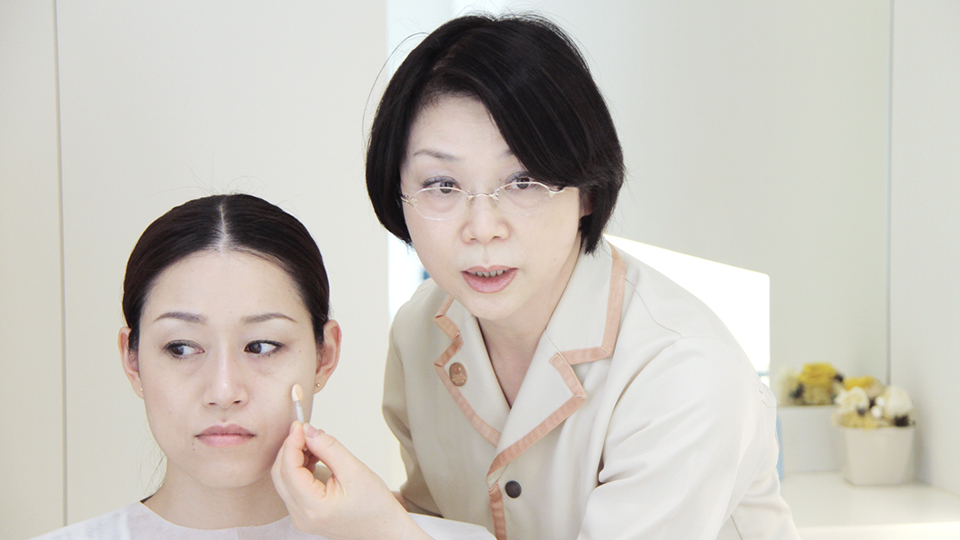 Ginza×CSR・CSV Vol.1 Shiseido
Shiseido Life Quality Beauty Makeup initiatives
Feeling peace with the power of makeup
2013.04.12
In recent years, we often hear the words, 'corporate social responsibility,' or CSR. Many companies in Ginza are also taking on initiatives to solve social challenges. In this corner, we present a series for introducing those Ginza-based CSR activities. The first part of this series looks at the Shiseido Life Quality Makeup initiative of Shiseido, a company that was founded in Ginza and celebrated its 140th anniversary last year. We spoke with Akiko Aoki who endeavors to improve the quality of life (QOL) of people with serious skin concerns.
It began with a wish to help those suffering from keloid scars due to the atomic bombs.
─ What type of program is Shiseido Life Quality Makeup?
It is a program for people with birthmarks, vitiligo, burns, scars from surgery or other skin concerns that are difficult to conceal with regular cosmetics. We apply special foundation to conceal skin color problems and skin irregularities and offer makeup advice free of charge. (As of March 2013) 3107 people have used the program. It is also available in China (Shanghai, Hong Kong) and Taiwan (Taipei, Kaohsiung).
─ What was the motivation for starting this initiative?
The Shiseido Life Quality Beauty Center that offers professional services was opened in 2006, but products for people with serious skin concerns were first launched in 1957. At the time, there were customers concerned with their keloid scars from the atomic bombings, and Shiseido began considering how the company could utilize its unique resources to help them.

Now the company has accumulated many years of results, and has achieved cosmetics that offer a natural finish, thanks to technology with strong concealing power and the ability to control the color of light transmitted.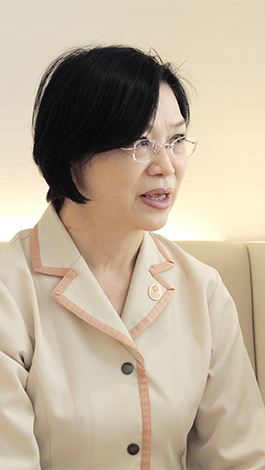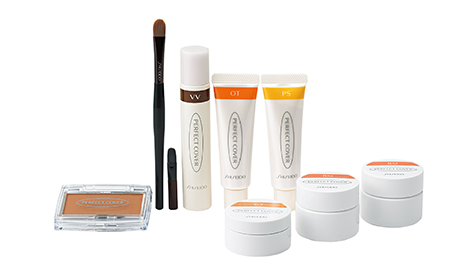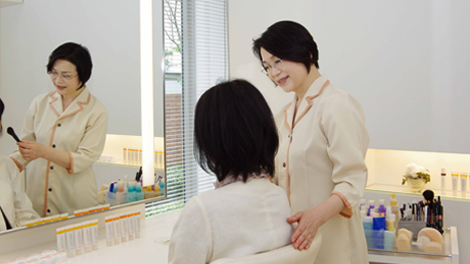 We want to work with medical institutions to improve QOL of patients.
─ How is it associated with medical institutions?
We regularly visit eight medical institutions around Japan and apply makeup to patients concerned with birthmarks, vitiligo, burns, and scars from surgery.
─ What do doctors think of the program?
Most doctors used to think that medical care consists primarily of medical treatment and that makeup for patients was a completely different category. However, offering makeup services in addition to medical treatment to patients that avoid going outside due to concerns of birthmarks, vitiligo, burns, or surgical scars sometimes enables them to go out and speak with people and enjoy themselves. Seeing such effects, doctors have come to recognize that makeup is useful during treatment.

Low-key activities such as giving presentations on the program at academic conferences have also yielded results. Currently, makeup is recognized as a factor that can improve QOL of patients. Also, makeup is offered alongside treatment, as a different perspective from medical practice. Quite simply, beauty acts to supplement medical care.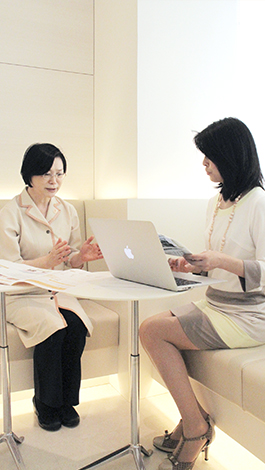 Believe in the "power of cosmetics" to heal your mind
─ Is there anything in particular you pay attention to when applying makeup?
Until the customer opens up, I avoid talking excessively. Some of the people who visit the Center cannot even look themselves squarely in the mirror, so I avoid talking about their skin problems. We regularly exchange information among staff and hold training sessions in an effort to not only increase our skill level, but also improve our customer service.
─ What are customers' reactions?
A woman in her sixties came to us with her husband wearing a hat low over her eyes and a surgical mask on her face. When we concealed her facial scarring with makeup, her husband looked at her and was deeply moved, saying "You look beautiful. I'm so happy." and even the woman was crying. She then left cheerfully for a walk through Ginza without wearing either hat or mask. Other customers have been women concerned with scars on their legs who only wore pants and were finally able to wear skirts, and people who consistently refused to have their pictures taken and are now willing to do so. I have seen many people have their lives changed by makeup, becoming brighter and happier. I have truly seen the wonderfulness of the "power of cosmetics."
─ One of Shiseido's three CSR priority areas is 'women and cosmetics.' What is the significance of these activities as CSR?
This program, with sincere wishes for each and every customer, perfectly transforms the words of Shiseido's corporate message — This moment. This life. Beautifully. — that embodies our promise to society into action. Other companies can make you look pretty, but only Shiseido can enrich you spiritually throughout your entire life, regardless of whether or not you have skin concerns. This program helps customers feel enriched through the power of cosmetics as well as product development capability and is a CSR activity only possible with a company like Shiseido.
─ What are upcoming challenges?
We need to raise awareness about the program. Whenever I hear a customer tell me they wished they had heard of the program sooner, I feel like we need to quickly spread information about it to those who have not yet heard of it. For those who cannot come to the Center, there are about 300 organizations around Japan participating in this program. I want more people to know this too.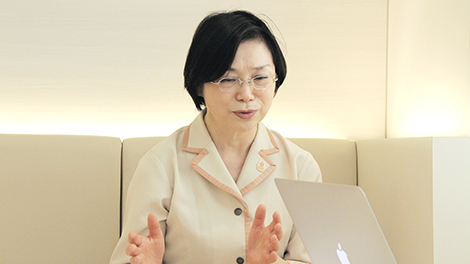 I want us to continue pursuing innovation alongside Ginza
─ It has been 140 years since Shiseido first opened in Ginza. What do you see as the attraction of Ginza?
Ginza is the birthplace of various types of culture. I think that it is a place whose tradition is to preserve old culture while continuing to develop new innovations. This is a unique attraction of Ginza that differentiates it from all other places.

Customers that have had their makeup done often look up and say, "Now I'm going to go for a stroll through Ginza." Perhaps it is because it is a place with real attraction that they feel themselves, who have been made beautiful again, befitting of Ginza.
─ What do you hope for the relationship between Shiseido and Ginza?
I hope that Shiseido, a company that has grown within the district of Ginza as a source of culture, will be a source of health and beauty for individuals, and that it will continue pursuing innovation alongside Ginza. In addition to the Shiseido parlor, our Corporate Culture Department has been operating a gallery for many years. I hope Shiseido continues to contribute to Ginza's wonderful urban culture through cosmetics, food, and artistic culture.
Visit the following websites for more information.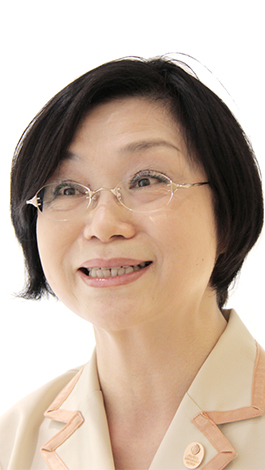 Shiseido Life Quality Beauty Center
Akiko Aoki
After working as a beauty consultant, participated in a wide range of activities, such as many years training employees and attending to customers at Tokyo area branches. Aoki has been involved in the Shiseido Life Quality Makeup program since the first stages, and also gives lectures at Tokyo Medical and Dental University. She began her current post in April 2008.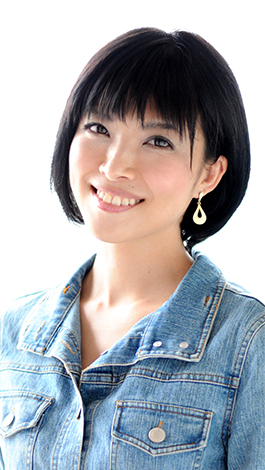 Interviewer:
Karin Sugiyama
Alterna consultant Offers services in marketing communication, business strategy and new business development activities for foreign-affiliated IT companies, advertising agencies, and public relations firms. After going independent in 2008, Sugiyama now participates in educational projects for solving social challenges, assists cooperative alliances between companies and NPOs, and offers consulting for CSR activities and practical assistance.
Writer: Karin Sugiyama

Area linksInquiriesTerms of Use
System RequirementsAbout Us
© Ginza Information Management