CSR・CSV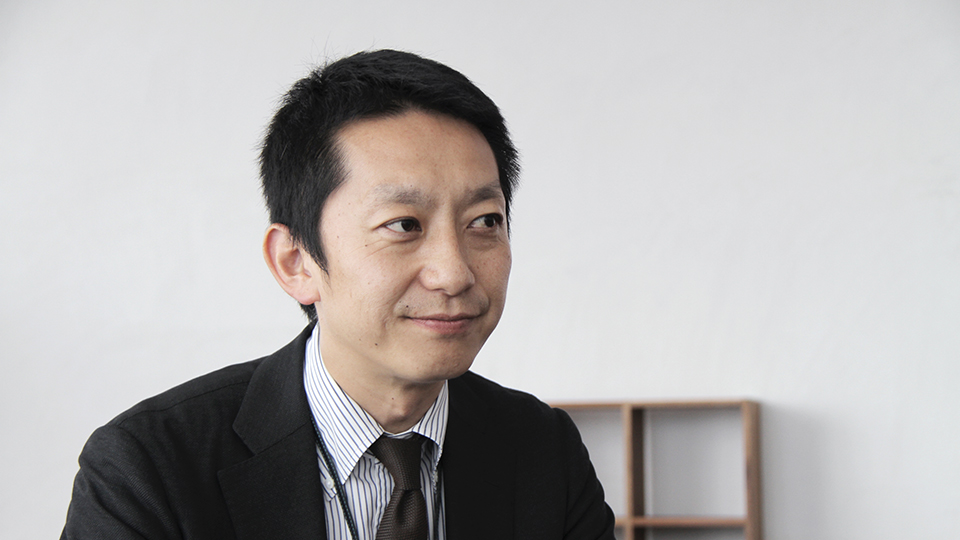 Ginza×CSR・CSV Vol.3 Recruit Holdings
Honki no Shushoku
Supporting young people's desire to work with a job-placement assistance program
2013.06.17
In recent years, we often hear the words, 'corporate social responsibility,' or CSR. Many companies in Ginza are also taking on initiatives to solve social challenges. In this corner, we present a series for introducing those Ginza-based CSR activities. As the third part of this series, we spoke with Masafumi Echizenya about the "Honki no Shushoku" job-placement assistance program offered by Recruit.
Supporting young people as a leading job-placement company
─ What is the "Honki no Shushoku" program?
It is a program offered by the Recruit Group to support the job-hunting activities of university students, graduates, part-time workers and all other young people looking for work. There are two types of programs — a four-day program for 3.5 hours a day, and a one-day program that can be completed in 3 hours. The program works to change way of thinking and actions for getting a job offer along themes such as self-examination, understanding the job market, and interview practice.
Instead of a lecture with one-sided instruction from a teacher, this program features a method called 'group dynamics' that encourages personal realizations by participants through group work. There are no particular eligibility criteria, and those who wish to participate are able to do so at no charge.
─ Is it correct that the lack of employment opportunities for young people is currently a social problem?
The problem of employment opportunities for young people has received focus since the recession that followed the global financial crisis. In a recent government survey (Fig. 1), the overall unemployment rates remain high at 6.6% for 15-24 year-olds and 6% for those up to 34 years old. Another significant issue is that 16% of university graduates have not chosen a career path (Fig. 2).
As a leading company in the recruitment field, the Recruit Group wants to aggressively resolve these social problems. We also have expertise developed over many, many years of business, for example in providing job placement programs to university students through "Riku-nabi" (short for Recruitment Navigator). Most of all, we want to promote a desire in young people to become employed. We therefore began the Honki no Shushoku program in 2011 as a part of our CSR activities.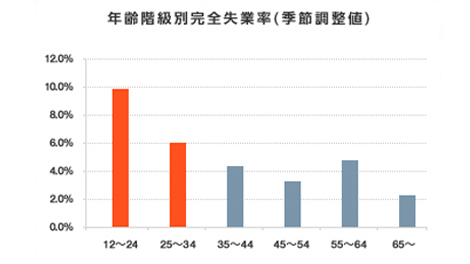 Improving basic skills of individuals that are unaffected by employment environment
─ Are there any particular problems that all young people having difficulty finding employment face?
There are three main factors. The first is being too fixated on a specific industry or sector. The second is a lack of drive. The third is poor interview skills. These result from a hardened way of thinking and from losing confidence from not receiving a job offer yet.
In general employment, about 20% of resumes make it through, which means job seekers must apply to 30-40 companies to get an offer. But, the reason for young people not finding a job is that they only apply to an average of four companies.
─ Does the current employment environment on the company side affect job recruitment of young people?
Companies are starting to show more interest in hiring new recruits. Nevertheless, there is always a certain number of young people in every time period that cannot get a job offer despite wanting employment, no matter what the economic trends or employment environment.
The aim of this program is to provide solutions to three problems that are common to this group of people. In other words, improving individual basic skills lets them apply those skills to finding work in any employment environment.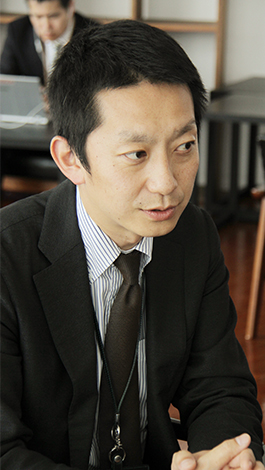 CSR activities that combine group resources
─ What would you say is unique about Recruit's CSR activities?
I would say it is that we utilize the living resources of each company in the Recruit Group, such as expertise and employee intelligence. For example, employees at Recruit Career have opportunities for interaction with young people, for example through the "Riku-nabi" job placement service or operation of the Job Placement Shop, so we understand the issues involved in job hunting and can actually utilize our expertise. Also, Recruit Management Solutions conducts research on motivation and provides workshops, so the program development capabilities fostered there can also be used in the Honki no Shushoku program.
─ Do you collaborate with other organizations?
We hold seminars at our Ginza office, but we also dispatch facilitators to other organizations to hold seminars throughout Japan. In fiscal 2012, we cooperated with NPO Sodateage Net and other organizations to hold seminars at 27 locations and 40 universities nationwide.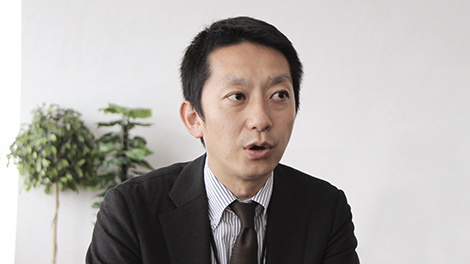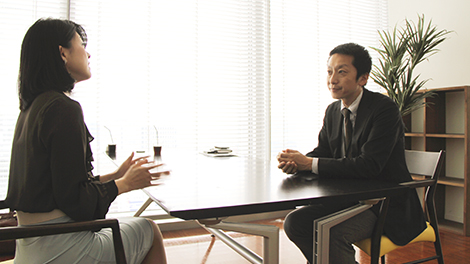 Pursuing the highest quality even in non-paying services
─ What have the results been like for participants in the Honki no Shushoku program?
The ratio of participants in the program that receive a job offer within 3 months from among those that applied to at least 6 companies is 68.8%.
We implement a system whereby a participants praise each other, and even those who underestimated themselves become more confident.
In addition, a sense of camaraderie develops in which they make promises to each other like "By next time let's apply to 3 companies" and motivate each other. This spontaneous motivation leads to changes in actions and perspectives.
Participants that were reluctant to even talk on the first day start aggressively applying to the companies they want to work for. When we get letters saying they got the job, we see the success of the program firsthand and feel satisfied being a part of it.
─ What are future goals for the program?
We want to expand the program to even more locations and bring in more like-minded people that understand the benefits of the Honki no Shushoku program. Towards this aim, we have already begun training facilitators at partner NPOs and universities.
We do not think it is sufficient to do a mediocre job simply because the program is free of charge. Once a month, we gather our facilitators and work together to continuously improve methods and facilitation techniques. We will continue polishing our techniques to provide an even better program and effectively support young people in their search for a job.
─ Your company has a strong connection to Ginza.
As one part of our CSR activities, we run two galleries in Ginza, Creation Gallery G8 and the Guardian Garden. Recruit owns two buildings in Ginza, so we opened the galleries with the hope of helping revitalize the area. We hope to contribute to the Ginza district with these galleries as places for proposing new communication through design and for fostering creators.
There are many companies in Ginza that are strongly dedicated to social contribution. It would be wonderful if we could eventually collaborate with a number of companies.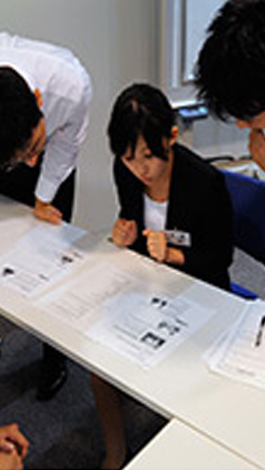 Group work in the Honki no Shushoku program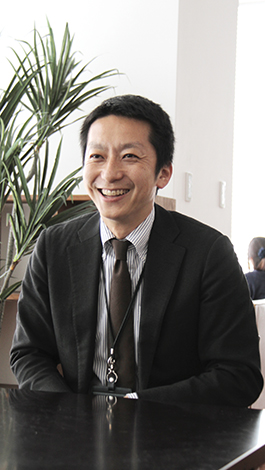 Visit the following website for more information.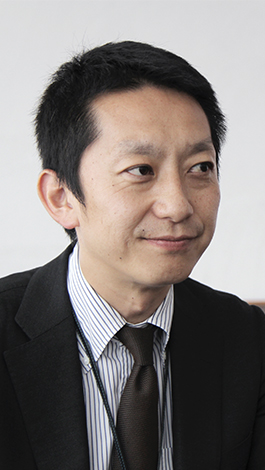 CSR Promotion Department, Social Enterprise Promotion Division, Recruit Holdings
Masafumi Echizenya
Joined Recruit Holdings after graduating from university. After working in charge of employment for new graduates in the Human Resources Department, was transferred temporarily and then permanently to Group company Recruit Ablic (now Recruit Career). Works as a career advisor giving advice on changing careers, and has interviewed nearly 2000 people.
His motto is to believe in the potential of those making a career change and attending seminars.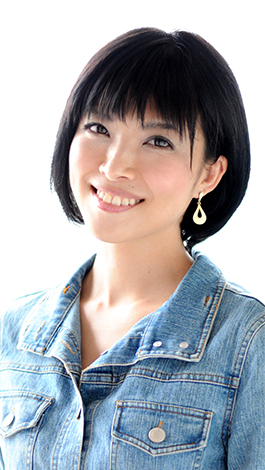 Interviewer:
Karin Sugiyama
Alterna consultant Offers services in marketing communication, business strategy and new business development activities for foreign-affiliated IT companies, advertising agencies, and public relations firms. After going independent in 2008, Sugiyama now participates in educational projects for solving social challenges, assists cooperative alliances between companies and NPOs, and offers consulting for CSR activities and practical assistance.
Writer: Karin Sugiyama  Planning/editing: Alterna

Area linksInquiriesTerms of Use
System RequirementsAbout Us
© Ginza Information Management