CSR・CSV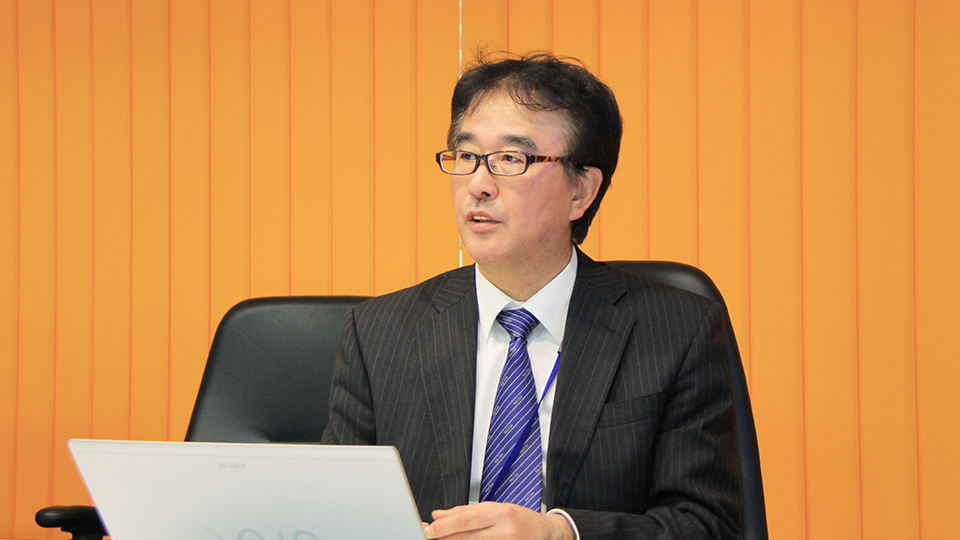 Ginza×CSR・CSV Vol.9 Sony Building
Ai no Izumi: Sony Group charity program
Providing enjoyable programs through annually changing installations
2013.12.09
As the Christmas season approaches, Ginza has become decorated with holiday lights. In volume 9 of the GINZA×CSR series, we talked with Kazuhisa Yanai, Director of the Sony Building, about "Ai no Izumi" (Fountain of Love), a charity event that is held each year from December through January.
Building a new form of charity
─ This will be the 46th year of Ai no Izumi.
The 1st Ai no Izumi began in 1968. Although street-side fund raising activities referred to as the "social collection pot" existed at the time, charity activities were not yet commonplace. Some type of attraction was needed to generate receptivity towards social contribution activities in a large number of people.

Then, Sony got an idea from the Trevi Fountain in Rome. The activities began as a unique donation style of throwing coins into a fountain. As the years went on, the style and format changed.

Last year, we installed a monument in Sony Square (outdoor event space) that lit up with colors that changed when money was placed in a donation box. It being the Christmas season, we give the mode of donation the feel of an attraction that is fun for donators. Every year, we come up with a new elaborate plan so that the initiative is more than just a donation activity — it also helps energize Ginza.
─ How are the Sony Group companies collaborating on this program?
For one, PlayStation®Store (*1) sells original customized themes (for PS3®) whose profits are donated to charity. Also, the Sony Group mascot carries out some donation activities. This year, 19 companies and 2 foundations in the Sony Group are participating. Also, shops in the Sony Building participate in Ai no Izumi by setting up donation boxes and donating a portion of the proceeds from select products and menu items to charity.
─ What is the total amount donated so far?
The total amount donated from 1968 to 2012 is about 73 million yen.
*1 PlayStation and PS3 are registered trademarks of Sony Computer Entertainment Inc. and PlayStation®3 is a product of that company.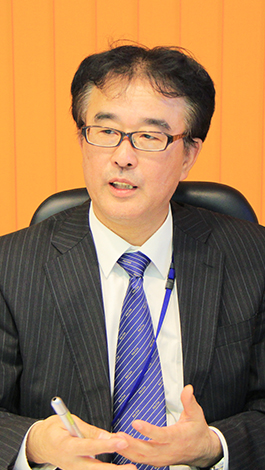 Seeing the effects of support in the smiles on children's faces
─ What types of support are the donations used for?
Donation recipients are chosen to match the theme for that year's Sony Group social contribution activities. For example, last year the donations were given to the Achieve Your Dream Project being carried out through the RESTART JAPAN Fund, a project to aid victims of the Tohoku earthquake that was launched by Save the Children Japan and Sony Corporation.

This project supports children that became unable to play sports or participate in cultural activities because of the Tohoku earthquake. The donations were used for the cost of purchasing supplies such as instruments, gloves and bats and for trips so that they could start their activities again.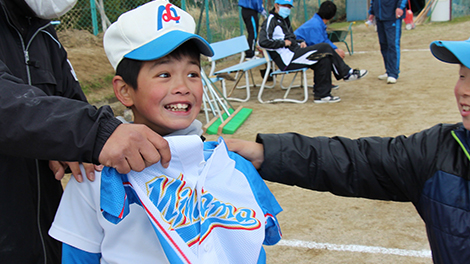 A boy on a baseball team that received a uniform through the Achieve Your Dream Project
─ Are the children receiving those donations actually able to start their activities again?
In an Ai no Izumi event held on New Year's last year, children that received aid the year before performed the Yosakoi dance, Toramai dance and Japanese traditional dance. The performance expressed their feelings of gratitude of, "It is thanks to your support that we are able to continue these activities." It is so nice seeing the children smiling again as a result of donations.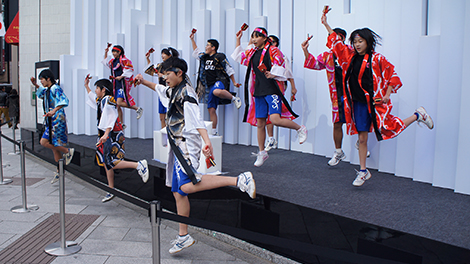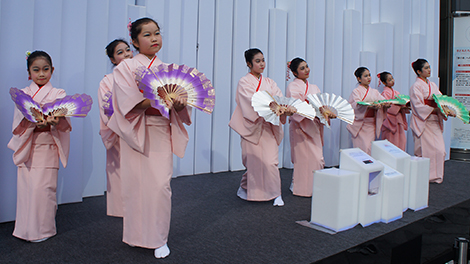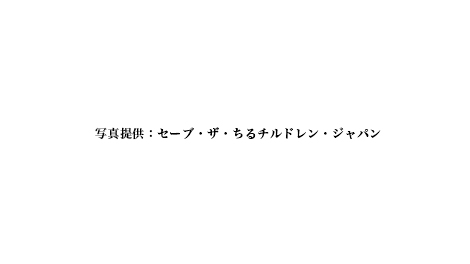 Last year's Ai no Izumi event
─ Who will be the donation recipient this year?
For 2013 that is the 46th year, we will give a donation to match the profits and donations toward the Match Against Poverty, a soccer charity match held by the United Nations Development Programme (UNDP), to be used to support people around the world suffering from poverty, the effects of natural disasters and environmental problems.

As Sony is an official FIFA partner, we will provide aid to help resolve social issues through soccer at the 2014 FIFA World Cup Brazil. We also chose the UNDP Match Against Poverty as a recipient this year, again with an aim of resolving social issues through soccer.
Encouraging donation with fun attractions
─ What types of techniques do you use to get more people donating?
We come up with various ideas to make participation fun. For example, you can have your photo taken with the Sony Group mascots and receive a copy of the photo as a gift. Participants are asked to donate whatever they can. This year, the Crystal Aqua Trees 2013 lightup display that is set up in the outdoor event space has donation boxes on the right for patterns and on the left for colors. For example, if you select the "Red" and "Waves" left and right boxes and put money in at the same time, the display will light up in red waves. If you put money in the "Red" and "Yellow" boxes at the same time, the lightup display turns orange. With this fun attraction, couples can enjoy donating together and those on their own can try it again and again.
─ It seems that Ai no Izumi has become an indispensable event for the Christmas season in Ginza.
Sony has been in Ginza for 46 years, so we are still newcomers. To strongly establish the Sony brand, we have to move beyond just products and convey our philosophy through social contribution activities.

Chiyoda City and Chuo City are separated by Sotobori-dori. In that sense, the Sony Building is the gateway to Ginza. Perhaps it is one of its symbolic places. We hope to continue holding the Ai no Izumi project to contribute to Ginza.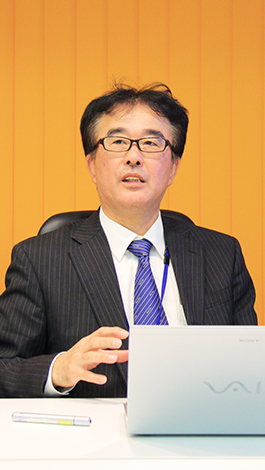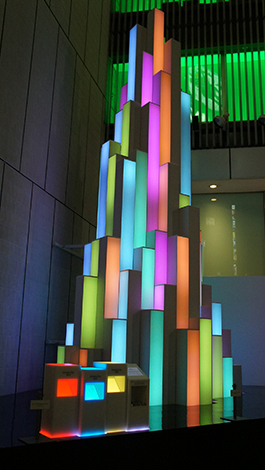 Visit the following website for more information.
Event period: Monday, December 2, 2013 to Monday, January 13, 2014 (public holiday) *Excluding January 1st (Wednesday, public holiday) Location: Sony Building, Ginza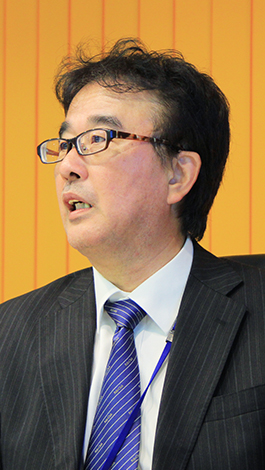 Director of the Sony Building and Manager of the Branding Site Management Department, Sony Enterprise Co.
Kazuhisa Yanai
Began working in the Sony Showroom in the Ginza Sony Building, then worked in the Osaka and Odaiba shops that were hubs for branding before taking on his current position. His mottos are to have a spirit of hospitality and to make prompt decisions by multitasking.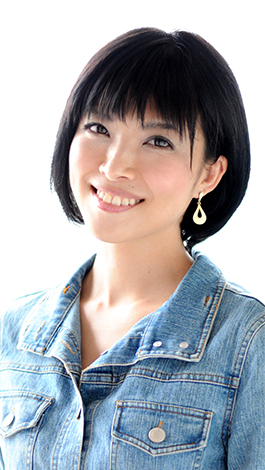 Interviewer:
Karin Sugiyama
Alterna consultant Offers services in marketing, communication, business strategy and new business development activities for foreign-affiliated IT companies, advertising agencies, and public relations firms. After going independent in 2008, Sugiyama now participates in educational projects for solving social challenges, assists cooperative alliances between companies and NPOs, and offers consulting for CSR activities and practical assistance.
Writer: Karin Sugiyama  Planning/editing: Alterna

Area linksInquiriesTerms of Use
System RequirementsAbout Us
© Ginza Information Management