CSR・CSV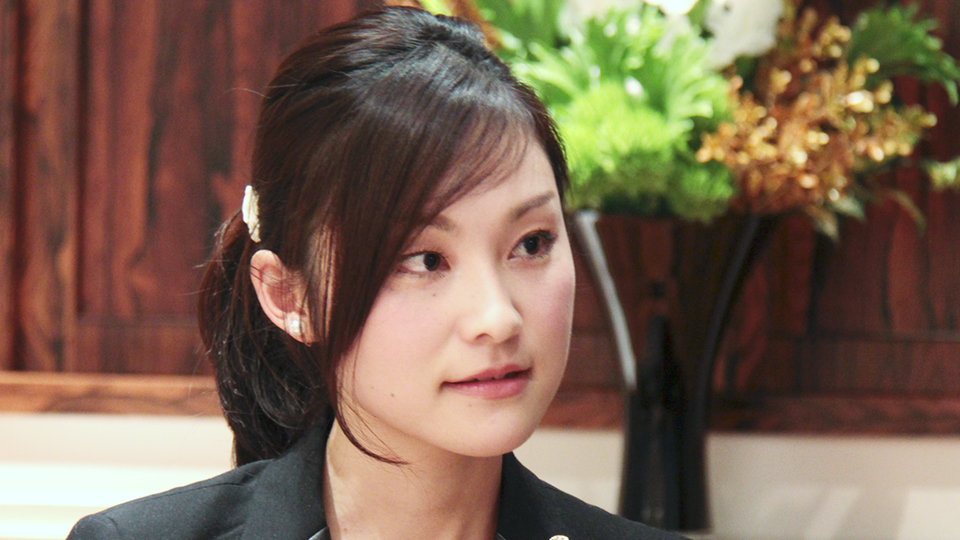 Ginza×CSR・CSV Vol.11 Mikimoto
Mikimoto's social contribution activities
Pearls are a gift from the sea
2014.02.19
In this part of the Ginza×CSR series, we asked about the social contribution activities of Mikimoto, producer and seller of jewelry. Every winter season, Mikimoto attracts attention for its huge lighted Christmas tree set up outside the Ginza main shop. The Christmas tree is founded on Mikimoto's corporate philosophy of building a beautiful world that is at one with nature.
Donating live fir trees to public facilities
─ Mikimoto's jumbo Christmas tree is a prominent feature of winter in Ginza.
It started in 1976, and last year was the 36th tree. Based on the desire to provide a space to relax with nature in the middle of a giant metropolis, seasonal flowers and plants are displayed in the Mikimoto Garden Plaza in front of the Ginza main shop year round.
As part of this project, we display a fir tree decorated with brilliant illumination each winter.
─ I heard that the fir tree is a rooted tree that is dug up from the ground.
We want to help create a rich lifestyle culture through jewelry. That is why, instead of using a fir tree cut off from the roots and throwing it away after the display is done, we make it a point to use only living fir trees with the roots with care. The ornaments are also designed and displayed in a way that does not damage the tree.
─ What happens to the fir tree when the display is finished?
Every year, after the display is over, we donate the fir tree to a public facility. We make a public offering and select the recipient after having a specialist perform soil and other investigations.
The trees up to now have been donated to schools for disabled children, kindergartens, elementary schools, nursing homes and other institutions in and around Tokyo. I feel so happy seeing photos of children decorating the fir tree that was displayed in front of the Ginza main shop again the next Christmas.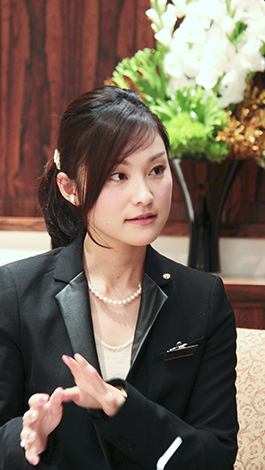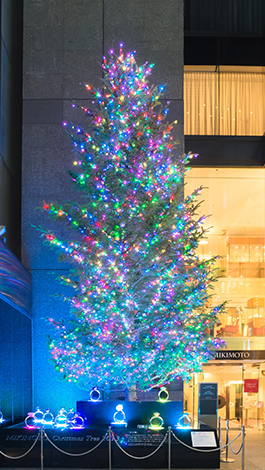 Zero emission pearl farming
─ I understand Mikimoto takes on other initiatives as well that embrace thoughts towards preservation of the natural environment and connections to life.
Every year starting in 1993, we sell charity products at Christmas and other times, and donate part of the proceeds to preservation of the natural environment. The total amount donated in 2012 was 6,972,000 yen. Through the National Land Afforestation Promotion Organization, it was used as aid in Tohoku earthquake reconstruction projects such as disaster-prevention forest improvements and greening of local surroundings.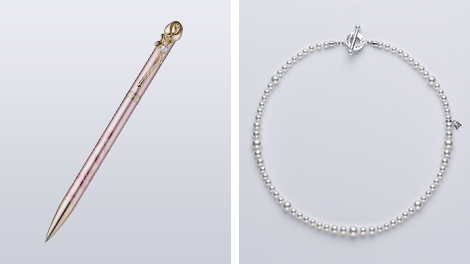 Pin brooch, ballpoint pen and necklace sold in Mikimoto's Christmas charity 2013 event
─ And the Mikimoto Pearl Research Laboratory carries out research on developing the fisheries environment?
The Mikimoto Pearl Research Laboratory was established early in the 20th century by Mikimoto's founder, Kokichi Mikimoto, to carry out research on perfectly round pearls. In the more than 100 years since, the Laboratory has been conducting comprehensive research on pearls and other research centered on the development of new technologies for production sites.

It also carries out periodic environmental surveys of aquaculture areas, the sea floor and the quality of the sea water, for example. Normally, debris that gets stuck to Akoya pearl oysters that contain Akoya pearls is cleaned off naturally by sea cucumbers and other organisms that feed on the debris. When you culture a larger volume of Akoya pearl oysters than this cleaning system can handle, the ocean becomes dirty. Another role of the Laboratory is to ensure we maintain the correct number of cultured oysters to match the ocean's cleaning capacity.
─ How is the research used?
For example, it enabled practical implementation of "zero emissions pearl farming" that eliminates the release of industrial waste into nature during the pearl farming process. Also, calcium, protein, collagen and other active ingredients contained in oyster shells and meat are used in cosmetics and health food products.

In addition, the oyster meat that we used to just dispose of is now used as compost along with organisms stuck to Akoya pearl oysters during the culturing period. Such compost always has a high salt content no matter what you do, and desalination requires an enormous amount of water and large facilities. This is not feasible for small-scale pearl farmers. However, we learned that certain crops, like tomatoes, actually become more palatable through salt stress that occurs when giving them compost with a high salt content. This was discovered through research.

We will continue conducting research towards achieving sustainable zero emissions pearl farming that can be applied throughout the industry.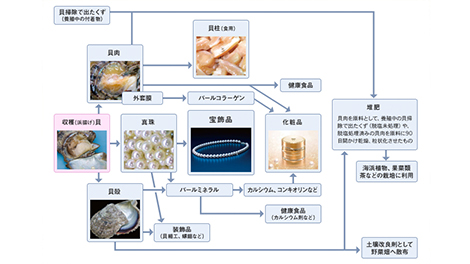 Mikimoto pearl farming zero emissions map
Carrying on the wishes of our founder and striving towards coexisting with nature
─ So, behind the world of gorgeous jewelry are steady research and thoughts towards nature.
Pearls are gifts from the ocean. Beautiful pearls will not be produced if the ocean and the surrounding natural environment are not clean.
We strive every day towards coexisting with nature to spread jewelry culture that is at one with beautiful nature and to make the world shine more brightly. That wish has not changed since the time when our founder, Kokichi Mikimoto, successfully cultured pearls for the first time in the world.
By establishing a shop in Ginza, an area that was full of foreigners in the Meiji period in which Mikimoto was founded, the existence of pearls became known throughout the world. We are here today thanks to the nurturing of the industry here in Ginza.

From here on as well, we hope to continue spreading rich jewelry culture as the leading high jeweler in the East. We want to consider not only how to make and sell products, but also how to contribute to society.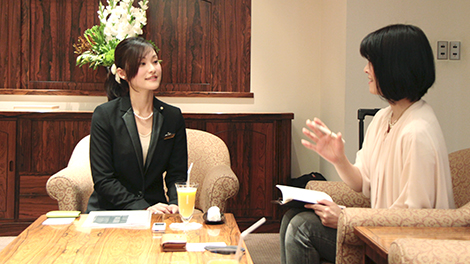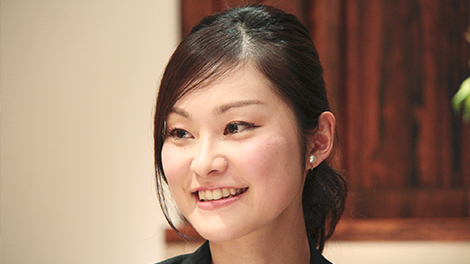 Visit the following website for more information.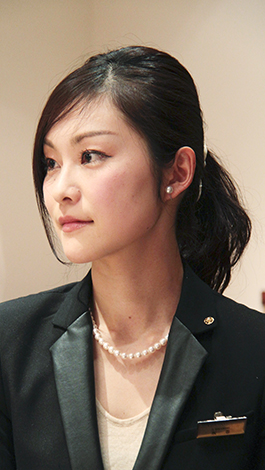 Public Relations Department, Public Relations Division, K. Mikimoto & Co.
Shiho Sakamaki
Born in 1985 in London, England. After graduating from university, joined K. Mikimoto & Co. in 2007. Worked in sales to domestic and international customers at the main shop in Ginza before starting her current post. In addition to corporate promotional activities aimed at newspapers, TV and magazine companies, press conferences for new products and proposal and lending of products for magazine and TV shoots, she is also responsible for running publicity seminars and events, implementing cooperative project and publishing the website. She strives daily to follow and achieve the dream of Kokichi (the founder) to decorate people around the world in pearls.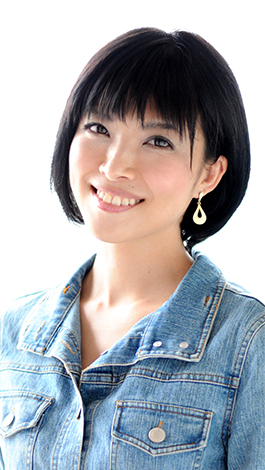 Interviewer:
Karin Sugiyama
Alterna consultant Offers services in marketing, communication, business strategy and new business development activities for foreign-affiliated IT companies, advertising agencies, and public relations firms. After going independent in 2008, Sugiyama now participates in educational projects for solving social challenges, assists cooperative alliances between companies and NPOs, and offers consulting for CSR activities and practical assistance.
Writer: Karin Sugiyama  Planning/editing: Alterna

Area linksInquiriesTerms of Use
System RequirementsAbout Us
© Ginza Information Management