CSR・CSV
Ginza×CSR・CSV Vol.15 Yarakasukan
Online shopping mall: SoooooS.
Linking consumers with products that support people and the planet
2014.07.25
For the 15th part of the Ginza×CSR series, we introduce SoooooS., an online shopping mall specializing in socially responsible products that support people and the planet, such as fair trade*, organic and green products and products sold with partial proceeds going to charity. We spoke with the company president, Daisuke Nakama.

*Fair trade
A trade system for sustained purchase of raw materials and products at fair prices to help improve the lives and increase the independence of producers and workers in developing nations.
Resolving social problems through both aid and business
─ What led you to begin trying to resolve social issues through business?
During my university years, I went to South America and Africa many times and traveled all over the continents. On those trips, I often witnessed firsthand issues concerning the environment, poverty, education, healthcare and other social issues.

But no matter where I went, I always saw beverages made by a certain famous brand. Seeing this type of product in the local area, I sensed the potential for products and business to help resolve social issues in a way that was different from relief aid and assistance.

Then I entered the workforce and learned the basics of business while working in marketing at a manufacturer, and was also involved in projects like launching a business selling clothing made of organic cotton.
─ After joining Yarakasukan, you launched a business venture within the company called SoooooS. that is an online shopping mall linking consumers with socially responsible products and services. What was the incentive behind this?
Through the development of information and communications technology, the relationship between business and consumers has become more equal. Also, as society and consumption has matured, consumers have come to demand something more than just material value in products and purchases.
With this as the trend, Yarakasukan also needed to reconsider its role as a marketing agency that mediates the relationship between businesses and consumers and aids in communication and transmission of value.

We sensed that simply acting as a business representative and developing and communicating the material value of products was no longer enough; it was becoming essential that our activities were linked to the creation of new value within this new relationship with consumers.

It seems that consumers that are no longer fazed by material value and economic value, and are coming to demand emotional value, satisfaction and a sense of a story behind the product and their own participation in that story. Based on this idea, we decided to start a marketing business and service that specializes in socially responsible products that are easy to relate to and have a rich story.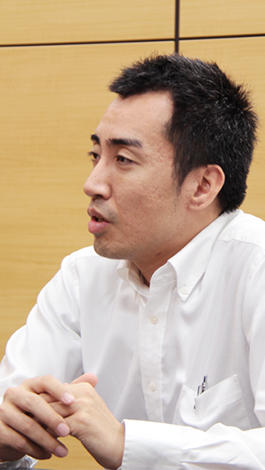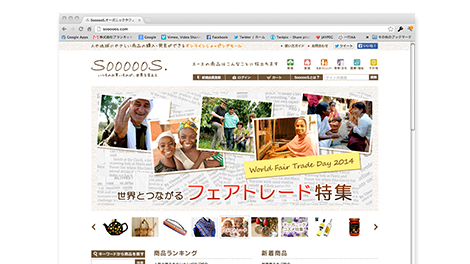 Online shopping mall, SoooooS.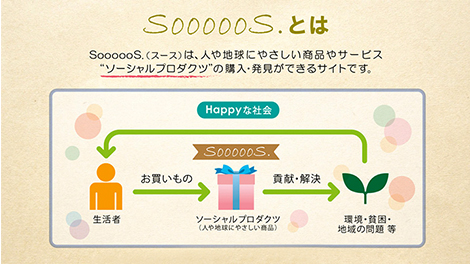 Expanding the market by appealing to the hidden demographic of socially aware individuals
─ What types of products does SoooooS. sell?
We link consumers with about 1500 different products from about 250 companies, including foods, beverages, clothing and accessories, lifestyle goods and home accessories.
We carefully select products that support people and the planet, letting buyers experience participation in the development of a better society through the story of each product — revitalizing local areas through efficient use of untapped local resources, helping improve the living environment for producers in developing nations or promoting environmental preservation activities through partial proceeds of products earmarked for donation. We also sell intangible products such as forest bathing and forestry work experience.
─ How do characteristics of awareness and action for the environment and society vary with the consumer demographic?
Many NPO and NGO members are women or older adults, and these are the main demographics that purchase socially responsible products, so it has come to be thought that women and older adults are generally more socially aware than other demographics. I myself also felt this to be true in running SoooooS.
Surprisingly, a recent survey we conducted did not show any statistically significant age or gender differences in social awareness. Although I cannot make any conclusions, I think there may be age or gender differences in actions that show social awareness, regardless of the same extent of social awareness possessed.

This same survey showed that some people tend to become more interested in the environment and society when they move on to a new life stage, for example after marriage or the birth of a new child, while others tend to lose such interest or can no longer afford such a luxury.
─ What is important in having socially conscious consumers choose socially responsible products?
Except for a select few, people will not usually buy products just because they are socially responsible. People generally choose things that are high quality and that suit their tastes, and the products we sell must fulfill those demands even more than other products do. And yet, we also need consumers to sense the added appeal of consideration for the environment or society to have them choose our products.

When providing information about products, it is also important to convey a good balance of the product's social value and material value based on the target consumer.
This will focus attention onto the product in not only the extremely socially conscious individuals that are the minority, but also the hidden demographic of people who are socially aware but do not yet act on that awareness.

The market is too small and social impact too limited if the focus is restricted to highly socially aware individuals. To accelerate the development of a better society through socially responsible products, I hope to use marketing activities to encourage a greater number of people to choose those products.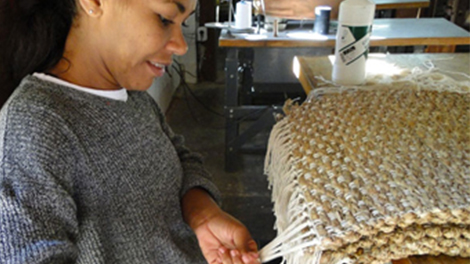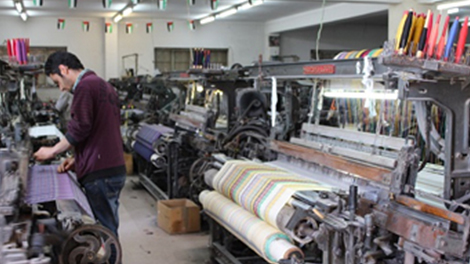 Sells numerous socially responsible products
Aspiring to revitalize the market through the younger generation with the Olympics as a turning point
─ How will consumer awareness and action change from now?
As society matures, desire for possessions and other types of materialistic consumption will fade away. More people will seek value that is not found in objects and more manufacturers will offer products that provide such value.

The popularity of green products has risen dramatically as the generation of kids that received environmental education at school becomes the core consumer base. Nowadays, classes in junior and senior high school are starting to use highly socially relevant terms like fair trade and ethical*2. As kids that receive such education become the core consumers and workforce, the market for socially responsible products is sure to grow even larger.

There are movements to promote the active use of socially responsible products such as fair trade and organic products in the athletes' dormitories and other related facilities at the 2020 Tokyo Olympics. These major events have a large impact on society, so it could become a turning point for altering consumers' lifestyles and increasing the volume of highly socially responsible products in the world.

*2 "Ethical" refers to activities and value systems that are considerate of the natural environment, society and human rights, for example.
─ Is there anything you hope to do in the future to further develop the socially responsible product market?
I feel that it is difficult to convey value only online, and I want to pursue more collaborations with offline parties in the future.

This year, we offered a number of products sold on SoooooS. at actual stores during the Valentine's Day period and they were very popular.
I hope to create more collaborations with people who have shops and event organizers to deliver the appeal of socially responsible products to as many consumers as possible.
─ Is Ginza a base for the SoooooS. company?
Many companies in Ginza carry out social initiatives, and we work together with such companies.
I think it is very meaningful for companies to carry out and spread social initiatives in Ginza, an area that can be considered the height of fashion. Depending on their strategy, they may be able to carry out broadly encompassing activities and transmit their message widely to people coming from outside Tokyo or visiting from foreign countries.
The SoooooS. project is still very small and its impact limited, but we will do what we can to help assist in value creation by Ginza.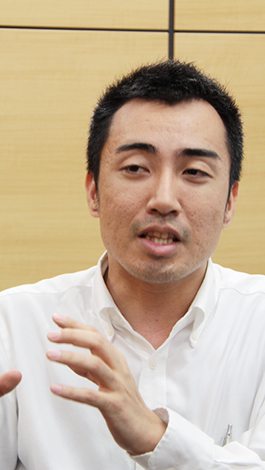 Visit the following website for more information.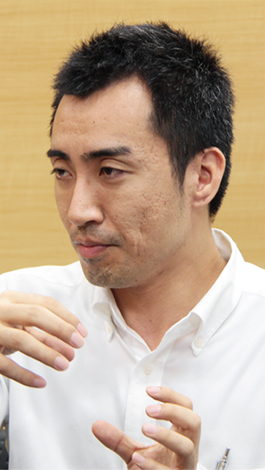 President of SoooooS., Yarakasukan
Daisuke Nakama
After working in brand management at a consumer goods manufacturer and founding a business, launched SoooooS., a website specializing in the purchase and discovery of socially responsible products.
Currently acts as both the manager of SoooooS. and the managing secretary and managing director of the Association for the Promotion of Social Products. His days are dedicated to the struggle to create a socially responsible product market and popularize socially responsible consumption. He specializes in marketing and business development.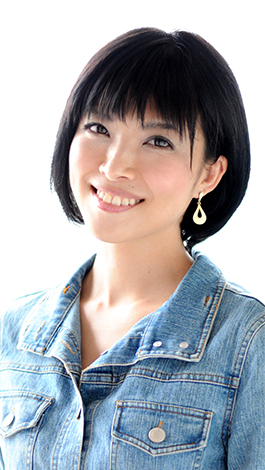 Interviewer:
Karin Sugiyama
Alterna consultant Offered services in marketing, communication, business strategy and new business development activities for foreign-affiliated IT companies, advertising agencies, and public relations firms. After going independent in 2008, Sugiyama now participates in educational projects for solving social challenges, assists cooperative alliances between companies and NPOs, and offers consulting for CSR activities and practical assistance.
Writer: Karin Sugiyama  Planning/editing: Alterna

Area linksInquiriesTerms of Use
System RequirementsAbout Us
© Ginza Information Management