CSR・CSV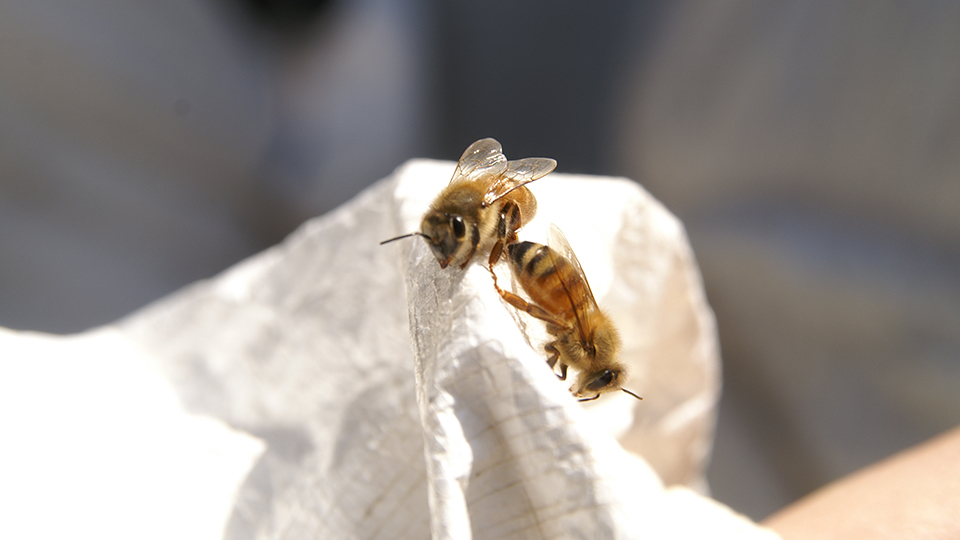 Ginza×CSR・CSV Vol.2 Specified Non-Profit Organization Ginza Honey Bee Project
Ginza Honey Bee Project
Fostering Ginza food culture and eco-consciousness with bees
2013.05.15
In recent years, we often hear the words, 'corporate social responsibility,' or CSR. Many companies in Ginza are also taking on initiatives to solve social challenges. In this corner, we present a series for introducing those Ginza-based CSR activities. As the second part of this series, we spoke with Kazuo Takayasu, chairman of the Ginza Honey Bee Project, an initiative to raise honey bees on the rooftops of the Ginza Pulp and Paper Hall building and other buildings in Ginza, and revitalize Ginza with Ginza-based honey products.
Ginza: grow local, eat local
─ Why did you start beekeeping in Ginza?
Ginza is a base for creating new culture, so we thought we might try to go beyond consumption and actually create and spread new culture in the food sector as well. At one of the study sessions for the Ginza Shokugaku Juku ("Ginza Food Study School") I host that brings together a number of producers, we conceived the idea of "grow local, eat local" in which rooftops of Ginza buildings are used to grow agricultural produce that would be used by the long-standing shops in the area.
At first we considered renting out the rooftop of the Pulp and Paper Hall building to beekeepers and dividing the honey with them, but we were told, "You don't have enough space for a bee industry, how about studying beekeeping on your own and doing it yourselves?" So, we took their advice and decided to try our own hand at beekeeping.
We brought about 30,000 bees here in March 2006 and launched the Ginza Honey Bee Project.
─ Without any experience, wasn't it difficult?
We had absolutely no experience at first, so we went to see other honeybee projects on a Nagata-cho building and at the Tokyo University of Agriculture, and we received training in beekeeping once a week.
Many people are under the impression that honeybees sting people, but they are too busy collecting nectar to pay any attention to humans. They won't attack you unless they are extremely aggravated.
That said, we assumed that people would be concerned if they did not know this. To gain the understanding from people in the neighborhood, we went around explaining about the bees to the tenants of the Pulp and Paper Hall, businesses on Matsuya-dori, the fire department, the police department, City Hall, and other places.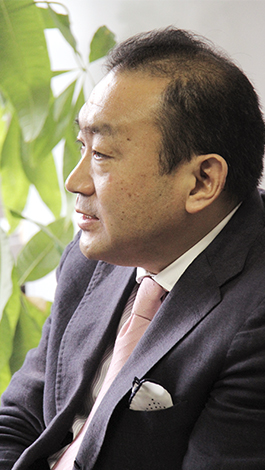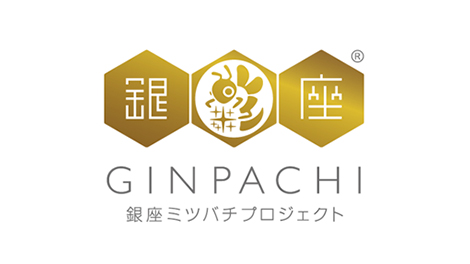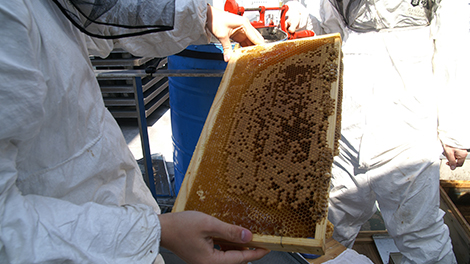 Ginza is surrounded by a bounty of nectar sources
─ Are there sources for nectar (places where it can be collected) in urban areas like Ginza?
The 3 km radius that is the honeybees' range contains the Ginza street side greenery, the Imperial Palace, the Hama-rikyu Imperial Villa, Hibiya Park, and other places for an environment that is full of flowers and greenery. Honeybees are busy mostly from April to August every year carrying in nectar from all sorts of flowers, like cherry blossoms, rape blossoms, horse chestnut flowers, tulip tree flowers, and mandarin orange flowers. Honey has a different aroma and flavor depending on what flower it is from.
─ How do you judge what nectar source the honey came from?
Honeybees back from their morning scouting mission inform their crew where the nectar sources are located by performing a figure eight dance. Watching this dance tells us the general area where the bees will be heading. The top of the hive frame points to the sun. You can tell the direction they will go by the angle from that point, and the distance by the size of the figure eight. So by watching them, we can say, for example, "today they're going to Hama-rikyu."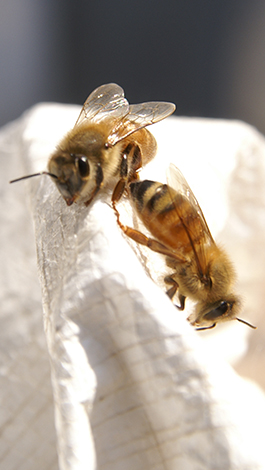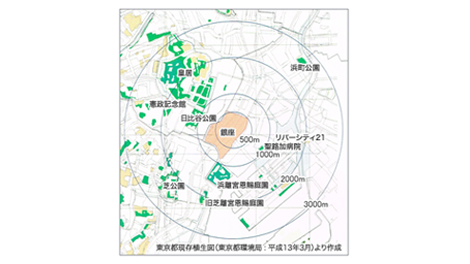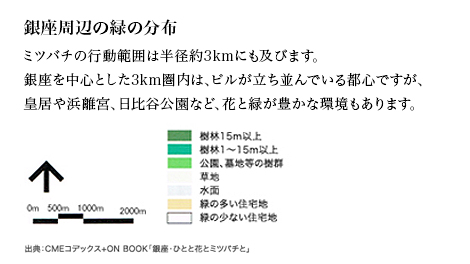 Honey collaborations originating in Ginza
─ What types of Ginza-based products are made with the honey collected?
The BAR5517 bar on the basement floor of the Mikasa Kaikan uses Yoshino cherry tree honey to make four different kinds of cocktails. Honey that is in general distribution is thought to have a high sugar content and not dissolve easily, but fresh honey collected in Ginza has low sugar content and is smooth and fluid. It has a fragrant flower aroma, so it was a new discovery for the bartenders.
The project is also receiving support from shops such as Henri Charpentier, Mannendo in the Matsuya department store, Seigetsudo, Mikuni Ginza, and Maison Kayser who make original sweets with Ginza honey.
─ Do you think there will be new collaborations in the future?
We are going to work together with the jewelry store, Chaumet, on an environmental project. If we can form collaborations with local businesses based on a shared concept that does not necessarily involve sharing honey, the range of our activities will broaden.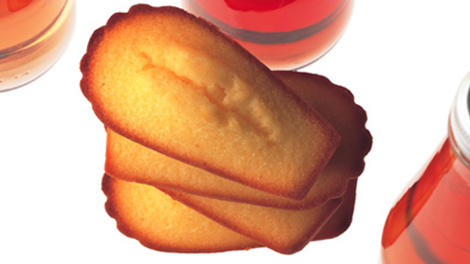 Henri Charpentier Ginza honey madeleine cakes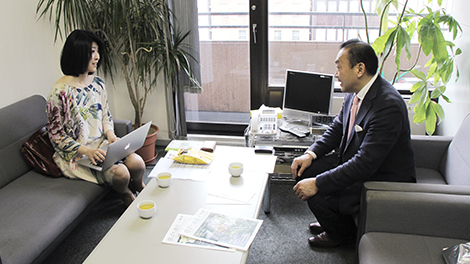 Creating a Ginza that will be chosen by people around the world through development of an area rich in greenery
─ Is it true that honeybees also enrich the vegetation?
Plants bear fruit when pollen is carried from the stamen to the pistil. Honeybees are the most important players for fulfilling the role of pollination. Honeybees are also involved in growing grains and vegetables that we eat. If the Ginza street side greenery bears fruit, birds will gather to eat it. Honeybees not only collect nectar from flowers, they also help develop a district that is rich in greenery where you can hear birds singing.
─ How do you hope to link this project to development of Ginza appeal?
Through our project, people in Ginza saw that we could get quite a bit of honey and realized that nature also exists in urban areas. It has built momentum for the idea to create an urban area with plenty of greenery, resulting in expansion of activities including rooftop gardening on as many as 12 buildings — areas that become local community space.
Ginza is currently home to many Asia flagship stores of global brands, which is wonderful, but if it loses its unique appeal or develops economic activities that do not consider the environment, those shops will eventually move to Shanghai or another city in another country.
Ginza is an area of great diversity with different themes on different streets. Rather than a single large scale commercial building where you can get all your shopping done, a large part of its charm is strolling through the streets. Perhaps if it becomes a place that gives a sense of having one of the richest natural environments of a shopping district in the world, and strolling the streets becomes even more enjoyable, it will always continue being an attractive place that brings in foreign visitors.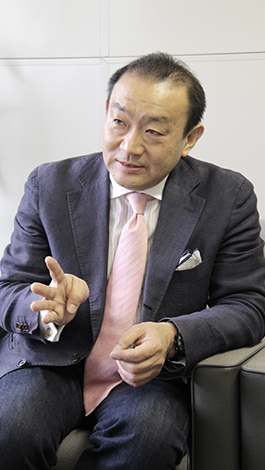 Visit the following website for more information.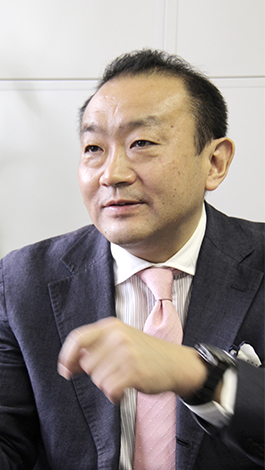 Chairman of the Specified Non-Profit Organization Ginza Honey Bee Project
Kazuo Takayasu
Director and Tokyo Branch Manager of Agricultural Production Corporation Agri Create
Chairman of the Specified Non-Profit Organization Ginza Honey Bee Project
Born in Chiba prefecture in 1965. Graduated from the Department of Law at Kokugakuin University Law School in 1989. Worked at National Housing Chiba PanaHome Corporation, then joined Agricultural Production Corporation Agri Create in 1999. In August 2003, became the Director and Tokyo Branch Manager.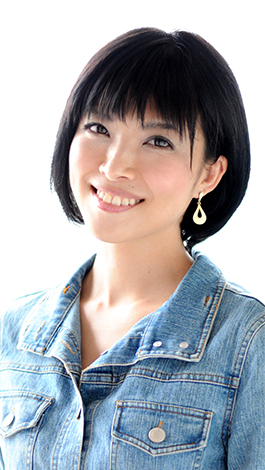 Interviewer:
Karin Sugiyama
Alterna consultant Offers services in marketing, communication, business strategy and new business development activities for foreign-affiliated IT companies, advertising agencies, and public relations firms. After going independent in 2008, Sugiyama now participates in educational projects for solving social challenges, assists cooperative alliances between companies and NPOs, and offers consulting for CSR activities and practical assistance.
Writer: Karin Sugiyama

Area linksInquiriesTerms of Use
System RequirementsAbout Us
© Ginza Information Management