CSR・CSV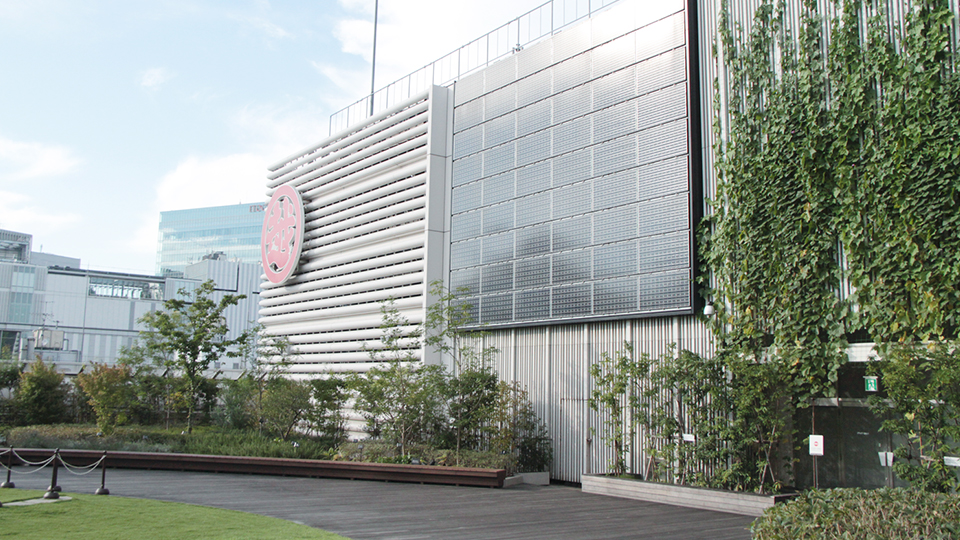 Ginza×CSR・CSV Vol.17 Isetan Mitsukoshi LTD Mitsukoshi Ginza Store
Creating a store that is kind to people and the environment
2014.09.25
The 17th part in the Ginza×CSR series introduces the activities of Ginza Mitsukoshi that will celebrate its 85th anniversary next year. The department store carries out a number of CSR activities, which have included store renovations to adopt a district heating and cooling system and add greenery to reduce the burden on the environment, a "Japan Senses" event to introduce valuable culture and arts from around Japan, and Ginza Fashion Week aimed at revitalizing Ginza and Japan with fashion in collaboration with others in the district. Today we spoke with Tsukasa Hojo who works in business planning.
A 2.4% drop in CO2 emissions despite expanding the floor space by 55%
─ Ginza Mitsukoshi was expanded and renovated in September 2010. What was the concept for renewal?
The main concepts behind the renovations were creating a public space that would provide greater convenience to visitors to Ginza and reducing the burden on the environment. We were already undertaking other environmental initiatives, for example using eco-friendly packaging, and we decided to revamp the department store centered on physical aspects like power saving electronics and greening.
─ What changes were made?
To start with, power consumption for lighting was very high, so we replaced all the store lighting with LED lights. Also, we now use a district heating and cooling system located under the Oji Paper head office building next door. This system is a method for collectively supplying cooling, heating and hot water to commercial and apartment buildings in the area. Supplying heat from a single source has the benefit of expending less energy than what is used when each building supplies its own heating and cooling separately.
─How far were you able to cut CO2
The floor space has been expanded by 55% more than its pre-renovation size, but CO2 emissions are about 2.4% lower than the pre-renovation level.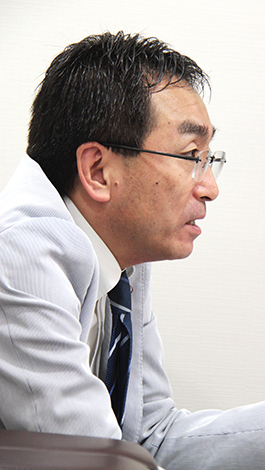 Making Ginza Terrace a district park
─ What are the features of Ginza Terrace that includes the 9th floor outdoor terrace and indoor space?
For the renovation, we wanted to make Ginza Terrace into a district park and consider it a public space that can be used as a part of the Ginza district. We also built a nursing and diaper changing room so that people can use the department store's indoor space as a public place as well as the outdoor terrace. There is also a day care room that people can use when shopping at the department store, of course, or other stores in Ginza. It's been used by about 2800 people so far.
─ The outdoor terrace is lush with greenery.
The 9th floor terrace garden which has wooden tables and chairs and benches has a total area of about 1400 square meters, about half of which is covered in greenery like grass and seasonal plants, and it is free for public use. By increasing the amount of greenery in the city, we can create a place for visitors to rest and even supply nectar for bees, enriching the environment. We have also installed solar panels covering 360 square meters of the terrace wall. That energy is used to power three of the department store's elevators.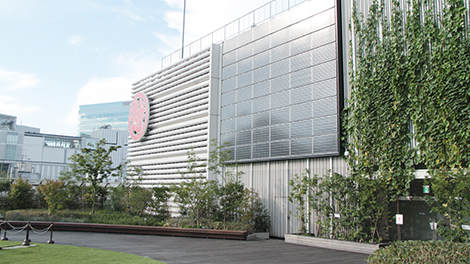 Ginza Terrace and solar panels
─ I understand that the outdoor terrace also has a farm.
We invite fourth-graders from Kyobashi Tsukiji Elementary School to the rooftop terrace farm to teach them about food and biodiversity. In spring, they plant seeds of herbs like rosemary and mint and vegetables like eggplant and sweet potato and do everything up to and including the harvest. Some of the herbs that are harvested are used in our 9th floor restaurant, the Minoru Diner. We also installed a garbage disposal machine and recycle wet refuse from the department store to use as fertilizer.
─ So you have established a cycle in the department store from cultivating plants from seeds, using the crops and even recycling the leftover waste.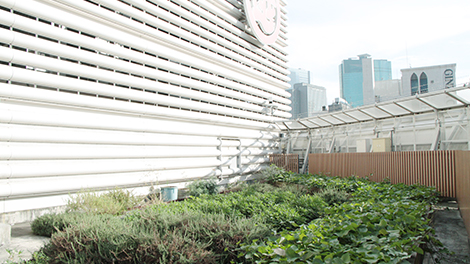 Rooftop farm on Ginza Terrace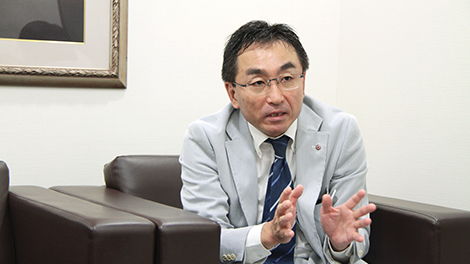 Sharing the appeal of production areas from Ginza
─ You also help improve the environment and community through campaigns and events.
Ginza Fashion Week that will be held for the 7th time this fall began in 2011 and is held twice a year. Based on the concept of "revitalizing Ginza and Japan with fashion," we hold this event together with Matsuya Ginza and Printemps Ginza.

In the past, each store has held its own merchandising activities and events based on a common theme around something like fiber or production area, sharing the appeal of the materials and techniques. But now the entire department store, not just the women's department, participates to make a lively event. We plan on having each store develop their own, unique styles even further in the future.

The other stores are our rivals, but raising our efforts through competition and collaborating to revitalize the district will actually increase the number of visitors to Ginza and bring in more customers to each store.

There is also the Japan Senses campaign that all stores in the Isetan Mitsukoshi Holdings Group participate in, mainly in spring and fall. By creating collaborations with excellent traditional techniques and creators from around Japan, we reconsider Japan's unique traditional techniques and aesthetic sensibility and convey them to our customers.

This fall, we plan on introducing the excellence of Tohoku production areas and fashion and folk art, such as Yamagata weaving technology, Iwate "Nambu" ironware and thick homespun sheep's wool and Akita "Mage-wappa" bent woodware, based on Tohoku as the theme.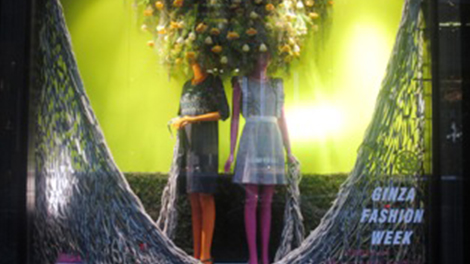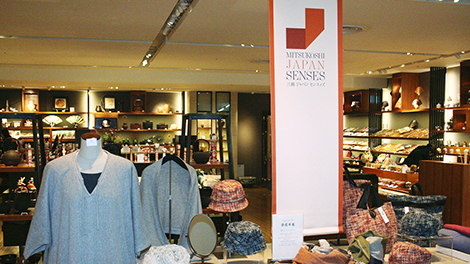 ─ Next year is Ginza Mitsukoshi's 85th anniversary. What type of viewpoint is needed to further increase the appeal of Ginza as a district?
Ginza is Japan's greatest commercial cluster, offering excellent veteran specialty shops, new stores like flagship shops of foreign brands, theaters and galleries. It also receives many visitors from overseas, so, especially in the Ginza department store, we try to offer high quality services considering the district as "the world's Ginza." When expanding and renovating in 2010, we also set up an information desk for foreign tourists and duty-free counters on the second floor. Next fall, we plan on setting up duty-free shops around the city.

I believe that, by continuing to offer a globally focused product selection and sales services and carry out initiatives to reduce the burden on the environment, we come closer to being a global department store in the true sense. And collaborating and coexisting in harmony with the district, rather than carrying out such initiatives on our own, is surely necessary for increasing the number of visitors from around the world even more.
Visit the following website for more information.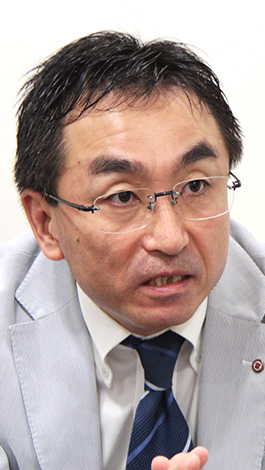 Head of business planning at Ginza Mitsukoshi
Tsukasa Hojo
1982 Joined Mitsukoshi
2005 Became manager of the No. 1 sales department in the Sendai Mitsukoshi
From 2008 Head of the Business Planning Department in the Mitsukoshi Department Store Corporate Head Office
From 2011 Head of the Business Planning Department of the Isetan Mitsukoshi Holdings Core Branch Business Division, Nihonbashi Mitsukoshi, Shinjuku Isetan and Ginza Mitsukoshi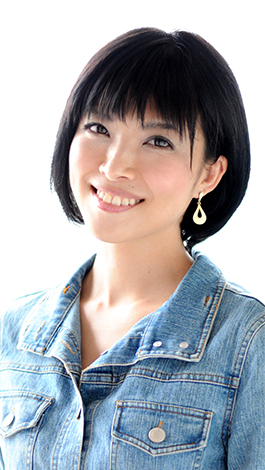 Interviewer:
Karin Sugiyama
Alterna consultant
http://www.alterna.co.jp
Offered services in marketing, communication, business strategy and new business development activities for foreign-affiliated IT companies, advertising agencies, and public relations firms. After going independent in 2008, Sugiyama now participates in educational projects for solving social challenges, assists cooperative alliances between companies and NPOs, and offers consulting for CSR activities and practical assistance.
Writer: Karin Sugiyama  Planning/editing: Alterna

Area linksInquiriesTerms of Use
System RequirementsAbout Us
© Ginza Information Management