Ginza Kanoko
Our last destination was the main store of Ginza Kanoko, strongly recommended by Mitsuoka-san as a Japanese tea room that serves delicious "mochi" (rice cakes) all year round.
Ginza Kanoko is located very close to the Ginza 4-chome intersection and we had a good view of Wako Department Store and the townscape of Ginza from the tea room on the second floor.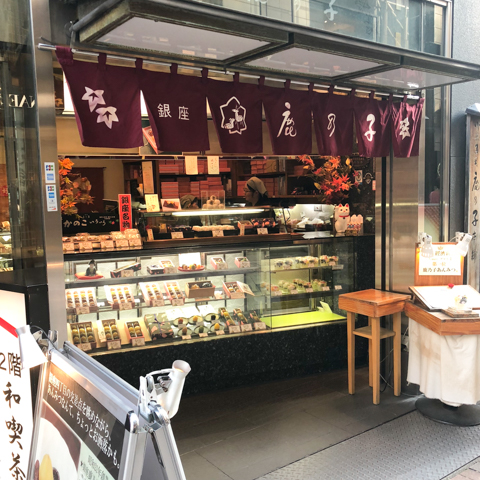 The store is famous for its "Kanoko" a Japanese confectionary covered with sweet chestnut and beans of five different colors which is sold on the first store along with other confectionaries.
We ordered a "Kanoko An-mitsu" along with Mitsuoka-san's favorites, the "Zohni" and "Isobe-mochi."
Their menu offers has a variety of items, including not only desserts such as "An-mitsu" (a dessert with small cubes of agar jelly, anko (sweet azuki bean paste), boiled peas, and rice flour dumplings) and "Kaki-gori" (shaved ice) but also "Ozoni" (a soup containing mochi rice cakes) and "Okowa" (steamed sticky glutinous rice mixed with vegetables or meat).
The popular "Kanoko An-mitsu" (1,380 yen, without tax) is the perfect fusion of plump boiled peas and beans, chewy "shiratama" (rice flour dumplings) and elegant "tsubu-an" (coarse sweet azuki bean paste).
The "An-mitsu" was full of large and shiny scarlet runner beans and other colorful beans. According to Mr. Ogawa, the President of Kanoko, they select large beans because the larger the beans, the stronger the taste.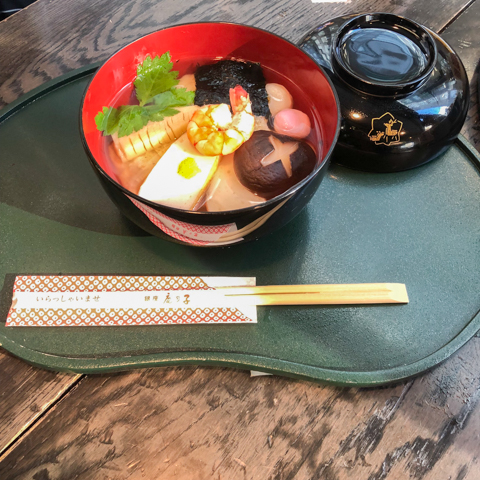 The "Ozoni" (1,380 yen, without tax) is made with a savory broth. Containing three pieces of mochi, it was quite filling.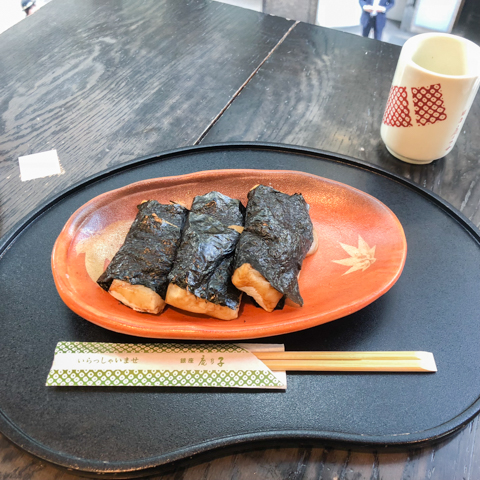 The "Isobe-mochi" (1,180 yen, without tax) was made with freshly pounded mochi. It was very soft and the soy sauce and nori (laver) is quite appetizing.
The mochi is made from sticky glutinous rice produced in Niigata Prefecture and is freshly pounded at their factory.
It was a pleasure to join Mitusoka-san on her luscious and enriching weekend stroll.
Ginza Kanoko
5-7-19 Ginza, Ginza Suzuran-dori, Chuo-ku, Tokyo
Store hours
Sunday -Friday
Shop (First floor) 10:30~19:00 Tea Room (Second floor) 11:30~19:00(18:45 L.O)
Saturdays and day before holidays
Shop (First floor) 10:30~20:00 Tea Room (Second floor) 11:30~20:00(19:45 L.O)
Closed on New Year's Day
http://kanoko.la.coocan.jp