Welcome moms with babies♪ Family restaurant in Ginza that supports moms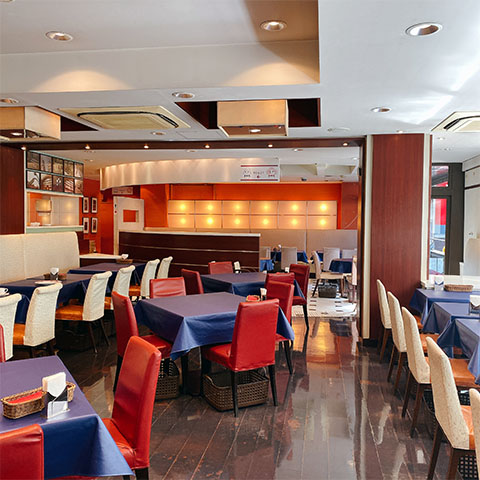 For moms who have a difficult time finding restaurants that they can take their children to, Shinmoto-san recommends the Fujiya Restaurant Sukiyabashi. It is on the second floor of a building standing on the Sukiyabashi Intersection, a prime location in Ginza. "It is easily accessed and the great thing is that you can take your baby stroller in." They also offer a Birthday Service, where those celebrating their birthday can receive birthday gifts, including a dessert and a birthday photo. Baby food is available for children under one year of age free of charge. Moms will enjoy the special offers they have for them.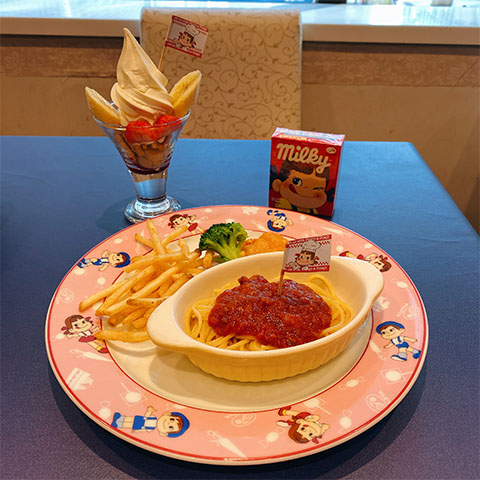 During lunchtime, Fujiya Restaurant serves "Peko-chan's Spaghetti Meatballs" (580 yen, incl. tax) (photo), as well as other children's favorites, including curry and hamburger steaks. Cutely arranged on a plate with pictures of Peko-chan and Poko-chan, children are encouraged to finish their meal. Children will also receive a box of Milky, adding to the excitement. The "Peko-chan Milky Parfait" (430 yen, incl. tax) is the perfect dessert, served in a mini size just right for enjoying after a meal.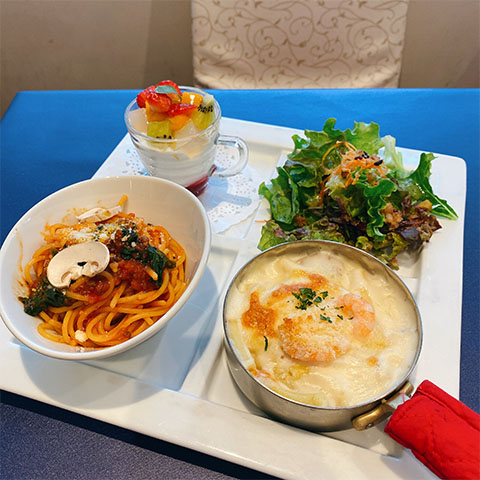 "Ladies' Plate A" (1,590 yen, incl. tax) lets moms indulge in the authentic taste of four different dishes served in small portions arranged on one plate: Spaghetti Bolognese with truffle-flavored olive oil, macaroni gratin with prawns and chicken in an irresistible creamy Bechamel sauce, tossed salad with four types of grains and walnuts, and a mini cup of yogurt accompanied by colorful fruits.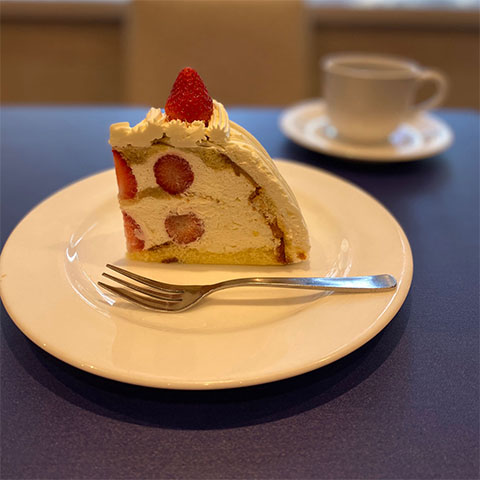 For dessert, enjoy the classic "Italian Short Cake" (590 yen / 1,030 yen with drinks, incl. tax). Made with a luxurious amount of strawberries and whipped cream on cake sponge soaked in syrup, the cake has a divinely rich sweetness. The dome-like shape also gives it a cute touch.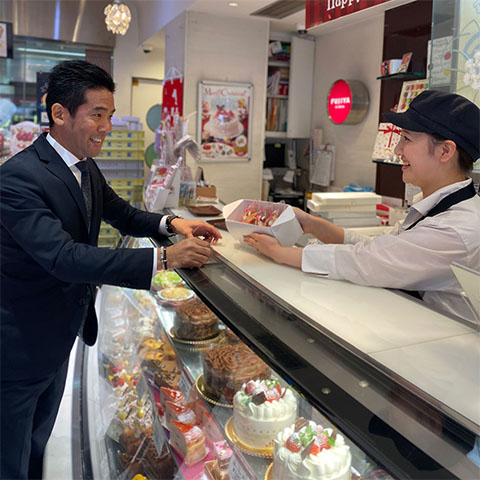 After enjoying your lunch, don't forget to purchase some sweets to take home at the shop on the first floor. The "Milky Cream Nama-dorayaki" (280 yen, incl. tax) sold exclusively at the Sukiyabashi Store is a rich dorayaki with "Milky" cream and adzuki bean paste sandwiched between soft and fluffy pancakes.

A long-established restaurant with three generations of fans, the Fujiya Restaurant is spacious and ideal for lunch with friends and children's birthday parties. It is certainly an address to remember in Ginza.

〈Fujiya Restaurant Sukiyabashi〉
Address: 4-2-12 Ginza, Ginza Chrystal Building 2F, Chuo-ku, Tokyo
Phone: 03-3562-0681
Open on: 11:00〜23:00 (〜22:00 on Sunday and holidays)
Closed on: Third Monday of April and November
https://www.fujiya-fs.com/index.html