Ginbura Hyakunen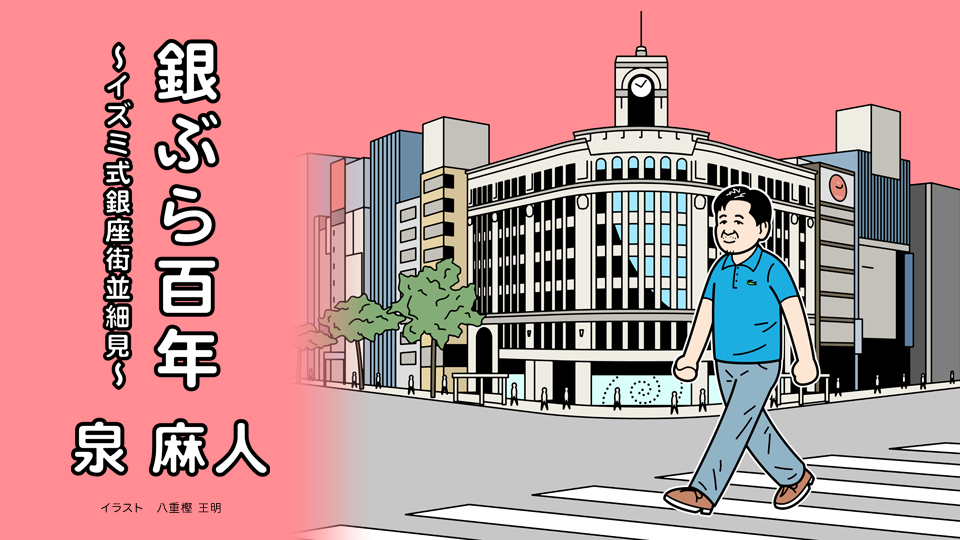 Ginza×銀ぶら百年 Vol.17
銀ぶら百年 ~イズミ式銀座街並細見~
Ginza Toraya's Panama Hat
Hat stores become Ginza. A while ago, you could walk down Ginza-dori and find long-established hat stores on both the southern edge and northern edge of the street – Daitoku in Ginza 8-chome and Toraya in Ginza 2-chome. Daitoku, which was located near Shimbashi closed almost thirty years ago, but Toraya still stands near Kyobashi. I purchased a Panama hat at Toraya five or six years ago, that is a summertime favorite.
"The brand is called Tesi, from Florence, Italy, but is made in Ecuador. Despite their name. Panama hats are mostly manufactured in Ecuador. They came to be known by the location of the port that they are shipped from."
 I recall being entertained by various stories from the experienced salesperson, who spoke in a rhythmical manner. He also taught me how to roll up my hat to keep in my bag.
 In mid-May, I put my Panama hat in my bag made a visit to Ginza Toraya in Ginza 2-chome for an interview. I had intended to go in a summer outfit and wear an aloha shirt or a polo shirt to match my Panama hat, but the warm spell that had continued for several days had come to an end, and it was unusually chilly that day. Nevertheless, it was early summer and Panama hats and other summer hats were on display in the shop window.
 My interview was with the store manager, Mr. Yujiro Otaki. Close to my age, he has been employed by the store since the 1980s.
 The store's history is introduced briefly on its website. It first opened in Kanda-Jimbocho (Suzuran-dori) in 1917 (Taisho 6). However, this was only the first establishment in Tokyo, because the store was founded in Kyoto in the Meiji period.
"The founder's family name has Yatsuhashi. Some say the name is somehow related to the wagashi (Japanese confectionery), "Yatsuhashi…."
 If that is true, then I would not be surprised if the name "Toraya" had something to do with Toraya, the long-established store specializing in Yokan (bar of gelled sweet bean paste).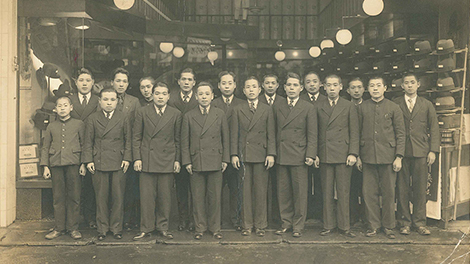 At the Jimbocho store
 Mr. Otaki gave me some interesting material on the store from its Jimbocho days. An article from the October 1930 (Showa 5) edition of the magazine, Jitsgyo no Nihon, was titled "How did Toraya Hat Store achieve its success?." The article had a picture of Kohei Yatsuhashi, the founder (dressed elegantly in a formal suit).
"Anyone walking through the shop street of Jimbocho would know the store. And the name would rarely go unnoticed. People do not happen to purchase a hat at Toraya. They go to Toraya for a hat… Either way, today, the Japanese-style hat store has gained a firm foothold in Kanda, along with Daitokuya in Ginza."
 This description indicates the store's landmark popularity. According to the residential map of Jimbocho from the early Showa period that he copied for me, the store was located in a corner of Sanseido Bookstore, facing Suzuran-dori. It mentioned in the latter half of the article that considering the location of the store, its concept was to carry a lineup of hats, such as hunting caps and soft felt hats, that were slightly more fashionable than school caps.
 It was not until the spring of 1930, the year this article was published. The original Ginza store was located closer to Kyobashi, in the southern corner of Ginza 1-chome, the area across the street from the current store. Harry Winston stands where the old store used to be.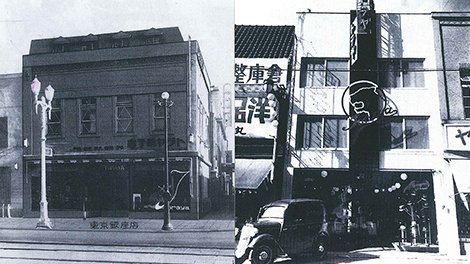 The Jimbocho store in 1931 (Taisho 6) (right), the Ginza store in 1930 (Taisho 5)
 Wajiro Kon, a specialist of "Kogengaku," or the study of modern social phenomena, and his team compiled reports on their detailed surveys of how pedestrians of Ginza were dressed and what they did for a living in the early Showa period. The site survey of Ginza-dori was performed in May 1925, five years before Toraya opened, and their report includes a unique illustrated table of the different shapes of the hats worn by the male passers-by.
 According to the survey results, 125 men wore fedoras (soft felt hats), representing the overwhelming majority. Second to fedoras were hunting caps, which were worn by 23 people. One person wore a "straw" boater. Of the 125 men in soft felt hats, 104 men were dressed in Western-style clothes and 21 people wore traditional Japanese clothes. Therefore, by the dawn of the Showa period, the combination of Western clothes and fedoras had been the dominant fashion, at least in Ginza. Student and laborer fashion were also categorized in different sections, according to which, "Ginbura" students mostly wore school caps, wool fedoras and hunting caps.
 I also came across a newspaper article from this period.
"Straw hats in fashion. The trend is high crowns and short brims."
The title is followed by the description, "Nowadays, people prefer hats that go well with Western-style clothing. Brown, gray and rose are in style this year. Trendy hats come in an unbalanced shape with a high crown and narrow brim, and are made from straw or habutae silk…" This indicates that hats were important fashion items that came in different designs and colors every year. I would imagine that it had something to do with the "Mobo" (modern boy)/ "Moga" (modern girl) boom
 Hats first became popular in the late Meiji period, even before the Showa and Taisho periods. For example, in the timeline of events included in "Shiseido Corporate History," it says under the year 1892 (Meiji 25), "Panama hats become popular" and that Eiichi Shibusawa established Tokyo Boshi Incorporated, the first hat manufacturing company in Japan. Bowler hats were mainstream during the Meiji period (Tenkado, which I mentioned in past issues, also had an illustration of a bowler hat on their ads) and Toraya also carried Tokyo Boshi's products in its early days.
 A brand name that stands out in the store today is Borsalino. The Monte Cristi Extra Fine is a 300,000 yen Panama hat of the highest quality that is carefully finished by hand-weaving high-quality Jipijapa (leaf fibers).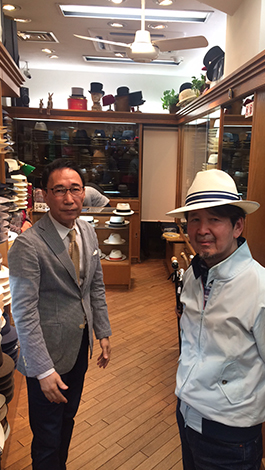 Learning the perfect tilt from store manager, Mr.Otaki /div>
"The Jipijapa is more like palm or hemp palm leaves rather than straw."
 By the way, I mentioned above that the hats were carefully "finished" but the work in Ecuador ends before shaping the hat. The craftsmen of Borsalino, based in Alessandria, Italy, use an original wooden hatblock to shape the hat.
 "Borsalino" is sometimes used for not only Panama hats but all hats with an indented crown. Humphrey Bogart made it a popular item in the movie "Casa Blanca." The movie was produced in 1942, but was released in Japan after the war. Many Japanese men tried to coordinate their hats with a trench coat .
 When people of our generation saw our first foreign movie, a movie with the very title "Borsalino," starring Alain Delon and Jean-Paul Belmondo was showing in theaters. Back then, I had no idea that "Borsalino" was the name of a hat brand and imagined vaguely that it might be the name of the home city or organization of the gangsters.
 Japanese celebrities that I would associate a Borsalinos with is Kenji Sawada, also known as JULIE, back when he sang "Katte ni shiyagare" and "Toki no sugi yuku mamani." Another song,"Casa Blanca Dandy" was a song about Humphrey Bogart
 The Borsalino reminds some people of Ei-chan, or Eikichi Yazawa. Although I am unfamiliar with his concerts, when he sings "Tomaranai Ha-ha," typically toward the end of his lives, he appears in a Borsalino-like Panama hat. The audience responds by swinging their towels and many fans purchase Panama hats just like Yazawa's. In fact, there was a time when Yazawa bought his hats at Toraya through his stylist, and the store used to sell original Panama hats with a special tag that said "ROCK."
  I was told that there were many other celebrities that wore hats bought at Toraya, and I was impressed to learn that Osamu Tezuka had also bought his hats here. His hat was not a Borsalino felt hat or Panama hat, nor was it a cowboy hat or hunting cap. Of course, his hat was the beret hat. I had a picture taken wearing the Laulhere beret that had been Osamu Tezuka's favorite. It is amazing how when you wear a beret hat and glasses, you can instantly turn into a cartoonist. Perhaps the stereotype image of Osamu Tezuka is just too strong.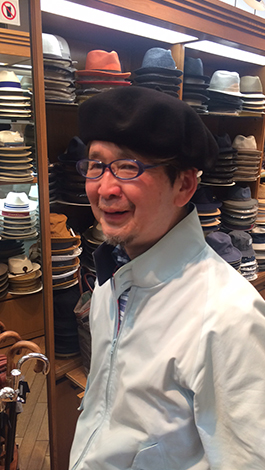 In the image of Osamu Tezuka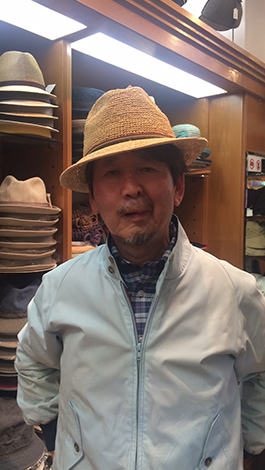 In the image of Taro Aso, Minister of Finance-style
 I guess I had not taken good care of the Panama hat that I took with me, because I was told that it was crooked. Mr Otaki looked at my hat as if he felt sorry for it. He placed the hat on a metal object that almost resembled a torture device from medieval Europe and as he turned the handle on the side, steam rose from under the hemisphere-shaped container, moistening the hat so that it could be reshaped.
 The device has a simple name: a "stretcher." My hat had regained its original shape by the time we had finished the interview. I look forward to strolling about wearing this hat again this summer. Having seen so many different hats here made me want to purchase another one.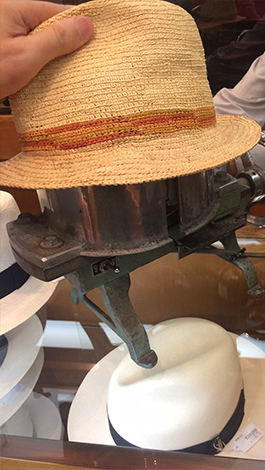 The magic of a stretcher!