Ginbura Hyakunen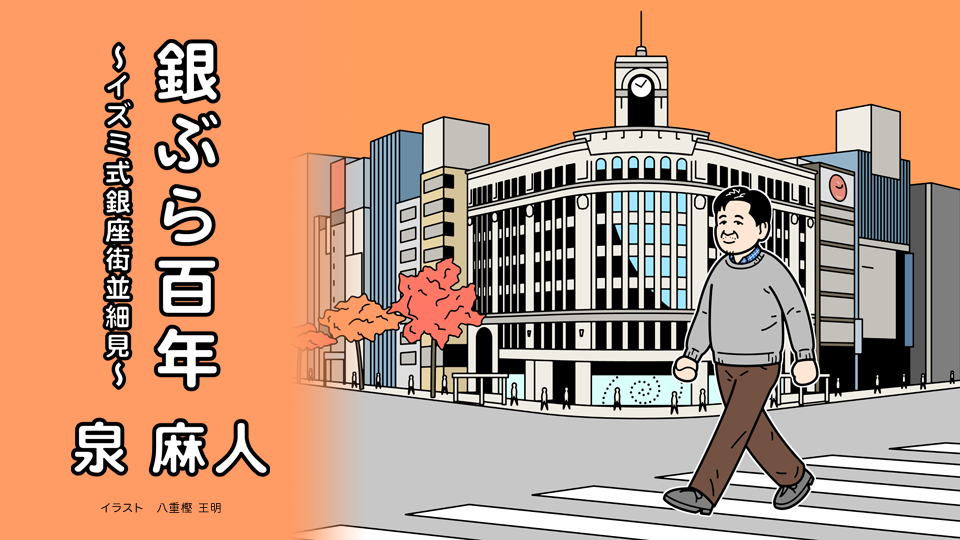 Ginza×銀ぶら百年 Vol.11
銀ぶら百年 ~イズミ式銀座街並細見~
Memories of Gekkoso and Dried Sardines
 Last month, visiting Taimei Elementary School for an interview for this series reminded me of the art supply store "Gekkoso." When I was in junior high school, our sketchbooks and oil paints all came from Gekkoso. The store currently stands on Hanatsubaki Dori in Ginza 8-chome, but back then, it was right near Taimei Elementary School. Having recently met my classmates from junior high school at a reunion, I missed Gekkoso all the more.
 I might have previously mentioned that I went to Keio Chutobu Junior High School. My memories of Gekkoso art supplies are always accompanied by Mr. Yo Kato, our art teacher. I guess that at any school, the art teacher is unique; and Mr. Kato also had that wild artist-like atmosphere that as different from my other teachers who taught the core subjects. He was chubby with long tousled hair and black rim glasses. He always wore a corduroy jacket whose elbow had thinned out. Writing up to here, I tried to reconfirm this memory by checking my graduation album, but perhaps because a graduation album would be kept for years, he wore a suit and tie.
 The first episode with Mr. Kato goes back to before I was even in junior high school – to the entrance exams. The art exam that we took as a part of the second-stage exams is not to be forgotten. As we walked into the classroom, we were distributed a piece of dried sardines with a straw string tied to its mouth. As I recall, we were told to sketch the dried sardine with a thick pencil. The time I spent sketching a piece of smelly sardine at an exam for Keio, which I had had a cool image of, became an indelible memory, which is always remembered with Mr. Kato.
 Curious to find out what kind of relationship my teacher had had with Gekkoso, I headed for Gekkoso Gazaiten in Ginza 8-chome. It is the second store from the intersection of Komparu Dori and Hanatsubaki Dori, with the impressive classic brick façade. On the first floor, they sell paints and canvases, sketchbooks…. all displyed closely together. Going downstairs to the basement floor, there is a small salon and gallery space.
 What I miss the most are the sketchbooks with colorful covers, available in blue, red, yellow-green, pink….They come in a variety of sizes, but our junior high school probably used size 5F (36×27cm). The boys' were blue, and the girls', red. I guess they were made to match our school colors of red and blue, because I remember the blue to have been a little closer to navy than I what is currently sold
 As I gazed at the art supplies nostalgically, the owner, Ms. Nanase Hibi came out. The second owner after the founder, she is around ten years elder than me, but what a young spirit she has. Then, learning that she also went to Keio Chutobu Junior High School (as well as the affiliated Keio Yochisha Elementary School), the pieces of the puzzle fell into place. She also had Mr. Yo Kato for art, but it turns out her father, the founder, and Mr. Kato had been close friends before she was in his class.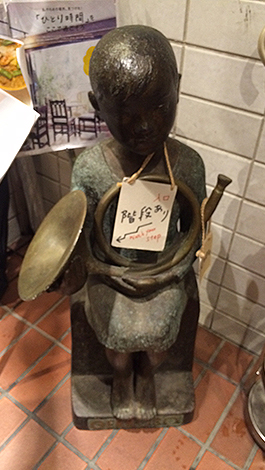 Nanase-san was the model for the girl sitting beside the entrance
"Do you remember that the sketchbooks we used at Keio had a pen mark instead of the horn?"
 Yes! I hadn't remembered that until she mentioned it, but the memories came back to me. The store that I would visit to purchase what paints that I had run out of was a few stores down the lane across the street from the French Gate of Taimei Elementary School. Before that, when it had just relocated to Ginza after the war in 1948 (Showa 23), it stood on Miyuki Dori (where the Riccar Building later stood).
"The first store in the Taisho period was located in Shinjuku, near Nakamuraya, close to the East Exit.
 The history of the store is written in detail on its website. The founder, Heizo Hashimoto came out to Tokyo from Toyama when he was 18 years old. He happened to meet Tekkan and Akiko Yosano and eventually made the acquaintance of many artists, which led him to pursue his dream of running an art supply store.
"Gekkoso" (literally, "Moonlight") was named by Tekkan, after Verlaine's poem "Moonlight." The well-known horn trademark (known as the "friend-calling horn") was devised by the cultural figures around the Yosano couple (Kaoru Osanai, Toson Shimazaki, etc.) who decided on it after long discussion. Tsuguharu Fujita supervised the design of the Shinjuku store which Heizo opened in 1916, when he was 23 years old. She showed me a picture of it, which was chic, with a French atmosphere. They had gone to the trouble of training a tall French woman to keep the store.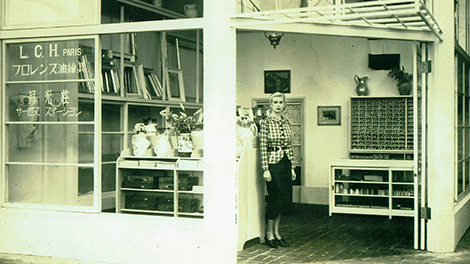 Old store with a Parisian storekeeper
 These episodes indicate how Heizo was loved by everyone. In his late years, he was called "Master of Gekkoso" or "Uncle Gekkoso" and he was especially kind to poor artists whose works were not selling well. The store website introduces a store legend.
"Back then, not all stores had registers like we do today, and at our store, too, we had a basket of change hanging from the ceiling, like the ones that were commonly seen in the greengrocer's or fish store. The customers would place their payment in the basket and take their own change. Young artists with little money would take more change than they were entitled to but Heizo let such things pass."
Although they have stopped using the basket method now, Heizo's spirit is still alive in their policy of not putting their products in bags to save costs and provide art supplies for as cheap as they can.
 The store is now run by his daughter Nanase, who was married into the Hibi family. Her son, Kozo Hibi, is currently Gekkoso's total producer. What I mean by "total" is that he has been producing new business locations, such as an atelier and a café in the Ginza 8-chome block. (He calls the area "Komparu Eight.")
 Kozo-san is around twenty years younger than I am He was dressed stylishly. His chic way of wearing jeans was somewhat different from the ordinary young master of a traditional long-established store. He guided me to "Gekkoso Atelier M'zo," a short walk along Komparu Dori towards Shinmachi. The atelier, located on the fourth floor of a building, has a low table with paints, brushes, pallets and drawing paper roughly arranged on it so that anyone can come in and enjoy drawing. There are small chairs for small children that create the atmosphere of a kindergarten.
"It's not exclusively for children. My aim is for adults to also enjoy spontaneous drawing. Young women frequently come to draw after work, too."
 You are welcome to just come in and draw, but you can also print your work on T-shirts or have it framed. I decided to spend some time concentrating on drawing "my memorable dried sardines."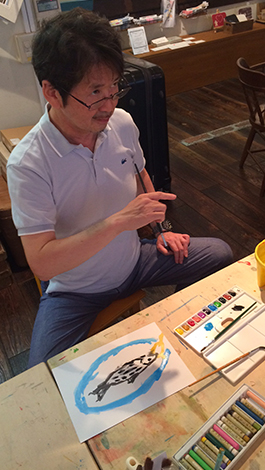 Izumi, working on a drawing to dedicate to his teacher.
 And the other location was behind this building, to its west. Kozo-san ran up the stairs of a shabby building on Kenban Dori.
"The building does not have an elevator."
 We walked up the stairs, going past floors with signs for small bars (run by proprietresses). "Tsuki-no-Hanare" (Moon Villa), Gekkoso's salon, is located on the uppermost fifth floor. A dim corridor suddenly opens up to the courtyard, beyond which is a bar-like space with tables and chairs and a shelf with liquor bottles. It is the perfect hideout, decorated with good paintings and sculptures and selected antique chairs and tables.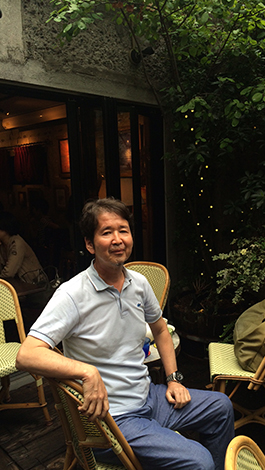 In a terrace seat at Tsuki-no-Hanare
"The building is around fifty years old. I took the roof off and created an open-air courtyard."
 Looking closely, I could see where the outer wall had been scraped off. Although I missed it, my interview being in the daytime, if you look up at the sky from the courtyard at nighttime, you can see the moon, the store's symbol. So it lives up to its name: Gekkoso, or "moonlight house."
"Jazz, bossa nova, and blues artists perform here every day. "
 I should have mentioned earlier that Kozo-san is also a musician.
Next year, Gekkoso will celebrate one hundred years of business since 1917 (Taisho 6).
"Welcoming our centennial as an art supply shop pursuing genuine products, we hope to spend the next one hundred years communicating the joy of drawing and painting and displaying art in daily life as well as the salon culture," explains Kozo.
 Imagining the local map in my head, I recalled a historical location. Café Printemps, one of the first cafés in Tokyo that was opened by Western artist Shozo Matsuyama and eventually became a salon for cultural figures including Kafu Nagai, was located in Hiyoshi-cho, the distrit across the street. It would be interesting to see this salon develop in the way Café Printemps did.
 By the way, Gumbo and other authentic Creole cuisine can be enjoyed at this salon.