Ginbura Hyakunen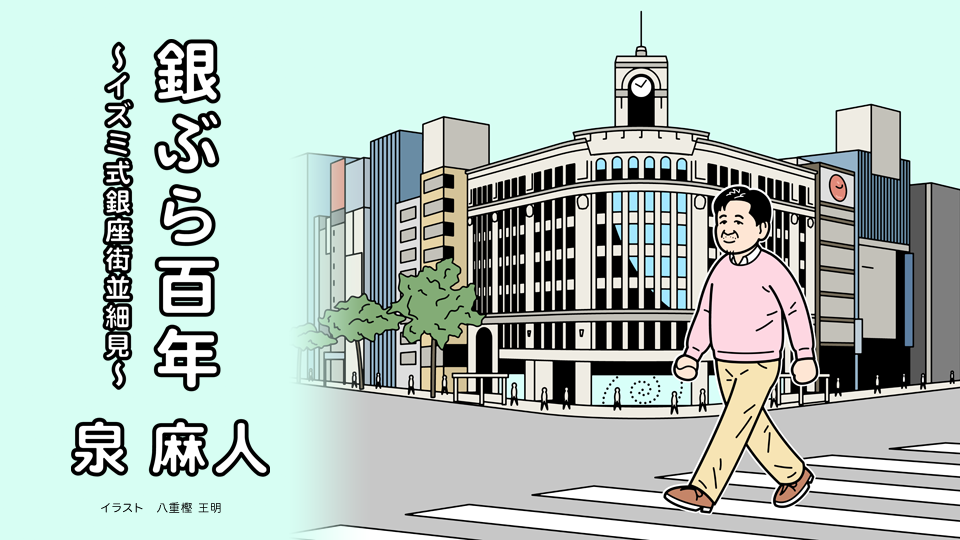 Ginza×銀ぶら百年 Vol.24
銀ぶら百年 ~イズミ式銀座街並細見~
The man who built the San-Ai building
  The Ginza 4-chome intersection is home to many symbolic buildings, including Wako. The cylinder-shaped "San-Ai" building standing on the northeast corner is also an symbolic component of Ginza's townscape. While its history is not as old as the second Wako (K. Hattori clock store) building built in 1932 (Showa 7), the building known as San-ai Dream Center was built more than fifty years ago in 1963 (Showa 38), a year before the Tokyo Olympic Games.
  Back then, the neon sign on top of the building used to depict the diamond-shaped Mitsubishi logo, but everyone has now become used to seeing the RICOH logo. Few people know that the founder of RICOH, known for cameras and copy machines, was also the founder of fashion brand San-Ai. (It was quite recently that I came to know about the relationship between RICHO and San-Ai.)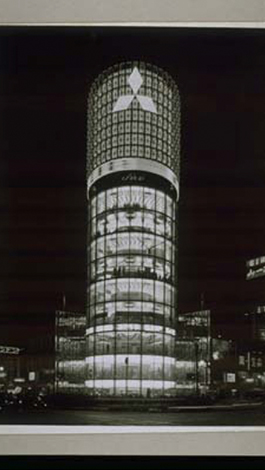 The first neons were diamond-shaped
  Kiyoshi Ichimura, the founder of San-Ai and RICOH, used his unique ideas and energy to lead many companies to success.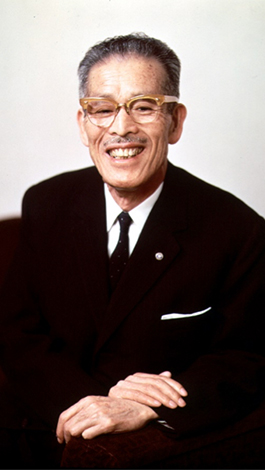 Founder Kiyoshi Ichimura
 I recently had the opportunity of meeting the sister-in-law of Kiyoshi Ichimura, Ms. Kazuko Ichimura, to whom I was introduced by a friend. Aged 92, she lives in Kitamagome, Ota-ku, where Kiyoshi Ichimura also lived. I would like to tell the story of the man who built the cylinder-shaped San-Ai Dream Center based on what I learned from Kazuko-san and his critical biography ("Ibara to niji to" Ichimura Kiyoshi no shougai (Thorns and rainbows, the life of Kiyoshi Ichimura) written by Yoshio Ozaki and published by Sai-Ai Shinsho.
 Kiyoshi Ichimura was born in an agricultural village in 1900 (Meiji 33) in the eastern part of Saga Prefecture. His village was located in the watershed area of Chikugogawa River which was home to many lotus swamps, where he would boss his "minion" friends around in the mud. Although he loved to read and did well in school, he quit junior high school at the age of fourteen due to challenging family circumstances, including poverty. He began selling vegetables that year, started to work for Kyoei Chokin Bank when he was 16 years old and was transferred to the head office when he was 19. He enrolled in the evening program at Chuo University's Faculty of Law while working.
 He married his wife Yukie in Shanghai, China, where the bank opened a joint venture. The daughter of a doctor in Saga Prefecture, Yukie eventually became Kiyoshi's important business partner. Kyoei Chokin Bank regretfully collapsed into bankruptcy in the financial crisis of the early Showa period and Kiyoshi started working in Kumamoto as an insurance salesperson for Fukoku Mutual Life Insurance Company. This employment leads to the establishment of the Ricoh San-Ai Group later in his life.
 Fukoku Mutual Life Insurance Company's sales agent in Saga was a store called Yoshimura Shokai, owned by a wealthy local family that also ran other businesses, including soy sauce manufacturing and sales. Furthermore, the storeowner's younger sister, Chika Kuroda, was a researcher at RIKEN (and known as Japan's first female to acquire a Doctor's degree in science) and the store also carried RIKEN's photosensitive paper.
 Acknowledged for his sales talent, Ichimura was convinced into selling RIKEN photosensitive paper as a business and finally bought the entire "Shokai." His store became the "local sole agent for RIKEN Photosensitive Paper covering the Kyushu region," as the store sign read. It is amazing that this happened in 1929 (Showa 4), just before he turned 29.
  RIKEN continues to be a widely known company today (for its Nobel Laureates and for the "STAP cell" scandal that shook society a couple of years ago). The research institute was founded in 1916 (Taisho 6) led by Jokichi Takamine, who appears in our science textbooks as the inventor of Takadiastase. While the company's focus was on extracting and selling vitamin A, its main industrial product during the early Showa period was positive paper used for printing. The Kyushu representative that Ichimura opened was particularly successful, taking factories in the Kitakyushu Industrial Zone as its clients. He caught the eye of then Director of RIKEN, Masatoshi Okochi, and was invited to join the Tokyo Head Office in the spring of 1933 (Showa 8). He assumed the position of General Manager of the Photosensitive Paper Division, but surrounded by intellectuals who had graduated from national universities, the awkward countryman from Kyushu was blatantly ignored. He would spend hours at a café in Ginza to lay off steam. His biography also mentions that Ichimura regularly went to Salon Haru, in the basement floor of Koshusha Building, introduced with favorable comments in the guide to Ginza's popular culture, Ginza Saiken by Kosei Ando, published just around the time that Ichimura moved to Tokyo.
"The next day again, as the clock ticked past noon, he went to Salon Haru. It became his daily routine to sit in Salon Haru from 12:30 and go home in the evening. Once he became a familiar face, the waitresses would pamper him. When he raised his hand for a beer, he would stay for longer hours and return home late, reluctant to go out into the depressing spring weather. This way of life continued for three months."
 The time spent at Salon Haru being the first episode in Ginza introduced in his biography, I assume that the café is his first image of Ginza.
 In 1936 (Showa 11), the Photosensitive Paper Division was spun off into Riken Photosensitive Paper Co., Ltd., which would be managed by Ichimura. This marked the beginning of RICOH's history.

 It was around this time (1937, Showa 12) that Ichimura moved to Kitamagome with his wife. (They had lived in Ushigome Yaraicho until then.) Located in the suburbs known as the Jonan area, Kitamagome was home to woodland, crop fields and rice paddies. It was on the northern edge of Magome Bunshimura, where authors and artists came to live or work in the Taisho to early Showa period. The three pine trees that were drawn in "Sanbonmatsu," a print by wood-block print artist Hasui Kawase, a resident of Bunshimura," stood close to Ichimura's house. The trees were cut down during World War II for fear of becoming a target of B29 air raids, so it may only have been a short while that Kiyoshi was able to appreciate them
 There was a large pine tree called "Omatsu-san" standing in Kazuko-san's yard as well.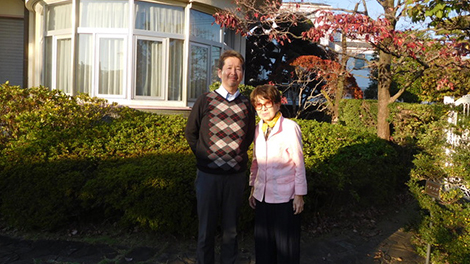 Izumi-san and Kazuko Ichimura-san
 One of the reasons for Ichimura choosing to live in this area was that the factory of Asahi Optical Co., Ltd., the predecessor of RICOH's camera section, stood in the valley below. RICOH Head Office building and other group facilities still stand on both sides of Kannana-dori Ave., forming a small "RICOH village".
 The camera that Asahi Optical sold at the time was called "Olympic," most likely named after the 1940 Tokyo Olympic Games, which were returned to the IOC due to the outbreak of war…….
 San-Ai was born in August 1946 (Showa 21), when deserted buildings standing in the ashes of war still remained in Ginza. Ichimura had always been interested in the service industry and obtained a small piece of land in Owaricho (Ginza 4-chome) through the influence of an acquaintance at Yasuda Bank, to open the two-story San-Ai building. San-Ai did not start as a fashion store, but was more like a pioneer in the supermarket business, selling food, stationery and other daily commodities under the catchphrase "straight from the producers."
 San-Ai shifted into a fashion store for ladies in around 1950. Ichimura originally got the idea from the chatting that he overheard near the ladies' washroom at a department store.
"I was very amused, learning that women talked about all of their secrets in the washroom. […] There are millions of banks and washrooms and young working women can be found everywhere. If I were to carefully study the conversations that go on in the washroom, I may be able to get a clear picture of how modern women live and think." (Ibara to niji to (San-Ai Shinsho))
 Then he hired a female student to conduct a survey of the conversations that went on in the washrooms of banks and department stores. Results showed that with several years having passed since the end of the war, women were interested in fashion, including clothing and cosmetics. He now had a clear vision of his new business. His wife Yukie's views were intensively reflected in the selection of products as well as the interior design.
 Perhaps owing to the success of San-Ai, Ichimura was appointed the first President of Nishi-Ginza Department Store (1958, Showa 33), which I have written about before in this column. It was also Kiyoshi Ichimura who renovated the desolate Constitution Memorial Hall in Gaien into the wedding venue Meiji Kinenkan.
 Then in January 1963 (Showa 38), the two-story Ginza San-Ai building was rebuilt as cylinder-shaped nine-story building, named the San-Ai Dream Center. The extravagant opening ceremony held late at night on January 13 was much talked about, to the extent that it was covered in newsreels and newspaper articles.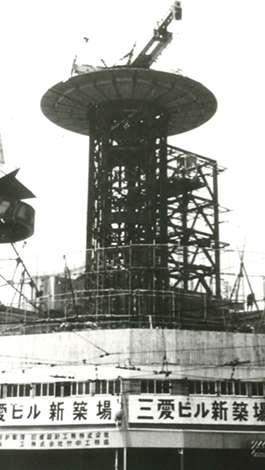 Construction of San-Ai Dream Center
"The "light-up ceremony" started just as the clock struck midnight. After the brass band played the national anthem, the curtain was suddenly cut down and Frankie Sakai's drum beat shook the cold air. When Ichimura switched on the lights, the first floor glowed. A gondola carrying beautifully dressed models started to move up along with the beat, and the lights were turned on one floor after the other – on the second floor, followed by the third floor, and then the fourth floor, until finally a 48-meter pole of light rose in the night skies of Ginza.(Ibara to niji to)
 Imagine such a spectacular event being held at the Ginza 4-chome intersection! Photos show food stalls on the sidewalk in front of the building.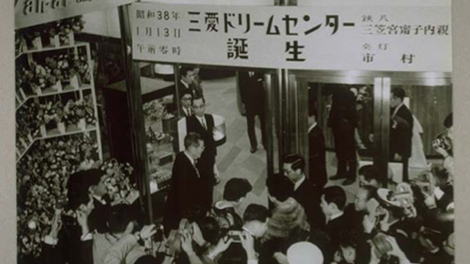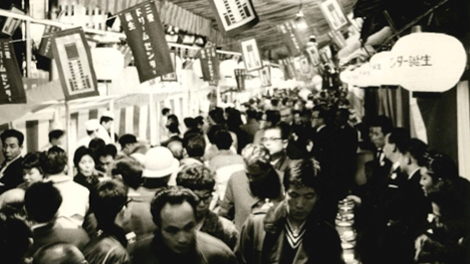 Midnight opening party
 San-Ai no longer runs a store in the building. Until the end of February, an exhibition of cameras manufactured by RICOH was held on the eighth and ninth floors, where new models were also exhibited and sold. (Preparations are currently underway for a new RICOH store.)
Finding the Ricoh Auto Half E, which was my first camera, showcased along with the bestseller Ricohflex brought back good memories. It was in the spring of my sixth year in elementary school that I was bought the camera. I wrote about it in my May 15 entry in the diary I kept as homework from school in 1968 (Showa 43).
 Kiyoshi Ichimura passed away later that year. I only learned about San-Ai the following year, on a midnight radio program that I started to listen to after I entered junior high school.
The program was called "Wagon de Date" on Nippon Broadcasting, sponsored by San-Ai. It was broadcasted live from a satellite studio in the building with a theme song sung by a female chorus.
♪Meet your new self in Ginza, where you have been hit by love's arrow.
 The sight of the San-Ai building still reminds me of that theme song.