Ginbura Hyakunen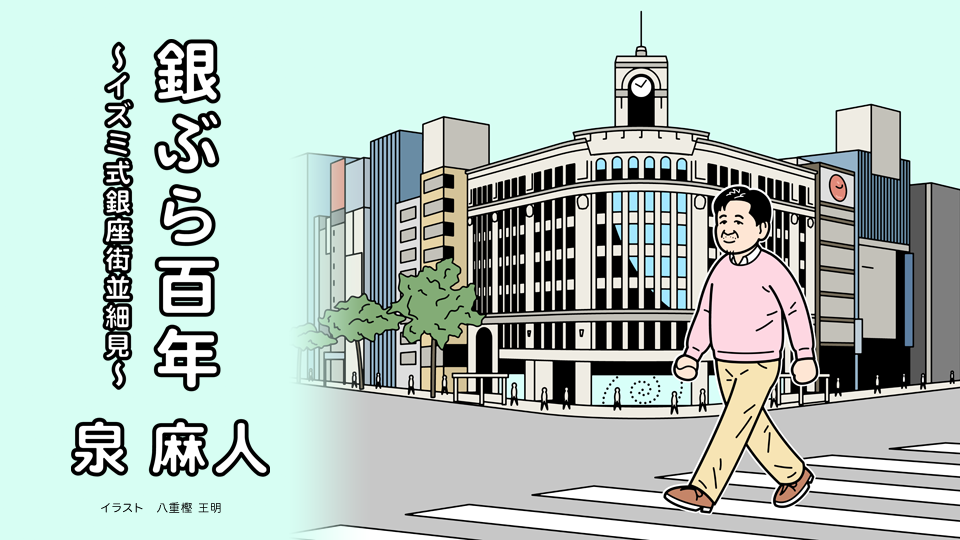 Ginza×銀ぶら百年 Vol.16
銀ぶら百年 ~イズミ式銀座街並細見~
TEIMEN and the Ginza Ivy Era
 Two summers ago, I happened to walk into Teijin Men's Shop and bought a shirt for the first time in many years. It was a white seersucker shirt with small yacht prints. It reminded me of old times when "sports shirts" were the fashion, and last year I bought a navy shirt exactly like it but with different prints. It has become one of my favorites. In Ginza, a long-established store tends to mean one established in the Edo or Meiji period, but for people of my generation Teijin Men's Shop feels just as "long-established." The building looks exactly as it did in the 1970's when I first walked into the store. In this volume, allow me to explore Teijin's history.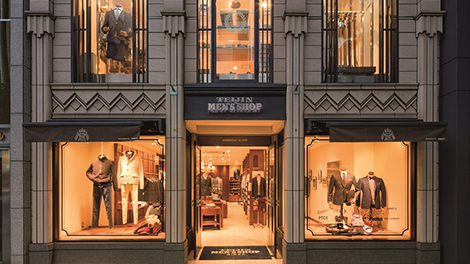 The current store on Harumi Dori
 First, let me introduce TEIJIN. I wonder how many people today know that the company name is written out as "帝人" in Chinese characters, short for Teikoku Jinzo-Kenshi Kaisha Ltd. (Teikoku Rayon), a textiles company established in 1918.
 Many people think that Teijin is an underwear brand, but TEIMEN in Ginza was famous for VAN shirts and blazers – the style that we usually refer to as the "Ivy look."
"It began when Mr. Kensuke Ishizu from VAN was advisor to the marketing division at TEIJIN. This location in Ginza was originally Teijin's textile showroom, but from the idea that if they opened a VAN store for young people in a prominent spot like this in Ginza it would attract a lot of attention and lead to a better corporate image, they opened the store in 1960.
Mr. Shigeki Kagaya, from Teijin Associa Retail Limited, which currently supervises Teijin Men's Shop, told me the history of the store.
 By the way, VAN was a pioneer of the times. The brand was founded in 1954, in the late Showa 20s, and like Teijin was first based in Osaka, so the two companies must have felt a sense of closeness, sharing the same hometown.
 Mr, Kagaya showed me a picture of the store when it opened in 1960. The building was three stories high and through the large window, I could see a gracious winding staircase leading to the second floor. I managed to discern TEIJIN's logo on the outer wall, but could not find VAN's mark. But then, it was a time when there were only a few magazines like Men's Club and Danshi Senka that could advertise VAN's fashion.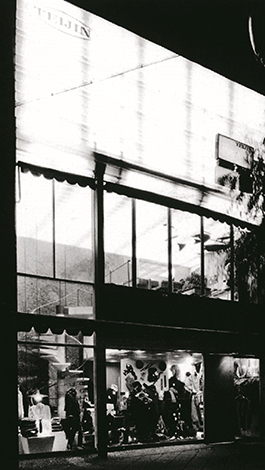 The façade at the time on opening in 1960
 It was not until 1964, the year of the Tokyo Olympics, that TEIMEN in Ginza made big strides. The three-story building was rebuilt into the current eight-story building in 1964, and above all, Ginza became the center of the fashion booms, the "Miyuki-zoku" and the "Ivy-zoku." The source of this young subculture was Heibon Punch, a magazine launched at the end of April the same year, around Golden Week. The publisher, Heibon Shuppan (currently Magazine House) was also locally based in Higashi-Ginza.
 I have a copy of the December 28, 1964 edition of Heibon Punch that ran a special article titled "1964 Illustrated Guide to Subulture History" in which Chinpei Nozue, then one of the most prominent critics of young culture, made an interesting comment about the "Miyuki-zoku."

"The Miyuki-zoku came into being, influenced by the cover page of Heibon Punch. Shorts, "Futen (hippie)" bags… trends can be atrocious."
How ignorant. This is why adults are not to be trusted. They think everyone who looks just a little different from others are all the same. They have no heart to tell the Ivy-zoku and Miyuki-zoku apart. Ignorance is terrifying.
This excerpt must be read very carefully. The quotes are words spoken by an ignorant adult and Chinpei disagrees with them. From the context, we can guess that the young people on the cover page that Ayumi Ohashi illustrated were Ivy-zoku, but reading a few different histories of subculture, the distinction between the Miyuki-zoku and the Ivy-zoku is not always clear. "Futen" bags probably refer to the hemp sacks that the Miyuki-zoku would typically carry, but my conclusion is that the Miyuki-zoku, who originally wore funky accessories, eventually became more sophisticated and shifted to the "Ivy-zoku," influenced by the information provided in Heibon Punch and Men's Club. TEIJIN also undoubtedly played an important role in their sophistication from Miyuki-zoku to Ivy-zoku.
 It was also in 1964 that VAN's head office and TEIMEN's second store opened in the intersection of Aoyama 3-chome. "Ivy" fashion welcomes its peak two years later, in around 1966, when I was in fourth grade. It was a time when even Akira Mita sang a song titled "Ivy Tokyo" to the electric guitar just like the then popular Ventures.
 The song did not mention any particular "Ivy" item, but it goes "Shinjuku, Ginza, city of love," and sings about young people dressed in the latest fashion enjoying new date spots that emerged after the Olympic Games. It was the same year that "Futari no Ginza (Ginza for Two)," a song with a similar beat sung by Masako Izumi and Ken Yamauchi also made the top charts.
 Also in 1966, Snack VAN opened on the second floor of Ginza TEIMEN and became the meeting spot for the Ivy-zoku. When we say "snack" today, we tend to imagine a small bar with karaoke with a friendly middle-aged proprietress, but back then, a "snack" was a trendy term, rather close to what we would refer to as a café or dance club. The song "Chiisana Snack (a small snack bar)" by Purple Shadows became a hit, making snack bars popular in 1968, so Snack Van was ahead of the times.
 I remember this snack bar with the VAN logo on its signboard on the second floor of TEIMEN very clearly, but it disappeared before I had the opportunity to set foot into the place.
 There was a coca-cola vending machine in the store… is what I managed to learn about Snack VAN. Unfortunately, no detailed materials remain to tell us more about it. (The only item remaining from the snack bar is a chic round chair that was used in the snack bar and is currently preserved in the store.)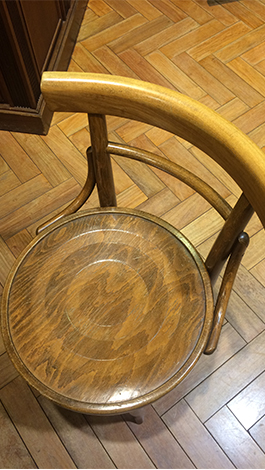 A chair used at Snack VAN.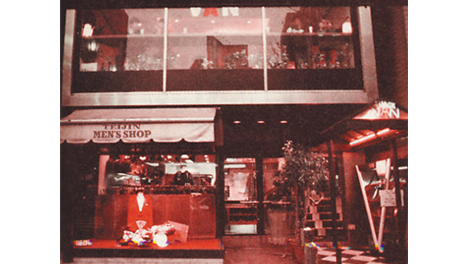 Snack VAN on the outside
 In order to learn more about the snack bar, I requested an telephone interview with Mr. Go Hirai, TEIMEN's fashion director who has worked for TEIMEN for forty years since he joined the company in 1967.
 Mr. Hirai, almost 73 years old, could only recall that "they might have served hot dogs and hamburgers" but shared an exciting episode about merchandise selection.
"It was in the 1970s, when we started to carry not only VAN and KENT but also imports, that I happened to walk into a bookstore in Kanda specializing in Western books. I was browsing through the pages of an American Yacht magazine when my eyes fell on the stylish boat shoes worn by a yachtsman in one of the ads. It turned out to be a Topsider, which later becomes a sensational hit. I called the company immediately and negotiated so that we could purchase their products through Regal, with which we already had business relations. The shoes became one of our bestselling items in no time.
 This was an episode that represented the dawn of a select shop, in times even before the magazine Popeye (founded in 1976) was launched.
 On the day of the interview, I wore a sky blue G9 Swing Top from Baracuta, which Beams Plus started to sell a renewed series of last year. Again, it was TEIMEN that first imported this jacket in 1969. Back then, the colors, beige, which was called "natural," tan and navy were the popular colors.
 The Baracuda Swing Tops were known as Ken Takakura's trademark jacket. I could not derive any such facts in the interview, but perhaps Ken-san also dropped by Ginza TEIMEN from time to time.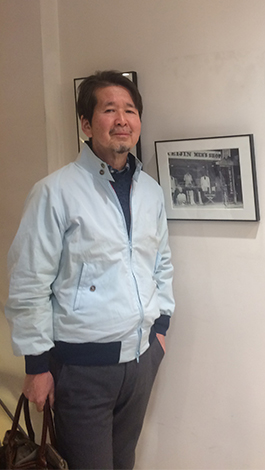 Mr. Izumi in a Baracuta Swing Top
Finally, allow me to share another episode pf TEIMEN associated with a celebrity. A few years ago, when I was thoroughly checking DVDs in order to write about the filming locations of the Crazy Cats movies, I came across a scene in the movie Nihon-ichi no hora-fuki otoko (The biggest liar in Japan), where the main character, Ueki and others come out of a barber shop on Miyuki Dori after a haircut. The address on the telephone pole said "5-2 Ginza" so it must have been an area close to Harumi Dori.
In the background, the TEIMEN building is under construction.
 This movie, at the beginning of which Ueki briskly dances the "Tokyo gorin ondo (Tokyo Olympic Dance)," was released in June 1964. Therefore, considering that the shooting would have taken place one or two months in advance, I would assume the current building was completed in the latter half of 1964.