Ginbura Hyakunen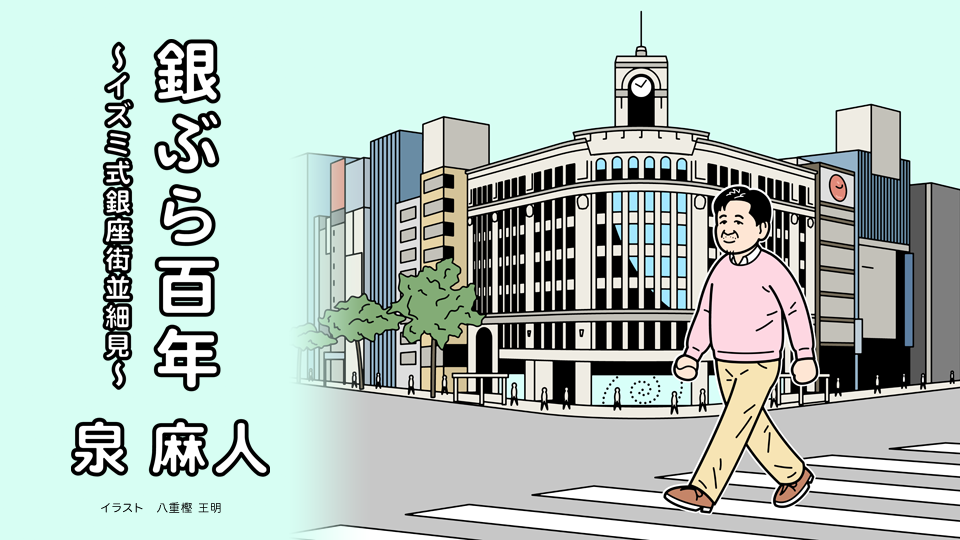 Ginza×銀ぶら百年 Vol.06
銀ぶら百年 ~イズミ式銀座街並細見~
A History Lesson at SAEGUSA
 GINZA no SAEGUSA. specializing in children's clothes, is one of Ginza (Chuo) Dori's oldest of long-established stores. The current store is located in Ginza 7-chome, but it was originally on the west end of Ginza 3-chome where the Apple Store stands today. The building is still called Saegusa Building, so Apple is renting space from SAEGUSA to sell smartphones and tablets.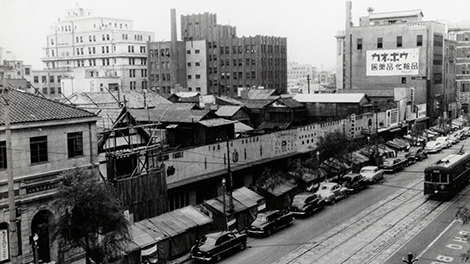 Store in Ginza 3-chome
Nisiki-e (color woodblock prints)
 SAEGUSA was often introduced as a trendy spot in guides to Ginza written in the beginning of the Showa (1926-1989) period when "Ginbura" was popular among "MOBO (Modern Boys)" and "MOGA (Modern Girls)." "Saegusa: One or two Packards or Messerschmitts are constantly parked in front of the store but it is very quiet inside. Stop by if you are interested in exceptionally high-quality and luxurious accessories."
 This cynical review of the store from a lower-class perspective is found in Shinban Dai-Tokyo Annai (New guide to greater Tokyo) written by modernologist, Wajiro Kon. In Ginza Saiken (A detailed look at Ginza), a "textbook" on the popular culture of Ginza, Kosei Ando writes。
"Ginza is a town for young people. Saegusa's smiling decorated window, Senbikiya's fruit, TANSAN (cider) with a straw and the gathering taxis are all reaching out to the young people."
 SAEGUSA used sell not only children's clothing but Western clothing and accessories in general. A "decorated window" is a word that was used for shop windows. The store must have been a popular spot for window shopping, one of the stereotype activities of a Ginbura stroller.
 SAEGUSA has a reference room where they preserve corporate material and old historical material on Ginza. It is called the Cultural Project Office, located in a building by Mihara-bashi Bridge in Ginza 5-chome. The Director, Ms. Asako Saegusa showed me rare material collected mainly by Mr. Susumu Saegusa, the former storeowner.
 The store was established in 1869 (Meiji 2) by Yosaburo Saegusa. The first store stood near Bizen-bashi Bridge in Minami-Odawara-cho, close to the Tsukiji Enclave for foreign residents. It started as an import store targeting foreigners and carried a wide range of goods, including Western wines and liquor. A newspaper article from the Meiji period (1868-1912) that I found among the filed material introduced "Tivoli Beer" an uncommon beer brand that they used to import and sell.
 The store moved to Ginza in 1875 (Meiji 8), shortly after the great fire, when the brick buildings were completed. The store on the corner of Ginza 3-chome would continue for a while under the name "Iseyo (伊勢與)Shoten." The letter "Yo (與)" was taken from the first letter of Yosaburo's name, but since he was originally from Koshu [currently, Yamanashi Prefecture], he had no geographic connection with Ise. The idea was to be simple and easy to remember.
Roan Uchida wrote an amusing introduction of Yosaburo in "Ginza Hanjouki (Prospering in Ginza)" which was published in Chuo Koron in 1929 (Showa 4).
"Iseyo was a pot-bellied man. One could tell from the expression on his face that he was a big man not to be overdone, and he was the boss person, instead of the rigid master. He was friendly to anyone he met for the first time and no one would feel the least uncomfortable in his presence. He was a gifted speaker and his articulate speech made every listener feel good. He would sometimes wittily touch a sore spot and he could be ironic but his sarcasm was never vicious.
 He was also referred to as the renowned Hikozaemon Okubo of Ginza… It was wool yarn that brought his business success, but he had originally displayed it in his store with no idea whatsoever of what it was used for. Yarn became a popular item among the foreign ladies who came to shop in his store, and it became a bestseller in no time.
"For Ginbura people, the "Iseya, the yarn shop" has a more familiar ring than the name Saegusa. Iseya was well-known among MOGA, and as the first importer of wool yarn, Iseya could not be fully explained without mention of yarn."
 Another description by Roan that caught my eye said,
"Saegusa was conservative and earnest as a rule, and therefore, they would never engage in exaggerated self-promotion. They would never run an ad with a picture of the Great Buddha statue from Nara sitting on Mt. Fuji blowing a trumpet, as would Tengu Iwaya, across the street."
 Tengu Iwaya, across the street… That made me recall that Matsuhei Iwaya, one of the great men of wonder in Ginza's history. Tengu Tabacco stood where Ginza Matsuya is located today, almost across the street from SAEGUSA. The man had started as a kimono retailer when he first came out to Tokyo from Satsuma [currently, Kagoshima Prefecture] in 1878 (Meiji 11), but for some reason switched to a tobacco retailer, selling tobacco under the "Tengu" brand. As a tobacco store, he painted his wide and big store red and hung a large signboard featuring a Tengu. He dressed in red army wear and travelled around in a red horse-pulled cart advertising his store. The newspapers particularly liked to talk about the ad battle between Tengu Tabacco and its rival, Murai Kyodai Shokai, which carried fancy imported tobacco. Given the enactment of the monopoly law in 1904 (Meiji 37), Iwaya withdrew from the tobacco business with no avail and left Ginza.
 Yosaburo encouraged Iwaya to run for city councilor and brilliantly got him elected. I learned for the first time from Roan's essay that such political communication had existed in the middle of the Meiji period, between two famous storeowners of 3-chome, running businesses across the street from one another.
Iseyo Shoten formerly changed its name to "GINZA no SAEGUSA" after the Great Kanto Earthquake. This is when they built the current Tudor architecture-style store with a triangular roof in 7-chome. Here, the store developed as a store famous for hand-smocked jersey (wool) children's clothing.
 By this time, the store must have welcomed its second-generation owner. As Roan explained that "they would never engage in exaggerated self-promotion," indeed, there were no flashy ads using fashion models to be found. SAEGUSA's ads, with an elegant illustration accompanied by an ad copy about their products, were found in women's magazines.

"Saegusa is the most chic store in Ginza
 with a rich collection of
  lovely swimsuits and stylish hats
  and other women's accessories leading the times"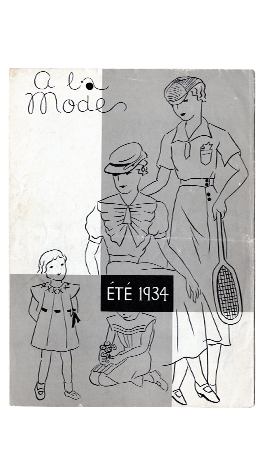 Summer catalog
 I also found stored a few direct mail postcards sent to Masao Kume, an author who lived in Kamakura. (These postcards had been kept by fate.) From the postmark I judged they were from around 1935 (Showa 10).

"Western clothing for children, Western clothing for women, handbags
 shawls, berets (new models
 from Czecho and France) for the gentlemen

 The postmark was dated 1936 (Showa 11). How chic that they would suggest berets made in Czecho (presumably, Czechoslovakia). Of course, the direct mail was probably meant for Mrs. Kume, instead of her husband….
 Some postcards had the phrase "Bargain Day" printed on them. I have been told that the word "bargain" was first used by SAEGUSA to mean "sale" during the Taisho period (1912-1926) before it became widely used.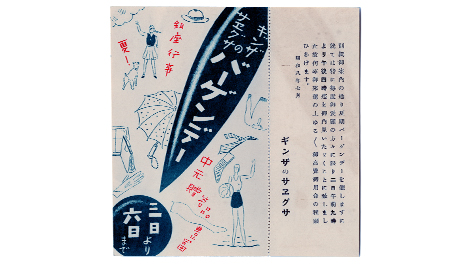 "Bargain"
 Having studied the rare records (and convinced that I would return for other research) I headed for the store in Ginza 7-chome. The three-story building with a triangular roof stands prettily between two tall buildings almost ten stories high.
 Modern items are on display on the first floor, and I asked a young sales staff, "Where can I find traditional children's clothes?" She guided me to the basement floor and said, "We only have a few pieces remaining in stock," showing me a hand-smocked jersey sweater for seven-year olds. She told me that the skillful lady who had been in charge of the smocking retired of old age a few years ago and that they could no longer produce original hand-smocked designs. The piece was of course quite expensive but the texture was indescribably fine.
 I could just imagine an elderly lady who grew up wearing children's clothes bought at SAEGUSA coming to the store to purchase something from their grandchildren or great-grandchildren.