Ginbura Hyakunen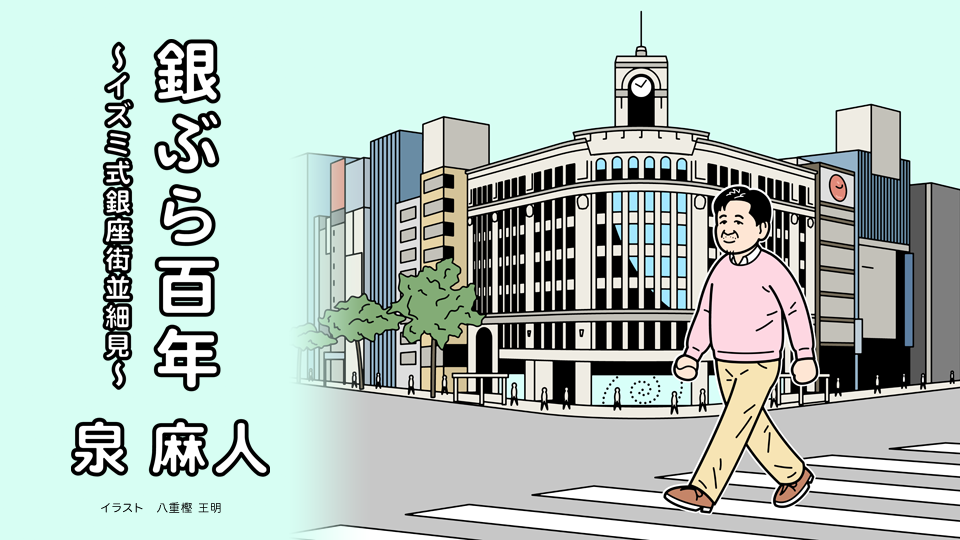 Ginza×銀ぶら百年 Vol.13
銀ぶら百年 ~イズミ式銀座街並細見~
The Yoshida Croquette Soba Legend
When I want to have something light to eat, I often stop by Yoshida. It goes without saying that "Yoshida" in Ginza stands for soba (buckwheat noodles), but it has only been around fifteen years since my first time there. It began with a newspaper column featuring "B-grade gourmet food," local food and other interesting varieties. One day, it spotlighted Yoshida's specialty, "Croquette Soba." It was a completely different experience from your typical bowl of soba noodles in soup with a croquette on top served at any other soba stand. The ingredients and texture were sensational and have been a fan ever since.
"Firm pieces of green onion float around in the soup, with a croquette – but actually something more like a round "tsumire (meatball)" – in the center. When you carry the croquette to your mouth, it doesn't fall apart like the croquettes that we are used to having in the soba booths in the station. The hard texture is close to a tsumire or tofu hamburger." (Nazo-shoku Tantei (Food Mystery Detective)(Chuko Bunko))
That is how I expressed it in a book that I wrote back then. The unique croquette is made by "removing the skin and gristle from the chicken, mincing it, mixing it well with grated Japanese yam and egg, and then lightly deep frying the mixture," according to what I was told by owner that day.
Some customers come for the "Kaki (oyster)-soba" during winter, and others for the "nabe" cuisine (cooking various ingredients in a broth in a deep pan at the table) only served at dinnertime. Many fans were shocked when the restaurant that had always been on Konparu Dori (an extension of Suzuran Dori) in 7-chome suddenly disappeared two years ago. Then after a year, it reopened on Sukiya Dori, one street to the west of Nishi-Ginza Dori, on the second floor of the building housing Sankame, a Japanese cuisine restaurant. This time, I went to their new location to interview the okami, Ms. Kazuyo Yajima, about the restaurant's history and unique episodes (of course, after I enjoyed some "Croquette Soba."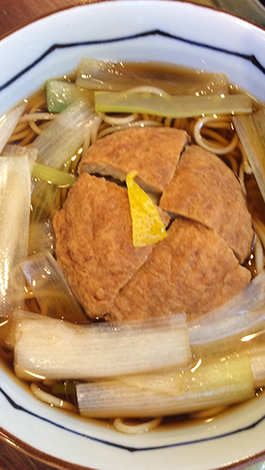 The famous "Croquette Soba."
The new "Sobadokoro Yoshida" is located on the second floor. Gazing up at it, you can find the traditional patterns of their wrapping paper drawn on the glass windows. Inside, the layout seems to be more spacious than the former restaurant but the menu posted on the wall remains almost the same. "Zaru," "Mori," "Croquette Soba," "Kaki Soba," … And the other specialty, "Sugomori" is still offered too. The editor who accompanied me seemed to really enjoy the "Sugomori," deep-fried soba noodles covered in a thick starchy sauce – a Japanese soba variation of hard chow mein. Mr. Nobuo Yajima, the current and fourth owner learned how to make it at Yabu Soba in Ikenohata during his apprenticeship.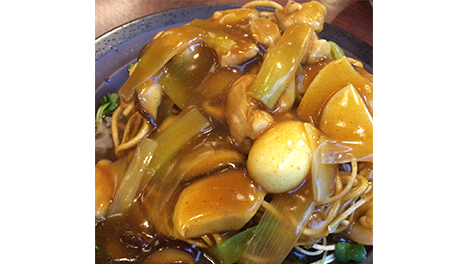 "Sugomori-soba" also goes well with sake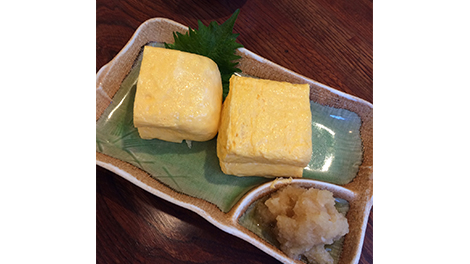 Another popular item, fluffy rolled eggs
Kazuyo-san, Nobuo's mother, mentioned that she was "the same age as His Imperial Majesty the Emperor, only I was born four months earlier." This means she is 83 years old, but she looks much younger! Yoshida was originally founded in Hamamachi and they set up a branch in Ginza in 1896 (Meiji 28). The name was derived from Jishuken Yoshida, a tea master from the Genroku years (during the Edo period).
"The founder of the Ginza restaurant was called Kineko Suhara. My parents came out to Tokyo and worked under her until they were asked to run it."
The only daughter of her parents, Kazuyo-san was born at the restaurant in 7-chome and has always lived on the second floor. She went to Taimei Elementary School, which I happened to have interviewed before. With the Matsuzakaya Department Store her playground, she was a true city girl. And she would probably have to walk by the current location on her way to school every day……
"Yes, I think our school doctor lived right next door, or somewhere close by." Her descriptions were quite vivid.
Speaking of vivid stories, in my previously interview with her about the "Croquette Soba," I recall being told that Mantaro Kubota, who was a regular customer, would go upstairs to check out the Geiko who gathered at the kenban registry across the street.
Examining the town map of 1937 (Showa 12) in the Ginza History Walk Map (published from Soshisha) that is in my possession, I found across the street from Yoshida Soba, the Shimbashi Geiko Arts Training Center., which must have been his target. The year 1937 would have been a time when Kazuyo-san hung around the restaurant as a little girl while Mr. Kubota took peeks at the Geiko.
"Mr Kubota would always order "Mori" but confuse us by commenting that he didn't like the shredded nori seaweed on the "Zaru-soba." However, in a haiku that he wrote for us, he mentions the beauty of the nori seaweed that is sprinkled on the soba: "Toshinose ya soba ni kaketaru nori no tsuya"
While Yoshida appears in many essays by different authors, its appearance in the 1953 (Showa 28) movie Tokai no Yokogao (Profile of a City), directed by Hiroshi Shimizu and distributed by Toho, has left the strongest impression on me. (Of course, I learned of the movie in a recent showing). The story is simple. A small girl becomes lost in Ginza and Ryo Ikebe wearing a sandwich advertising board and Ineko Arima, the shoeshiner, help her. One of the intentions of the movie has been to advertise Ginza restored after the war, and it is interesting to see existing stores shown one after the other. We find Hisaya Morishige in Wakamatsu, the Japanese-style café where the girl uses the washroom, and across the street from Colombin with its Eiffel Tower-shaped advertising sign, in front of Kobe Bank is fortune-teller, Junzaburo Ban. As the story proceeds, Ineko Arima calls out to a fellow shoepolish boy,
"If you deliver this (a pair of polished shoes) for me, I will treat you to a Croquette Soba at Yoshida on the way home."
Although the restaurant itself is not shown, we can tell that the Croquette Soba was already popular back in 1953.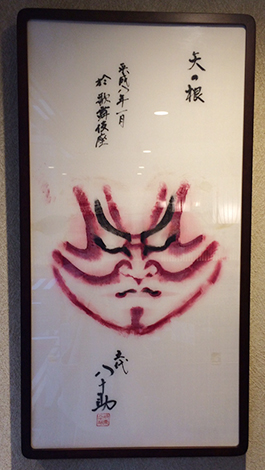 Make-up of Kabuki actor, Mitsugoro, when he was known by the name Yasosuke
In an earlier edition on the restaurant "Olympic," I referred to "Beef Steak," an essay written by Ryo Ikebe, the leading actor of this movie. The essay is found in his book Edokko no Segare (The son of a true Tokyoite) (published from Genki Shobou), which also has a chapter titled "Sobaya Yoshida" (first published in Ginza Hyakuten). He reminisces that the first time he went to Yoshida was ten (or perhaps more) years after he was demobilized in 1946 (Showa 21), so he might not have been aware of the restaurant at the time of the movie. However, he uses unique expressions to describe the old building.
"The three-story wooden building looked like an old man with a stubble. I opened the latticed door and found myself surrounded by plain walls and a plain ceiling. I remember seeing around six square wooden tables for four – again, plain, as the only thing that mattered was whether they were functional or not."br> A description of the small private dining room follows, and it is revealed towards the end that the gentleman whose face resembles "a hannya mask used in Noh performances melted in a pot of sesame oil" is Kenichi Yoshida. His cynical way of describing the Croquette Soba that the late okami so strongly recommended to Ikebe is exquisite.
"I hadn't introduced myself yet. I am the son of Shigeru Yoshida and my name is Kenichi Yoshida. I live humbly on English literature. Oh yes, Croquette Soba. When I first walked through Yoshida's noren (shop curtain), the okami sitting here like a shiratama-dango (rice flour dumpling) was still young. […] When the okami shouted towards the kitchen, "One Croquette," I hadn't waited a second – or should I say, I hadn't even pulled my chair in – before a bowl of soba with a round croquette sitting in the center was placed in front of me. Since I have no problem with hot food, I sipped some of the soup and took a large bite of the croquette. What a surprise! Peaches in a pepper tree! The cat goes meow and the dog goes woof."
This essence of this story is that it ends here. Therefore, the reader is left wondering if Yoshida was more or less drunk, or if Ikebe adapted the story so that it would sound like Rakugo. We have no idea weather Croquette Soba tastes good or not. By the way, a snapshot of the late okami, Toki Yajima, who Ikebe teases and calls a "shiratama-dango" can be found in the August 1964 (showa 39) edition of Ginza Hyakuten.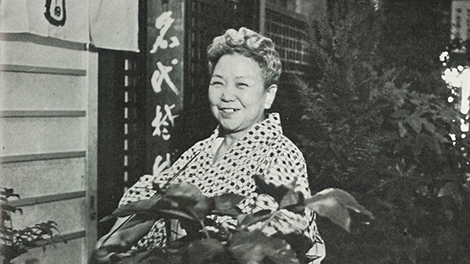 Toki Yajima
Kazuyo-san shared one more valuable episode of young Ikebe with me.
"He once took me to see a professional wrestling match featuring the Sharpe brothers/ It was at the Kuramae Kokugikan. He picked me up in a yellow Cadillac, with Miss Universe, Kinuko Ito, sitting next to him up front. My seat was in the back of the car, as I had been used as a reason for coming on the date.
It is often said that Ikebe treated her like his sister. Kinuko Ito became popular as an eight-head model in 1953 (Showa 28), the same year that the movie was released. And in 1957 (Showa 32) she goes to France. The Sharpe brothers frequently came to Japan in 1954 (Showa 29) and 1956 (Showa 31), so according to Ikebe's essay, I had supposed the date episode occurred in 1956 (Showa 31). However, just the other day on cable TV, they showed Watashi Subete-wo (All of me), co-starring Ikebe and Ito. Since this movie was released in May 1954 (Showa 29), it might better to assume that they went to see the wrestling match in 1954.
I shared this episode, thinking that enough time has passed for anyone to make a fuss over it, but just imagine driving in a yellow Cadillac! Those were the days when a movie star was really a star.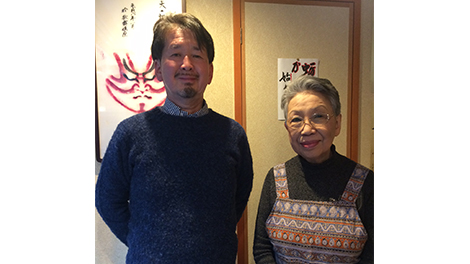 Kazuyo-san and Izumi-san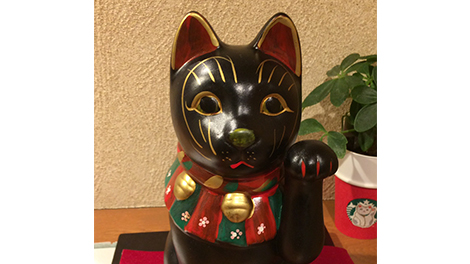 Our mascot cat is doing well with our relatives