Ginbura Hyakunen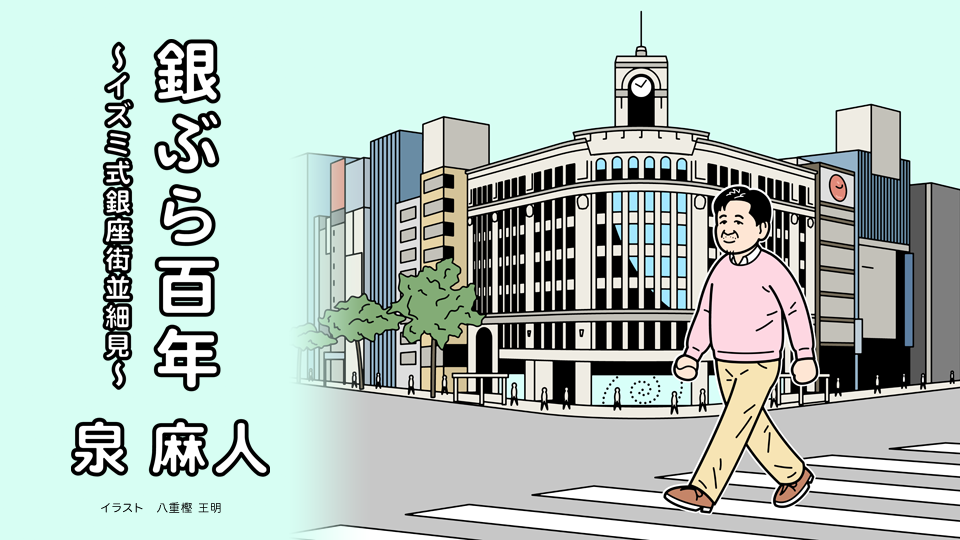 Ginza×銀ぶら百年 Vol.04
銀ぶら百年 ~イズミ式銀座街並細見~
Yamano Music in summer 1971
 Last month, when I covered the Okuno Building in Ginza 1-chome, I mentioned that in its early days when it was still used as the Ginza Apartments, Yaso Saijo and Chiyako Sato were residents. Since the anecdote is not introduced in Saijo Yaso (Kiyotada Tsutsui, Chuko Bunko), a well-written biography of him, my guess is that they only lived there for a very short period. However, being the lyric writer and singer of "Tokyo Koshinkyoku (Tokyo March)," I would imagine that it was in the beginning of the Showa period, when the song became a sensational hit.
 The famous phrase, "I miss the old days – Ginza's willows" reminds the listener of the willows that were burnt down in the Great Kanto Earthquake. The record was released in 1929 (Showa 4) and it is said that the song's hit gathered momentum for the restoration of Ginza's willow trees.
 Saijo wrote several songs about Ginza including "Tosei Ginza-bushi" and "Ginza no yanagi" (about the restoration of the willow trees). This got me interested in Ginza's record stores. Spreading out the "Dainippon shokugyo-betsu meisai-zu: Kyobashi-ku (Detailed commercial map of Japan: Kyobashi-ku),"a map of stores in Ginza published in 1931 (Showa 6), just around the time "Tokyo Koshinkyoku" was popular, I started with Ginza 1-chome and spotted Tsubame Records, the Columbia Phonograph Company, and other stores that were likely to have sold records back then. Yamano Music was also already on the map, in Ginza 4-chome. A frequent shopper since my early teens, I checked Yamano Music's corporate history on their website to find that the company was originally established as Matsumoto Music, a manufacturer of organs and pianos. It was in 1915 (Taisho 4) that it started business under the name Yamano Music. What interested me was the event introduced for the year 1928 (Showa 3), when that it became "retailer (jobber) for Victor Company of Japan, Ltd. "Tosei Ginza-bushi" was released in the same year, followed by "Tokyo Koshinkyoku" the next year and "Ginza no yanagi" in 1932. These songs were all sold by Victor, so I would imagine Yamano Music ran major campaigns to promote them. Perhaps, Chiyako Sato and Yaso Saijo, or maybe even Shinpei Nakayama, the composer showed up at the store events.
 I wanted to interview Yamano Music to learn more and that is how the idea for the current volume originated, but I was told that all materials from before 1945 (Showa 20) were lost in the fires caused by air raids and that so much time had passed that no one would remember the events of the early Showa period.
 Disappointed, I decided to change my approach. As I mentioned earlier, I first started to stop by Yamano Music when I was in junior high school, so I came up with a new idea to interview people who would be familiar with my place of teenage memories (mainly from the early 1970s).
 Next to Wako Department Store, on the corner of Ginza 4-chome, stands Ginza Kimuraya, Yamano Music, and Mikimoto, unchanged from the map from the early Showa period. I found my way to the back of the first floor, walking through shelves of recent J-pop music and "new music" that reminds me of my youth, displayed as if to compete against each other. I took the elevator in the back to the meeting room on the eighth floor. My interviewees were Vice President Susumu Ikeda and Mr. Yoshiharu Ishii, a former employee who had been in charge of floor sales for a long time. Vice President Ikeda joined the company in 1966, and Mr. Ishii, now 82 years old, had joined in 1956, the year I was born.
 The store is famous for musical instruments, but to me, Yamano Music stands for the American and European music on LP. In my early teens, I would come to look for imported LPs of pop music that I had been inspired by, listening to midnight programs on the radio, as well as those of folk rock bands that I had learned of from my extreme friends.
The façade depicting lips唇の壁面の外観
 The fact that Yamano was very positive about importing import records is also discussed in "Ginza Hyakuten" (August 1966 edition).
"Yamano Music is also focused on importing records. Many fans may be decided that they will only purchase import LPs, according to the store, it will take two months for American LPs and three to six months for European LPs to be delivered after placing orders."
 Of course, it was a time when Japan did not yet have retail stores like Tower Records. I still remember that sensational feeling of making a small hole with my nails or scissors in the tightly sealed cellophane overwrap to peel it off. Then, the strong smell unique to import LPs made me feel for a moment that I had status.
Mr. Ishii said, "When I joined the company, Elvis Presley represented Western pop music. There was also Hawaiian music, American pop music and French pop music. Then came The Beatles."
 The August 1966 edition of "Ginza Hyakuten" also starts out as follows, reflecting the times:
"The Beatles typhoon came and went in a whisk, but their records are selling even better after their departure."
 The year 1966 was the year Vice President Ikeda joined the company. The following year in 1967, Yamano Music built a new four-story (partly five-story) building. They showed me a picture of the building shortly after its opening and I was confident that this was the building that I first shopped at. However, the façade was decorated with a peculiar collage of lips.
"This was part of our opening campaign. If I recall correctly, the lips were Judy Ongg's."
 In 1966, Judy Ongg had just begun to be casted in a TV dramas like "Gu- choki-pa" and music programs. Later that year, after The Beatles came, Japan welcomed a GS (Group Sounds) boom. Judy sang in many GS programs, too. They had a picture taken inside the store with panels of GS bands: the Wild Ones, The Tempters, The Edwards, The Spiders…. I wondered if the picture was from around 1968 when they were most popular. Then I remembered Morinaga's globe-shaped advertisement on the roof the Fujikoshi Building that used to stand only a few buildings away from Yamano Music. There was a TV commercial where The Tempters stood side by side and sang on the ring that read "Morinaga Chocolate."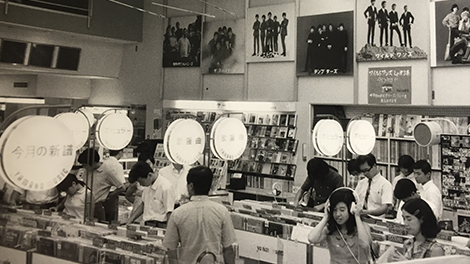 Inside the store during the "Group Sounds" boom
 I started going to Yamano Music with my friends from school in 1969, when the Group Sounds began to lose popularity. Many of my friends at school lived in the Shitamachi area (in Ningyocho or Asakusa). Since I lived in the direction of Shinjuku, we would go home in opposite directions from Mita, where Keio Chutobu Junior High School was located. However, they would often have me get on the Toei Line with them to go to Ginza.
 As I mentioned before, I would look for LPs of folk music and rock and roll music at Yamano Music. I remember purchasing Neil Young's "After the Gold Rush" and a few albums released by Chicago, with their logo on the cover. What I vividly remember from the store is a campaign that they held for a particular Japanese song. As in the photo of the store I introduced earlier, they displayed LPs of popular music from Japan as well as Europe and the U.S. on the first floor, and in a corner to the left of the entrance, they promoted debuting singers.
 It was in the summer of our third year of junior high school that we encountered the campaign. The four of us were on the soccer team, if I remember correctly, one day during summer recess, we went to the store after soccer practice. Ginza-dori was a Hokosha Tengoku (Pedestrians' Paradise). The campaign that they were running was for a new artist named Junko Nakajima. We didn't even purchase her record and yet she gave us an autographed poster of a song called "Chiisana koi (A small love)" and shook hands with us.
 By the way, I recall that our main purpose of going to Ginza that day was to go to Mc Donald's (the first store in Japan) that had just opened on the Ginza-dori side of Ginza Mitsukoshi Department Store. According to my research, Mc Donald's opened on July 20 and Junko Nakajima's debut song was released on August 1, so it does make sense.
 We purchased the hamburgers that we had always seen Wimpy eating as he walked in "Popeye" the cartoon and raced each other drinking milkshake as we strolled through the Hokosha Tengoku on Ginza-dori. Junko Nakamjima, who helped make my "Ginbura" as a fifteen-year old a special event, later changed her name to Mari Natsuki and became a top star who have the spotlight in Yamano Music's popular Japanese music corner.
Ginza Hyakuten runs a mini column on items bought or found by Mr. Izumi during his interviews for his monthly column "Ginbura Hyakunen."
Ginza Hyakuten is available at member stores.
Or, have your personal copy delivered every month by subscription.
Please refer to our website for details:
http://www.hyakuten.or.jp/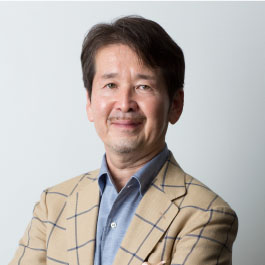 泉 麻人
Asato Izumi
Born in Tokyo in 1956 (Showa 31).
After graduating from the Faculty of Commerce at Keio University, he joined Tokyo News Service, Ltd. While editing "Weekly TV Guide" he had articles published in Studio Voice and Popeye. In 1984, he became a freelance columnist and author. He has published many works on Tokyo, among which is Tokyo 23-ku Monogatari (the story of Tokoy's 23 wards). Kanreki Sharehouse (sharehouse at sixty) will be published soon.