Ginbura Hyakunen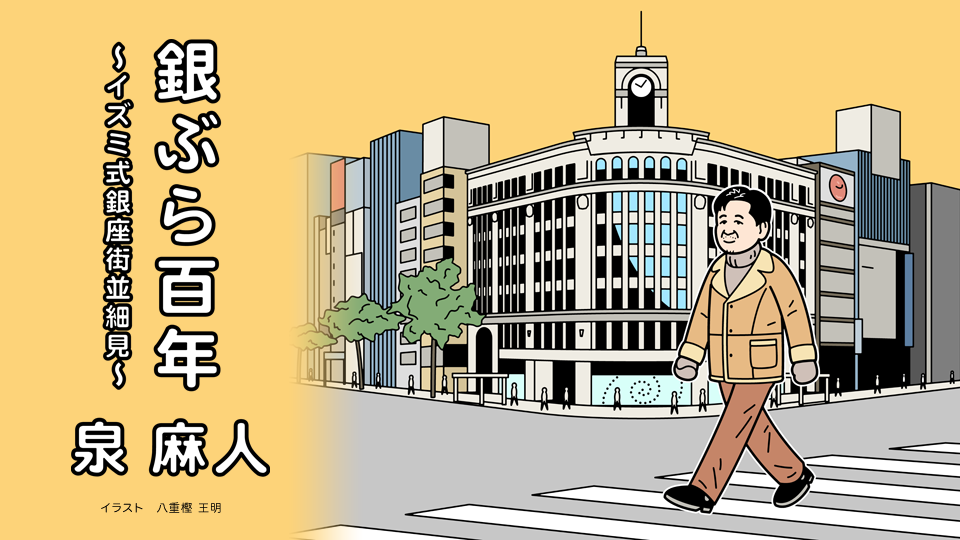 Ginza×銀ぶら百年 Vol.15
銀ぶら百年 ~イズミ式銀座街並細見~
Christmas with Peco-chan
When I look back on Ginza in my childhood, the first picture that comes to mind is the façade of Fujiya. The Ginza store was located in Ginza 6-chome (across the street from where GINZA SIX stands today), but my memories are with the Sukiyabashi store.
I must have been in kindergarten when my parents took me there for the first time. It was still a three- or four-story building with a large neon sign depicting a box of French caramels. Back then we lived in Shimo-ochiai, west of Mejiro, so when we went to Ginza, we would go out to Ikebukuro or Shinjuku to take the Marunouchi Line to Ginza. Before the Hibiya Line was opened in 1964 and the underground concourse was connected to the Ginza Line station under the Ginza 4-chome intersection, we would get off at Nishi-ginza on the Marunouchi Line and go above ground to find the Fujiya Sukiyabashi store standing in front of us. In other words, the Fujiya building was engraved in my mind as part of the scenery that welcomed me (or, that I said goodbye to) in Ginza.
Like today, the first floor was a sweets shop selling cakes and candy. In summer, they would have an icebox carrying fruit sherbet, and in December, they would hang an array of paper boots made of velvety red paper and silver foil and filled with candy in a rows. I still remember that vividly.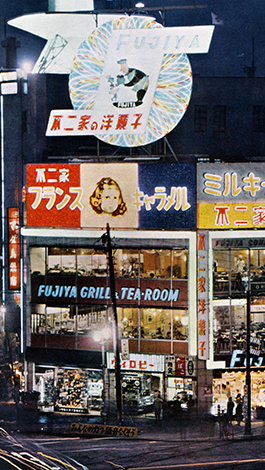 The Sukiyabashi store in 1957
The tea room was on the second floor. (Photos from back then show a neon sign that said "GRILL TEA ROOM" between the second and third floors, so there must have been a restaurant on the third floor.) What I remember is the tea room on the second floor, where I would plead for pudding and chocolate parfaits. The membrane of my nose still remembers that wonderful aroma of sweet vanilla essence and caramel mixed together. It's one of those smells that remind you of those times.
Now, I will stop going down memory lane, and instead go back in the corporate history of Fujiya. The founder of Fujiyais Rin-emon Fujii, who established a cake shop specializing in Western cakes in Motomachi, Yokohama in 1910 (Meiji 43). If you walked into 2-chome from Maedabashi, you would find it around where Godiva stands now. A book on the corporate history has a photo taken around its opening and it was quite a modern townscape. The Fujiya store was in a wooden Japanese-style building but had a projecting signboard written in English that said, "FUJIYA FRENCH CAKES." The store across the street was Chiyoda Butter, written out in Japanese, so it must have been a neighborhood with a Western taste and quite a butterish smell.
A book on Fujiya's corporate history, published in commemoration of tis 80th anniversary, features a conversation between Rin-emon and Musei Tokugawa (held in 1959 to celebrate Fujiya's 50th anniversary) on its opening. "Just around that time, there was a store in the foreign enclave of Yokohama that specialized in French groceries and cakes. An artisan named Tatsu-san who had worked there for quite a while was out of employment, and a voice persuaded me to hire him and sell Western sweets.'"
The advice was offered by Rin-emon's brother-in-law. Young Rin-emon went to the US to learn about Western cakes. He managed to live on what money made operating a udon stall in Los Angeles and returned to Japan with knowledge of how to bake cakes.
In 1922 (Taisho 11), Fujiya opened a new store in Isezaki-cho, and the following year, in 1923 (Taisho 12), they came to Ginza. However, 27 days after its opening, it iwas hit by the Great Kanto Earthquake. The opening of the Ginza store marked the dawn of challenging times.
By the way, I am sure some readers are curious to know what kind of cakes they sold back then…… They were most famous for their cream puffs, which was even referred to as a specialty of Yokohama along with shumai (steamed Chinese pork dumplings). They also carried eclairs, baked apples, rolled cream pies called cornets….. The corporate history includes a menu from the Fujiya tea room in 1937 (Showa 12) which lists chocolate and strawberry parfaits, ice cream sundaes, Peach Melba, fruit punch…… not much different from what I recall from my childhood. This tells us that Fujiya had established quite a rich menu from before the war.
What impressed me reading the conversation between Rin-emon and Musei was the people who often came to the Ginza tea room.

 Fujii Strangely, some of our constant customers included literary figures. From university students to Prime Minister Kishi; everyone would come to Fujiya.
 Musei I would imagine.
 Fujii And also that huge Dekao Yokoo and Tatsuo Saito, who has recently become quite popular on TV.
 Musei That must have been when they were young. Dekao Yokoo passed away.
 Fujii We have also served many Kabuki actors.

Nobusuke Kishi must have had a sweet tooth from when he was young. Tatsuo Saito had played supporting roles in Yasujiro Ozu's movies and after the war he became a popular TV drama star. Picturing Dekao Yokoo with sweets is amusing. Dekao (literally, "big guy" in Japanese) was one of the first celebrities whose popularity was based on his obesity and I still remember him playing an artist in the first talkie Madam to Nyobo (Madam and my wife). To think that Fujiya's old customers were all men with a sweet tooth makes me smile.
Anyone would imagine Peco-chan upon hearing the name Fujiya. This powerful mascot character was born in 1950, after World War II. Towards the end of 1951, the chewy milk candy "Milky" was released, with Peko-chan's boyfriend, Poko-chan its mascot. (It was sold nationwide in 1952).
It was around this time that stores, including the Ginza store, started to have a Peko-chan, doll the height of a small child, standing in front of the store. In the 1953 (Showa 28) Toho movie Tokai no Yokogao (Profile of a City), which I have also referred to in my introduction of the soba restaurant, Yoshida, there is a very short scene where the lost girl teases the Peco-chan doll standing in front of the Ginza 6-chome store. (The Sukiyabashi store opened this year as well.)
Milky made Peco-chan popular throughout Japan. People of my generation remember the big boxes with rope handles. The boxes were the size of a small bag and were hung all over the old open and airy sweets shop, looking somewhat like scrub brushes swaying in the wind. On the larger Milky box, Peco-chan's eyes had plastic coating and her eyeballs would move. It was amusing, but when the eyeballs go stuck in the corner, she looked scary.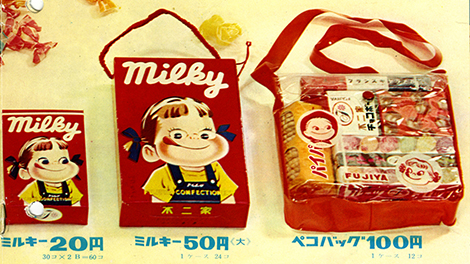 A page introducing Milky in a catalogue from around 1963 (Showa 38)
The small Milky boxes came in different flavors, including chocolate and coffee. I am sure they were sold at the store, but personally, they go with my kindergarten memories. My kindergarten would sometimes hold a "Gentokai," which is what they called movie screenings, and they would always distribute chocolate and coffee-flavored Milky.
Parasol Chocolates, Pencil Chocolates, Cigarette Chocolates, lollipops, North Carolina, French caramels……There are just too many Fujiya products that bring back fond memories.
Children of my generation grew up watching TV and Fujiya's sponsorship of programs starting at 7:30 pm on Sunday nights on TBS was also very influential. They began with the American cartoon Popeye (sometimes accompanied by short episodes of Betty Boop), Q-taro the Ghost, Perman….. followed by the drama series, Sign ha V (V is the Sign) and Attention Please. The commercials within these programs would advertise "Look" chocolates, Christmas cake, and cakes decorated for Hinamatsuri (Girl's Festival).
Around the time of the Tokyo Olympic Games (1964), when I was completed enchanted by Fujiya, Takeshi Kaiko interviewed Fujiya in his reportage "Zubari Tokyo." Every year in December, my parents would buy a Christmas cake or boot-shaped candy wrapped in silver foil and his analysis explained it all.
"Fujiya's concept may best be phrased 'Dad, come home early!' In Christmas 1963, Fujiya sold approximately 280,000 Christmas cakes in two days. This store triggered the Western sweets boom, and soon we were introduced to soft-served ice cream and a variety of other sweets, one after another. 'Home sweet home' was another phenomenal phrase that spread very quickly, and in 1963, cake shops across Tokyo collectively sold a total of 2.5 million Christmas cakes. Come to think of it, everyone was saying that it was a quiet Christmas. That Christmas, 2.5 million dads bought a cake and went home early, instead of going out for a drink. The president (of Fujiya) was grinning, saying that he should be prepared for an exposure to claims from cabarets and bars in Ginza. "
For a long time after the war, Christmas had been a time when desperate middle-aged men wearing cone hats partied at cabarets, but Fujiya's family-oriented strategy ended this practice. Peco-chan was sensational.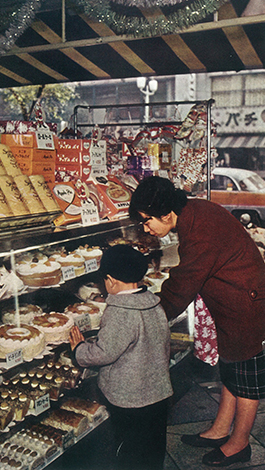 A mother and son shopping in 1957 (Showa 33)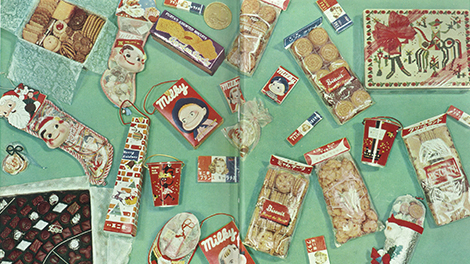 Chocolates and sweets from the 1960s
By the way, it was just before Halloween when I visited the Fujiya Sukiyabashi store for the interview in October. There were many sweets shaped like a pumpkin on the first floor and Peco-chan stood in front of the shop, dressed like a witch jack-o-lantern. (I guess she is always dressed up as something.)
Come to think of it, now that everyone celebrates another event before Christmas, Peco-chan must be even more busy than before.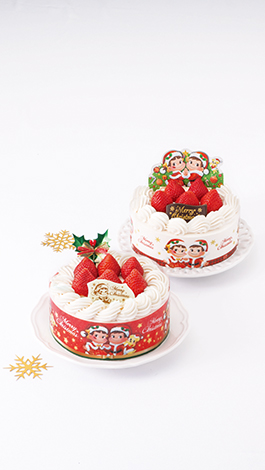 Christmas at Fujiya, 2017