Ginbura Hyakunen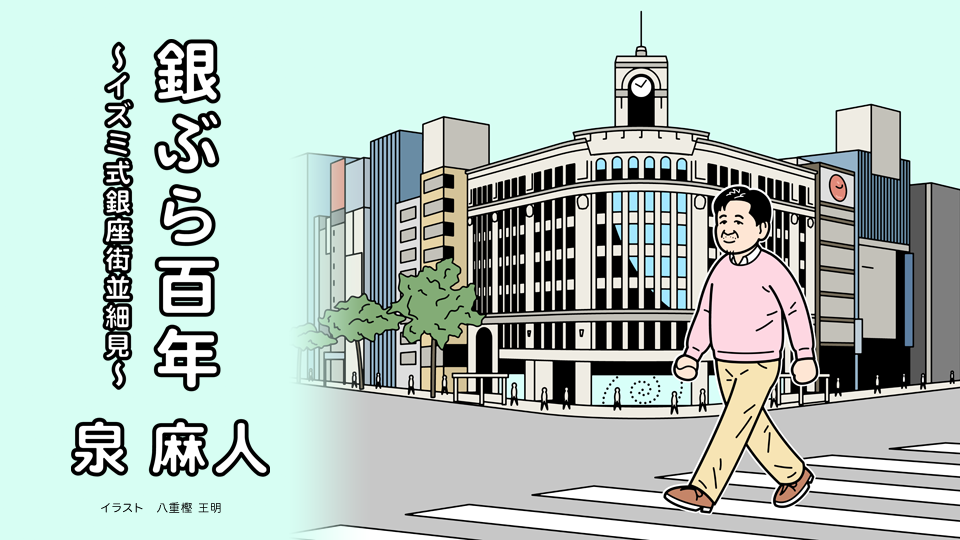 Ginza×銀ぶら百年 Vol.05
銀ぶら百年 ~イズミ式銀座街並細見~
The secrent behind the deep-fried chicken served at Mikasa Kaikan
 It is pleasant to stroll along the wide sidewalks of the main streets of Ginza, but slipping into some of the backstreets can also be somewhat relieving. Walking in the quieter streets of Nishi-Gobangai, Miyuki-dori, Kojunsha-dori running vertically and horizontally, you find yourself feeling at home and as if you were familiar with every small street in Ginza.
 Namiki-dori is another street that I like. I walked from the Shinbashi side of the street, passing by art galleries and the head office building of Shiseido, home to the restaurant L'Osier, MARUGEN buildings with the numbers 25 and 53, several telephone boxes, which have become rare items, and a cluster of luxury watch stores, including ROLEX, OMEGA, HUBLOT…
 My destination this time was Mikasa Kaikan in Ginza 5-chome. With its striking deer emblem and red canopy signs, the stately building is an important figure in the 5-chome block, where there are many ongoing redevelopment projects. Looking through back numbers of Ginza Hyakuten, a magazine launched in 1955 (Showa 30), I found ads of Mikasa Kaikan promoting their renowned "deep-fried broiler chicken" frequently posted in very early editions of the magazine.

 Casual dining
  Deep-fired chicken at Restaurant Mikasa Kaikan

I had heard before that the Mikasa Kaikan served delicious deep-fried broiler chicken, but I was surprised that it had already become its specialty by the time I was born. By the way, it wasn't until I was in university that I started going to Mikasa Kaikan. I was a member of the Keio Advertisement Society, which, as I recall, would meet every year with alumni at the reception hall of Mikasa Kaikan. I may already have unconsciously tasted the deep-fried broiler chicken back then.
Mikasa Kaikan was introduced in Ginza Hyakuten's famous column, "Hyakuten Saiten" as follows in the November 1955 edition:
"The deep-fried broiler chicken that catapulted Mikasa to fame is a unique product of this restaurant. The rustic beauty of eating it with our hands, not to mention the savor, allows it be true to its name. Their decision to introduce chicken on their menu was inspired by Ichizo Kobayashi's notion of building a poultry farming-oriented nation. They have recently begun to serve Indian curry, a unique dish using various spices that is also enjoyed among food connoisseurs."
 Today, their curry is referred to along with the deep-fried broiler chicken as their featured dish.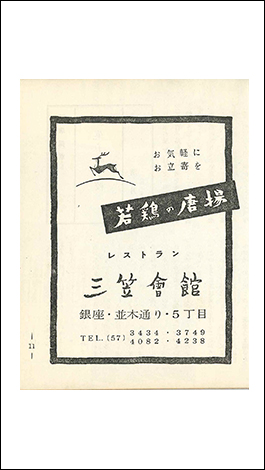 An ad published in Ginza Hyakuten around 1955
 I was granted the opportunity to interview Mr. Toshihiko Kawahara, chef and factory director, and Ms. Miwako Takei, in charge of public relations, in a private room on one of the upper floors of the building. Mr. Kawahara has known the restaurant's kitchen from around 1975. Before discussing the cuisine served at Mikasa Kaikan, I asked them about the founder, Zennosuke Tani.
"When I first joined the company in 1975, he was still President, but he passed away the following year…"
 It was just around then that I started to go to Mikasa Kaikan. Tani was a fascinating person. Allow me to quote a description of him provided in Tokyo Fubutsu Meibutsu-shi (Scenes and specialties of Tokyo) (by Keiji Isurugi, first edition published in 1951), which is quite amusing, although rather long.
"Zennosuke Tani is a determined and challenging person. He is short and small with a big broad heart. He is wise and articulate; and moreover, he has a sense of moral obligation as well as humane feelings and he is very caring. He is cheerful and straightforward. He fears no challenges and spares no pains. Addressing matters, he is a samurai making every effort; associating with people, he is a philanthropist marked with devotion and sincerity; at the restaurant he is a father to his employees whom he instructs and nurtures; and once outside, he is a waltzing mouse or water wheel restlessly moving about caring for others. Both eloquent and skillful, he scrambles beyond Ginza night and day, and the sight of him makes on imagine Hideyoshi shrunk and placed in a toy jeep."
 Isurugi's writing tends to be witty, but one can tell that he was especially excited writing this paragraph. Zennosuke Tani must have been a popular man that enchanted the interviewer.
"He was born at the foot of Yoshino in Nara, to an old household that can be traced back to the Southern Court, that planted trees as their livelihood. When he was 25 years old, he started a lumber business which failed and at the age of 27 (1924), he came to Tokyo with 50 yen in his pocket." After many twists and turns, "he sold the wedding attire that his wise wife offered for 850 yen, which he used to purchase a 2-ken (approximately 3.6 meters) wide and 2-ken deep store (currently, Mikasa Grill) to start his own business in front of the Kabuki-za Theater.
 The name Mikasa was taken from Mikasa-yama Mountain in Nara and the deer mark also comes from Nara. The first store sold shaved ice, but little is known about why they started out as an ice shop. Until the mid-1950s, Grill Mikasa, their starting point, was located next to Hinode Sushi on the Mihara-bashi Bridge intersection, where a green narrow building called Nagaoka Building carrying a large Nagatanien Chazuke Nori (seasoning for rice soup) ad on its roof stands today.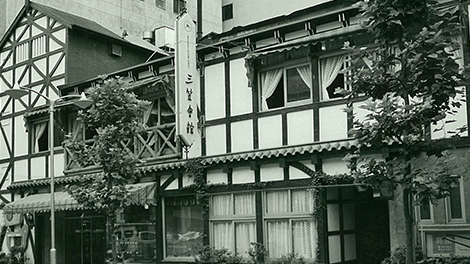 Exterior of Mikasa Kaikan in 1951-1965
 Expanding from ice to sweets in general, and then to French cuisine, Mikasa Kaikan, featuring a French restaurant, was built in its current location shortly after World War II. They began to offer "deep-fried broiler chicken" in 1951, and it is impressive that they would be committed to using broiler chicken in times when food was not sufficiently available. I was told that the explanation that they were inspired by Ichizo Kobayashi's "poultry farm-oriented nation" theory lacked credibility, and that others suggest that one of the cooks came up with the idea to deep-fry chicken as they do tofu in Chinese cuisine.
 Once I had finished asking all of my questions, I was served their two most popular dishes, deep-fried broiler chicken and Indian curry. Since this is not intended to be a food review I will refrain from going into details, but the chicken was exceptionally savory – juicy inside and crisp and spicy on the outside. Their definition of "broiler" is a baby chicken weighing only 1 kilogram. From the very beginning, they had a unique way of seasoning the chicken.
"Unlike the typical deep-fried chicken, the meat is not soaked in the sauce for long and after powdering the meat, it is not rolled but quickly fried as flat pieces."
 Such descriptions are difficult to comprehend without illustrations, but their recipe was closer to that of fried chicken than Japanese-style deep-dried chicken. Above all, the secret seasoning was very effective. I had had the impression that it had quite spicy and rich flavor, and I was surprised to know that they used light soy sauce. The deep-fried meat is also uniquely served with mustard and white sesame seeds.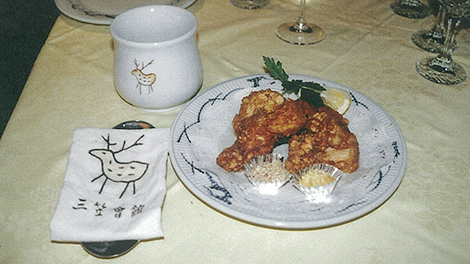 Former food presentation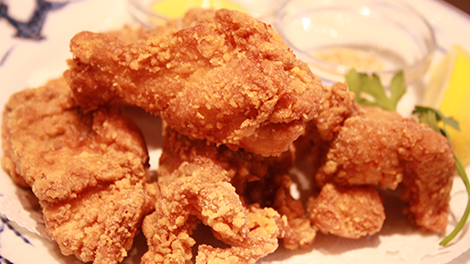 Today, deep-dried chicken can be ordered at La Viola on the first floor.
 The Indian curry was also superb. The ingredients that they use are especially peculiar – the bone-in chicken can be found elsewhere but the chewy gizzard is something else. The gizzard effectively gives the curry a good texture.
"The neck, wing tips, gizzard… The original idea was to use parts of poultry that were unsuitable for deep-fried broiler chicken in our curry," Mr. Kawahara explained.
 I could see that it was based on the founder's teachings not to waste any ingredients. By the way, the curry is served with buttered rice and fried onion and the curry itself has a hint of demi-glace, tasting more European than Indian.
 Looking at some old pictures, I found the European mountain lodge-like building from the mid-1950s to be picturesque but was even more attracted to the deer illustrations on napkins and waste bowl that looked poorly drawn at first glance but were actually quite charming. I was informed that they must be improvisations by someone on the inside. They certainly had a different taste from the elegant deer of their logo.
 If they had been the works of founder, Zennosuke Tani – Hideyoshi scrambling beyond Ginza – I would be more than satisfied.
Ginza Hyakuten runs a mini column on items bought or found by Mr. Izumi during his interviews for his monthly column "Ginbura Hyakunen."
Ginza Hyakuten is available at member stores.
Or, have your personal copy delivered every month by subscription.
Please refer to our website for details:
http://www.hyakuten.or.jp/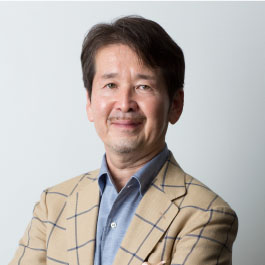 泉 麻人
Asato Izumi
Born in Tokyo in 1956 (Showa 31).
After graduating from the Faculty of Commerce at Keio University, he joined Tokyo News Service, Ltd. While editing "Weekly TV Guide" he had articles published in Studio Voice and Popeye. In 1984, he became a freelance columnist and author. He has published many works on Tokyo, among which is Tokyo 23-ku Monogatari (the story of Tokoy's 23 wards). Kanreki Sharehouse (sharehouse at sixty) will be published soon.