Ginbura Hyakunen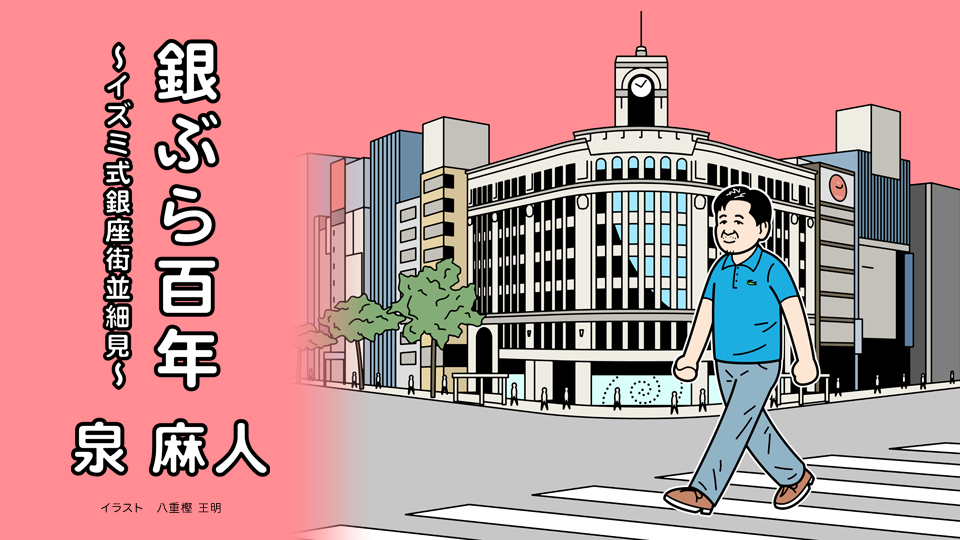 Ginza×銀ぶら百年 Vol.25
銀ぶら百年 ~イズミ式銀座街並細見~
To Hachimaki Okada with hopes for the restoration of Ginza
I believe it was in the 1980s that I learned about "Hachimaki Okada." I had left the company that I had worked five years for to become a freelance writer. I was fortunate to have a steady flow of work and had published two or three books. My first visit to the restaurant must have been with an editor who was very familiar with Ginza to celebrate the publication of one of my early books. I am not sure whether I was aware back then that it was a famous restaurant that had been popular among many authors, but the unique name "hachimaki" and its location, standing in the shadows of a narrow street behind Matsuya Department Store left a strong impression. I had two or three more opportunities to dine there, but all of these later occasions were also formal dinners with people from publishers and I was never a constant diner there. The food was satisfying, but I tended to avoid the restaurant, as its strong image of being a place for litterateurs was overwhelming.
 Nevertheless, walking down Azuma-dori, one block east of Ginza Dori, I always feel somewhat relieved to find "Hachimaki Okada" still standing there as it always has, in an alley by Imai Gallery. One day in May, when all the news coverage was focused on the novel coronavirus, I was informed by the editor of Ginza Hyakuten that Hachimaki Okada had started to offer takeout meal boxes, so I put on my mask to go to Ginza.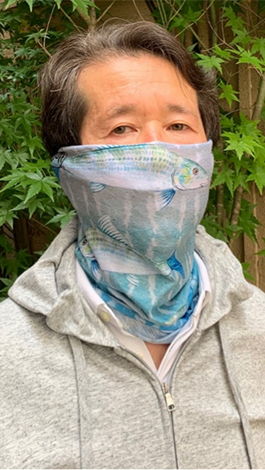 Buff, the mask designed for joggers that I bought online,
also recommended by Prof. Shinya Yamanaka.
 The restaurant stands "as it always has" since February 1968 (Showa 43), when the three-story building was built. It was just after the tram disappeared from Ginza-dori. Before moving to the current location, for a time after World War II, the restaurant stood on the same street, but around where the Matsuya parking lot is now. They first started business in 1916, in a spot next to what is now the CORE Building, down the alley where Wakamatsu, famous for their "anmitsu," stands now. It was presumable after the great earthquake that this alley came to be known for good food and sake, and was nicknamed "Shokusho-jinmichi," after the one by Shirokiya in Shinbashi.
 The founder, Shoji Okada was born as the son of a shipbuilder in Fukagawa. When he worked for a grocery store as the head-clerk, he would often go to "Shinkiraku" in Tsukiji, where he met Ko, who he would later marry. Ko, being a daughter of a milk store owner in Asakusa, the couple was an authentic "Edokko" couple, born and raised in Edo (Tokyo). Shoji had an unusual background of having voluntarily fought in the war against Germany during World War I, a few years prior to opening the restaurant. Fighting on the Western Front, where the total count of Japanese military men are said to have been only around 200, he must have been quite the patriot。
 The restaurant was simply named "Okada" at its start, but it came to be known as Hachimaki Okada, from the looks of the owner. The original signboard was replaced by one drawn by Ippei Okamoto. Author Takitaro Minakami, a frequent diner, described Okada as "a red sullen-faced guy with deep horizontal wrinkles on his forehead, always wearing a hachimaki (headband) and difficult to tell whether he was young or old." (Ginza Fukko) Artist Ryusei Kishida, who was born in Ginza, was also an essayist and wrote, "I don't think 'Hachimaki no Okada' has that long a history. The chef is an affable and sturdy young man with an Edokko face. On his crew-cut head, he always wears a hachimaki using with a new tenuguitowel." (Shinkozaiku Ginza-dori) His wife Ko articulated on how he wore his hachimaki in response to a question asked by Fumiko Enchi in a roundtable dialogue in Ginza Hyakuten (founded in August 1965).
"In those days, you know, wearing a hachimaki kept his hair from falling from his head. People in the kitchen didn't wear caps like they do now. What's more, my husband didn't even like to chat over the counter with the diners. He didn't want to spit all over their food. Everyone would call him, saying 'Master, master.' But he would just ignore them. That is how stubborn he was. He would hang his hachimaki on a nail as if it were a cap. Before long he came to be known as "Hachimaki no Okada" (Okada with the hachimaki)."
 Ko-san spoke rhythmically like the typical Edokko. Shoji wore his hachimaki in the "mameshibori" style, tying a big tight knot in the front of his crew-cut head. A photo of Shoji and Ko still hangs on the wall inside the restaurant. The wrinkles on his forehead are not as noticeable as Minakami described, but one can tell that he was the traditional masculine kind of artisan – bold and big-hearted . (There was once a "rakugo" storyteller who resembled him…)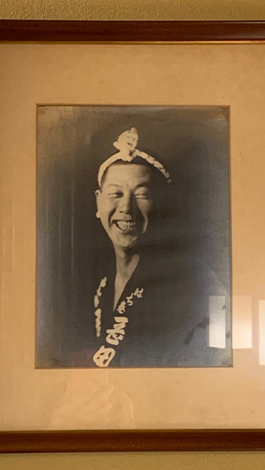 Founder, Shoji Okada with his tightly tied hachimaki.
 Hitomi Yamaguchi, Kenichi Yoshida… Many people have wrote about Okada. The book that contributed to widely spreading Hachimaki Okada's name was aforementioned Ginza Fukko (Restoring Ginza) by Takitaro Minakami. The novel narrated the restoration of Ginza from burnt ruins, featuring Okada, who had lost his store in the Great Kanto Earthquake after seven years since its opening, as the main character. The novel was serialized in Miyako Shimbun from 1931 (Showa 6). The author later commented that the characters and events were all fictional, but it is a fact that the motto "Restoration begins from good food. Good food that prioritizes nutrition lies in the hachimaki." was posted on the reed screen of the small building and the description of Okada is, as aforementioned, very true to the facts.
 The narrator, a young man named Muta, is Minakami, the author himself. In the novel, Muta works for Mitsubishi Corporation, but Minakami, whose real name was Shozo Abe, worked for Meiji Life Insurance. Another character from the novel is Yamagishi, Muta's friend from university and second-generation owner of an accessory store in Ginza. Judging from the name "Yamatoku," I would imagine that the model was "Daitoku," a hat store that was located in Ginza 8-chome near Shinbashi.
 Ginza Fukko was performed at Teigeki Theater just after the war in October 1945 (Showa 20), adapted by Mantaro Kubota and featuring Kikugoro VI. The setting was changed to the aftermath of the World War II air raids. The 1965 roundtable dialogue (among Ko Okada, Fumiko Enchi, Koji Tosaka and Yajiro Ikeda) first discusses this play, so Kikugoro's performance may have contributed to making Hachimaki Okada known to a wider audience. Just when the show was making a hit, Kikugoro happened meet Ko in Ginza and told her, "How long are you going to keep the restaurant closed? I don't want to be acting a lie." This encouraged her to reopen the restaurant in Ginza 3-chome.
 In 1948, when the restaurant was reopened, Shoji fell ill and passed away at the end of the year at the age of 58. That marked the beginning of an era when the restaurant was run by the famous widow and her son Chiyozo.
"Second-generation owner Chiyozo, a student at Keio University: 'I will take the cooking knife in my hand once I graduate.' That is how Okada-kai was organized by a group of frequent diners who agreed: 'Let us support this reliable son.'
 The story of the debut of the second-generation chef is written in Tokyo Fubutsu Meibutsushi (Scenes and specialties of Tokyo) (by Keiji Isurugi) published in 1951 (Showa 26). I have been told that in reality, Okada-kai was a fan club launched by Takitaro Minakami in 1933 (Showa 8), but the fans became even more closely knit after Shoji's sudden death, especially among Keio alumni, sharing the purpose of supporting the young second-generation owner. Ko played the role of producer of their activities, which were led by Shinzo Koizumi, a frequent diner from before the war and a former teacher of Chiyozo.
 Chiyozo seems to have been a taciturn person, and Hitomi Yamaguchi's essays mostly feature Ko. However, in a dialogue titled "Hocho Shinjidai" in the July 1961 (Showa 36) edition of Ginza Hyakuten, he speaks openly with Shogo Okazoe from Kanetanaka and other young chefs of Japanese restaurants, perhaps because he was well-acquainted with his peers.
"I was not too fond of them. Fish have an offensive smell. As a child, I didn't like that fishy smell of the fish market when my father took me there.
"I hate it when I am compared to my father. I think I am most sensitive to someone telling me, 'Your father wouldn't have done it this way.'"
"Well, I fortunately have my mother. If it were not for my mother…"
 Chiyozo looks very handsome in his photos. These comments make him sound all the more a handsome and preppy master.
 Third-generation owner, Kozo, whom I met for the first time for this article, is also a Keio alumni, three years younger than me.
"Having gone to Gyosei for elementary, junior high and high school, I entered the Department of French Literature in the Faculty of Letters. But I became more interested in Prof. Yamagish's philosophical sociology classes more than in French literature…"
 He must be referring to Takeshi Yamagishi, the famous professor who uses the term "topos" when talking about travels, cities and landscape.
 Kozo had no interest in cooking as a student, but he impulsively decided to take over the restaurant just before graduation. He trained under the second-generation chef of the traditional Japanese restaurant "Matsuyama" in Shinbashi (north of Shinbashi Enbujo) for four years. When the second-generation chef passed away in 2012, he essentially became the third-generation chef. Four years ago in 2016, Hachimaki Okada celebrated its centennial anniversary.
"When I was a student at Keio University, I was a member of a fishing circle. Therefore, when I was training at Matsuyama, I was often teased that I was a fisherman who couldn't even cut a fish."
 At least he was somewhat better than his father who didn't like the "fishy smell" of fish.

"I have been a bachelor all my life. My cousin helps out but I prepare everything by myself."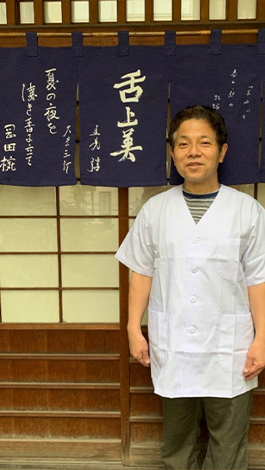 Third-generation chef Kozo-san, under the new noren curtain.
 The meal box (Hachimaki Okada meal box) prepared by Chef Kozo alone is a box of the size of an iPad packed with cooked food for one to two persons. Teriyaki-style Spanish mackerel, salt-grilled masu trout, deep-fried surf smelt, cooked kuruma prawn, cooked taro and bamboo shoots… To offer my impression before I go on, the rolled egg, which has always been a popular item, had the most lingering taste. (The rolled egg was Manjiro Kubota's favorite.)
 I received the handmade meal box from the chef in person and headed home from Ginza towards Suginami on the Marunouchi Line. Then I recalled a passage from an essay written by Hitomi Yamaguchi.
 "Walking from my office in Kyobashi towards Ginza to have a drink at Okada before getting on the subway to Ogikubo, where I transfer to the Chuo Line, is a truly natural and pleasant way to go home."
In Ginza FukkoYamagish also built a new home in Ogikubo. I live a little closer to the center of Tokyo than Ogikubo, but it was a pleasant thought that I lived in the direction fit for a customer of Hachimaki Okada.
The meal box enjoyed by Izumi-san will be offered until the end of May.
A new takeout meal box "Natsu no kaori set" (summer arrangement) featuring "ayu" sweetfish will be sold from June.
*Reservations must be made at least one day before. 5000 yen including tax per box. Contact: 03-3561-0357 (Hachimaki Okada).