Ginbura Hyakunen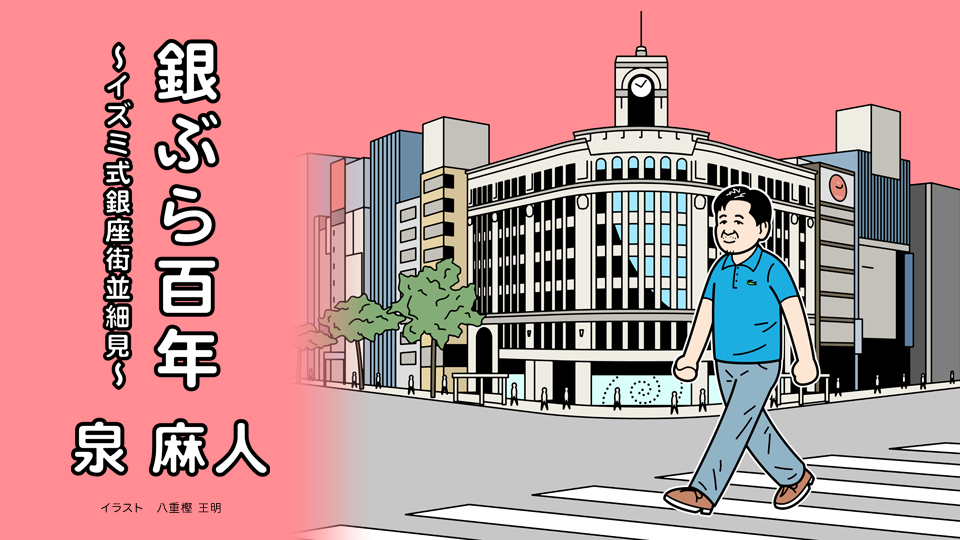 Ginza×銀ぶら百年 Vol.08
銀ぶら百年 ~イズミ式銀座街並細見~
Advertisements of Ginza in 1911 (Meiji 44)
In the last volume, I wrote about Tenkado, which could be described as an early department store that used to stand in Ginza 8-chome. Finishing the article, I was left curious about a detail regarding the store. I had always assumed, from a newspaper ad dated November 1909 (Meiji 42) announcing the opening of Tenkado, that the panoramic view of Ginza from a rooftop illustrated by Kafu Nagai in his essay "Ginza Kaiwai (Ginza and its surroundings)" of July 1911 (Meiji 44) had been viewed from the roof of Tenkado. However, taking a close look at the photo that I referred to in the previous volume, taken from Hakuhinkan and included in the first pages of Ginza Bunka Kenkyu No.5, I noticed that it pointed to the skeleton of a building, explaining that it was "Tenkado under construction (around Meiji 44)." It could mean that Tenkado was rebuilt not long after it opened and the rooftop that Kafu had used as an observation deck was that of the second building constructed in "around 1911."
 My curiosity led me to look carefully through the reduced-size editions of all newspapers published by Tokyo Asahi Shimbun in 1910 and 1911. I expected to find ads of Tenkado with the word "new" or "high-rise," but no ads were to be found after the end of 1909 when it opened. Nevertheless, it was interesting to see the different ads of stores in Ginza dominating the newspapers of these times, starting with an ad of Tenshodo, which might have been the origin of Tenkado's name." Teikoku Hakuhinkan claimed that it was "Japan's largest showroom," and K.Hattori had an illustration of a pocket watch. These are all major stores in Ginza that continue to represent Ginza today. It was also around these times that doctors specializing in "pleasure" illnesses, or venereal diseases (in Ginza, the area around Kobiki-cho), printed many ads in the newspaper. What particularly caught my eye was an ad dated August 9, 1911 announcing the opening of Café Lion. The year 1911 marked the dawn of cafes, with Café Printemps, Café Lion and Café Paulista consecutively opening in April, August and November, respectively.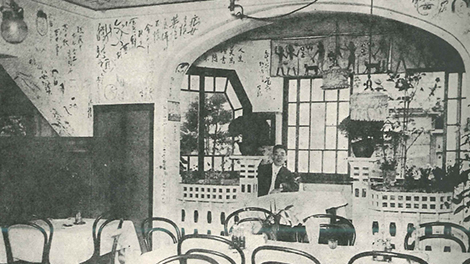 "Inside Café Printemps" from Shiseido Centennial History Book
However, this Café Lion ad was actually very amusing. It said that in celebration of its opening, customers would be invited to enjoy Western cuisine and have the chance of winning first to fifth prize, provided they met the following conditions:

– One must have Western cuisine at Seiyoken (in Ueno, Tsukiji, Shinbashi, or the dining car) or be a fan of Yebisu, Sapporo or Asahi beer; and
  
– As a result weigh 20 kan or more (men and women alike). However, foreigners and sumo wrestlers must weight 25 kan or more.

 The idea is that the customer must weigh at least 20 kan (75 kilograms) but what makes it more amusing is the second twist that foreigners and wresters must be at least 25 kan. At the end of the article, it said, "Newspaper journalists are especially requested to come as witnesses," and perhaps because of that invitation, the culture page ran a four-day series of anecdotes written by journalists about their visits to Café Lion starting from the 27th, alongside Shusei Tokuda's novel, Kabi.
"I took a seat in the corner where the fan made a large noise, thinking that despite my appearance I was a big eater, and that although I doubted that I weighed 20 kan, I did indeed weigh 18 or 19 kan. Then I was approached by the smell of Tsuru perfume, and a voice asked, "May I take your order?" "A glass of cold beer, please," I answered, gazing at the back of an old country lady having difficulty transferring and sympathizing with her, as I wiped my sweaty underarm. Then the lion roared, marking the 50th liter."
 I should have mentioned before that this café was known for the lion head sculpture hanging on the wall that would roar every time fifty liters of beer were sold. The "old country lady having difficulty transferring" must have been changing trams at the 4-chome (Owari-cho) station in front of the store.
 Café Lion stood on the southeast corner of the 4-chome intersection where construction work is currently underway and was continued as Lion Beer Hall into the 1960s. The horse-drawn tramway was electrified in around 1904 (Meiji 37) but it was not until August 1, 1911 (Meiji 44) that the streetcar network was organized as Tokyo Shiden, so the old lady who looked like she had come out from the countryside was perhaps not the only person fumbling during transfers.
 Speaking of trains, it was in 1910 (Meiji 43) that Yurakucho Station opened, with the railway extension from Shimbashi. (Tokyo Station opened later in 1914 (Taisho 3)). Therefore, the emergence of cafes around this area must have had much to do with the developments in public transportation. In March the same year, the Imperial Theater opened (on the Hibiya side), followed by a renovation of the Kabukiza Theater in November to a purely Japanese palatial style building, perhaps in rivalry with the Imperial Theater.
"Kabuki-za then" from Ginza Saiken
Then, I came across an ad posted by Matsuhei Iwaya, who had closed his tobacco store in 1905 after the enactment of the monopoly act. The ad was run under the name Iwaya Gofukuten (kimono store), which was having a sale.
"November 1-3 Lo and behold!
10% discount from the original price Our staff is at your service.
Iwaya Gofukuten Ginza, Tokyo
Storeowner Matsuhei Tengu Iwaya"
This man surely knows how to survive.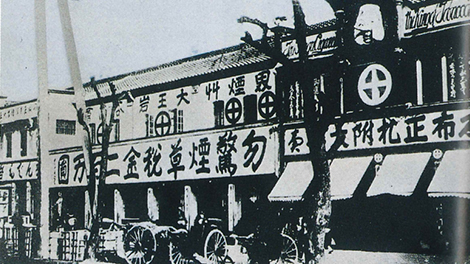 "Iwaya Shokai, from the outside" from Ginza Saiken
 As I approached the end of the year, I discovered a Tenkado ad. After the headline, "Urgent notice for Asahi Shimbun readers," it said, "Trendy hats, only at Tenkado," advertising its men's hat collection as usual. There was another ad inviting people to buy gift vouchers , as if they were trying to follow the footsteps of Mitsukoshi Department Store. Both ads were small photo-sized ads inserted in the spaces between news articles on the local news page. I noticed that another store had a similar ad of the same size in almost the same place, with the same headline, "Urgent notice for Asahi Shimbun readers," and an almost identical illustration of a man with a moustache and a bow tie.
"The HAIKARADO Department Store newly built in front of Ginza 1-chome Station. Ladies and gentlemen, come and see the collections soon to keep up with the latest fashion. A department store has every winter item for stylish people." The last line said, "Ladies and gentlemen, shopping, only at HAIKARADO." Even from its light touch, it was obvious that the ad had been posted in rivalry with Tenkado.
"The revolutionary army arrives in Ginza." HAIKARADO also had ads referring to the Chinese Revolution that had only recently occurred, but unfortunately, the store was not to be found on my map from 1902 (Meiji 35). I did, however, find an article in the December 21 edition introducing Ginza welcoming the end of the year.
"Next door, HAIKARADO's hagoita battledoor display, along with that of Tenkado on the Shimbashi side, draws the shopper's eye." This is another reference of how the two department stores were rivals – one in the northern area of Ginza and the other on the southern side. "Next door" to HAIKARADO was the Nippon Phonograph Co.. Jujiya, specializing in musical instruments, also had large illustrations of gramophones and records on its ads, so it is not difficult to imagine how popular they were. The Nippon Phonograph Co. is described in Koichi Noguchi's Meiji no Ginza Shokunin-banashi (Stories of Artisans in Ginza during the Meiji Period), which I also introduced in the last volume.
 According to Noguchi, the store in Ginza was opened as the first branch office of Nippon Phonograph Co., after Horn, the American who first introduced the gramophone to Japan, established the company and factory in Kawasaki. The description of the building itself is even more fascinating than the products it sold.
"It was a three-story Western-style building, with a large statue of Buddha sitting cross-legged on its roof with one hand on his ear listening to the sound coming out of the gramophone horn beside him. It had the same impact upon the passer-by as the Nippon Fire Insurance Company's signboard depicting Pu-ta."
 Nippon Fire Insurance Company was located to the north (towards Kyobashi) of Nippon Phonograph Co. and on its southern (Ginza) side, "Sasaki Tsuyabukin stood one building away," which means that HAIKARADO stood next to Sasaki Tsuyabukin, which remains in business today, in the area where KIRARITO GINZA stands today.
 I ended up not finding any articles or ads introducing the new Tenkado building but I learned of a little known building called HAIKARADO that is rarely found in literature on the history of Ginza. Moreover, reading the article about Ginza at the end of the year, I could imagine just how modernized and fashionable Ginza was in the last years of the Meiji period.
"Preparing for Christmas, Café Lion has decorated its window with plum blossoms in the snow, a crane on a pine branch and a mug with a picture of Santa Claus in the snow. Kameya, like Meiji-ya, amuses its customers by hanging toys from a momiji (Japanese maple) branch. Hakuhinkan's façade is decorated with pine leaves and cranes, and having piled up the prizes to be won in the lottery sale, they call out to passers-by to come and shop with them. Tenshodo's silver-plated sunrise with a pine tree and crane shines brilliantly.
 I could just feel the beginning of "Ginbura" in this exciting illustration of Ginza.