Ginbura Hyakunen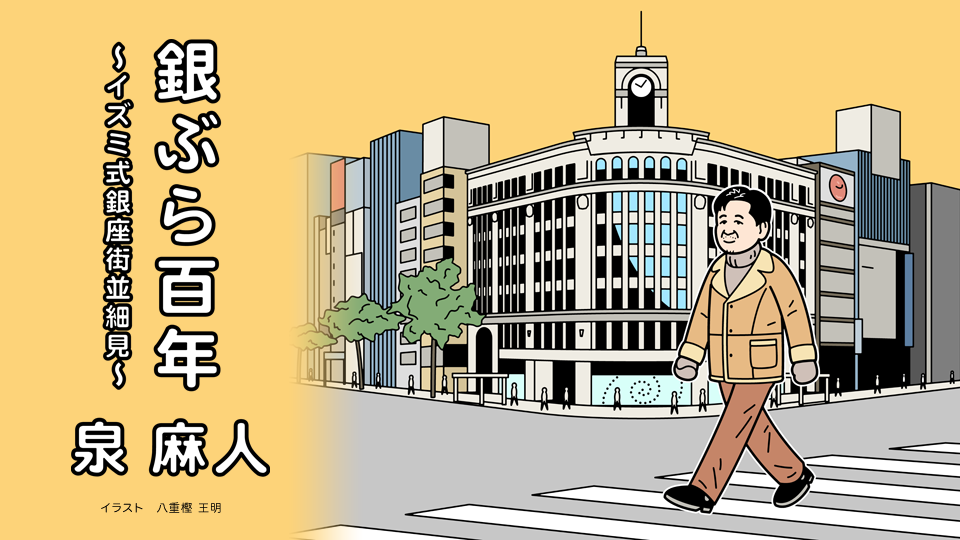 Ginza×銀ぶら百年 Vol.03
銀ぶら百年 ~イズミ式銀座街並細見~
The Ginza Apartments in Ginza 1-chome
 The last two volumes covered the northern side of Ginza – ITOYA and Olympic, a restaurant serving Western cuisine that used to stand next to ITOYA. When I was interviewing people in the area, I was impressed by the fact that quite a number of old buildings remained in the backstreets of Ginza 1-chome and 2-chome. The Yonei Building, housing Ginza Maison Henri Charpentier at the end of Ginza Yanagi-dori, and the Takeda Building along Showa-dori were built in the early Showa period. Coming out to Showa-dori from one of the alleys, you can also find the picturesque wooden building of a sword shop. You will also find classical buildings still standing when you walk towards Shintomicho. The building that I always find myself lured into during my strolls on Mihara-dori in Ginza 1-chome is the Okuno Building. The green plants sitting in the balconies of each apartment against the yellow ochre walls create a balanced array of colors. Today, it is home to many antique shops and art galleries, but it used to be an apartment building called the Ginza Apartments.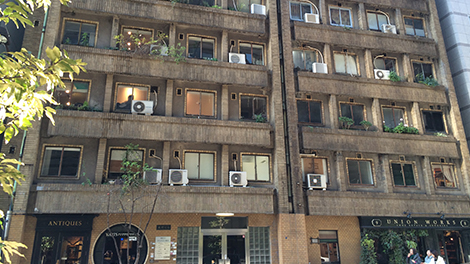 Okuno Buillding
 I first visited this building around twenty years ago to drop by a personal art exhibition of works by an illustrator of my acquaintance. Back then, there were few art galleries in the building, whereas now, you feel as if you are at the school festival of an art institute, with small rooms exhibiting paintings and objects facing the small corridors on each floor. Another feature of this building is its antique elevator, with a semi-circular clock-like indicator (floor indicator) over the doors. The elevator has two doors that have to be opened by hand. The Nihombashi Takashimaya and Mitsukoshi both have classical elevators, but ones with manual doors have become quite rare.。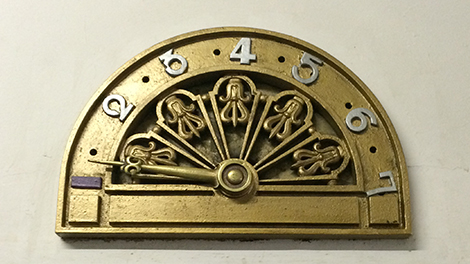 Floor indicator in the elevator
 I had spontaneously strolled into the building several times before, but this time I made an appointment with the owner, Mr. Tsuguo Okuno, to inquire about the history of the building.
The office of Okuno Shokai, which is run by Mr. Okuno, is located right next the elevator hall on the first floor. The small reception window beside the office door looks quite antique, too. The window is no longer used, but perhaps, a prim-looking receptionist used to sit behind the window. I was also surprised at the large black money safe sitting next to the sofa that I was led to. The logo read "Tokyo Yamada Kinko-ten" from right to left, in pre-war style.
"That had been used by my father since 1932 (Showa 7) when the building was built."
 Okuno Shokai's origin dates back to around 1897 when Tsuguo-san's grandfather, Jisuke Okuno started to manufacture axle components for steam locomotives. In times when Shimbashi was the starting point of the railway, I assum it was one of the trendy businesses along with exported goods retailers. However the factory and living quarters were lost in the fires of the Great Kanto Earthquake of 1922 and Okuno Shokai moved to Oimachi, close to the railcar factories. Given the housing situation in the aftermath of the earthquake, a seven-story reinforced concrete apartment building was built after the factory.
 The seventh floor is now changed from its early days due to extension work. Initially, there was a penthouse on the roof which had a lounge and a shared laundry room with a drying area outside. On the basement floor, they had a communal bathroom with a boiler room. When you think about it that way, going downstairs to the basement, currently also used as a gallery, it is not so difficult to imagine yourself standing in the entrance of the bath house of a Japanese hot spring inn.
 The idea of an apartment building with a communal bath and lounge reminded me of the Dojunkai Apartments that used to be located in Harajuku, Daikanyama and other places in Tokyo. The architecture seemed to be similar too. Then I found out that they were designed by the same architect, Ryoichi Kawamoto.
 Who lived in these apartments? The early Showa period was a time when cafés were becoming the trend in Ginza and the apartments could have been home to waitresses working at the cafés. Some of them may have had patrons like Kafu Nagai who paid their rent.
"To name a celebrity who resided here, there was Chiyako Sato, who sang 'Tokyo Koshinkyoku (Tokyo March).' I have also been told that Yaso Saijo, who wrote the lyrics, also lived here…"
"Tokyo Koshinkyoku," famous for the phrase "Ginza's willows," was a movie theme song that became a sensational hit in 1929. She would have been the perfect dweller of the Apartments. Other names that I found in old material were movie director Heinosuke Gosho and artist Kenkichi Yoshida, who joined Wajiro Kon in conducting surveys of life and customs in Ginza. I was unable to find out when exactly they had lived there, but I could imagine that the Apartments were a place where contemporary people of culture gathered, just like the Harajuku Central Apartments in times to come.
Then there was Ms. Suda, who was not a widely known celebrity, but the lady who had run the Suda Beauty Parlor in a corner of the building from its opening. She lived in Room 306 on the third floor through World War II until she passed away 100 years old in 2009.
"From around 1955, we took off the name Ginza Apartments and started renting out to offices, so Ms. Suda was our last resident."
 I learned that there was a project underway to preserve and maintain Room 306 to preserve the old atmosphere. And Mr. Okuno also mentioned (perhaps unintentionally) that Hideki Tojo's wife had been a customer of Ms. Suda.
 I have no idea what Hideo Tojo's wife was like, but the name reminds me of war. This building survived the air raids that burnt much of Ginza. The Sanjikkenn-horikawa River that ran right in front of the building became a  dumping site for the debris from the war and was quickly filled up. The river bank came to be lined with open-air Pachinko booths and triggered the Pachinko boom of the early 1950s.
"The street vendors eventually divided into two groups. Over 200 street venders in Kyohashi, Ginza 1-chome and 2-chome became Gin-ichi Store and the remaining 540 vendors became Ginza-kan. Gin-ichi Store, claiming to be the largest store in the East with 1,200 (actually only 600) pachinko machines on the first floor, lures customers to Sanjikken-hori and makes 200,000 yen a month." (The Asahi Shimbun Tokyo edition, November 11, 1952)
 Plotting the information from the newspaper article on a residential map from back then, I found a rectangular Pachinko store facing the Okuno Building.
 It was in the 1990s that galleries began to appear in the building. It was a time when young people began to find new value in reusing old stores. There were many boutiques in the Dojunkai Apartments before they were shut down, but galleries truly fit the image of Ginza. I asked a few gallery owners why they chose this location, and they told me that they fancied the idea of being in a classical building in the back of Ginza. Some artists said that they refused to hold their exhibitions at any other place.
 An increasing number of antique stores, which look well-placed in classical architecture, are opening in the Okuno Building. And on the right side of the first floor of the building is a store with a traditionally designed sign that says "UNION WORKS." A shoe store that mainly repairs shoes, the store first opened in Sakuragaoka in Shibuya and came to Ginza four years ago. Inside the small store, is a collection of fine shoes selected by the owner with a taste for British fashion.
 The soles of my Alden short boots, which I have been wearing for many years, have become quite worn out. Alden is an American shoemaker, different from British heritage fashion, but I would like to see my favorite shoes repaired at a store that has a feel of history. I showed the storeowner the back of my shoes and decided to get them resoled there.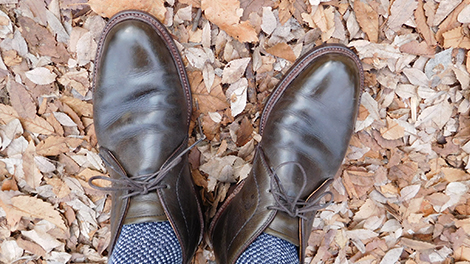 My shoes, resoled at UNION WORKS
Ginza Hyakuten runs a mini column on items bought or found by Mr. Izumi during his interviews for his monthly column "Ginbura Hyakunen."
Ginza Hyakuten is available at member stores.
Or, have your personal copy delivered every month by subscription.
Please refer to our website for details:
http://www.hyakuten.or.jp/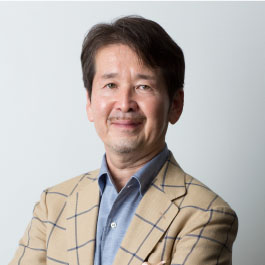 Asato Izumi
Asato Izumi
Born in Tokyo in 1956 (Showa 31).
After graduating from the Faculty of Commerce at Keio University, he joined Tokyo News Service, Ltd. While editing "Weekly TV Guide" he had articles published in Studio Voice and Popeye. In 1984, he became a freelance columnist and author. He has published many works on Tokyo, among which is Tokyo 23-ku Monogatari (the story of Tokoy's 23 wards). Kanreki Sharehouse (sharehouse at sixty) will be published soon.